A picture titled "Ukrainian general licks the boots of the US ambassador on his knees and hands him the weapon" spreads through websites and social networks.
The picture originates from Vladimir Skachko Facebook page, who claims that on May 25 2014 "Ukraine knelt down" before the US. The supposed kneeling down of the Ukrainian general before the ambassador of the US is stated as the evidence.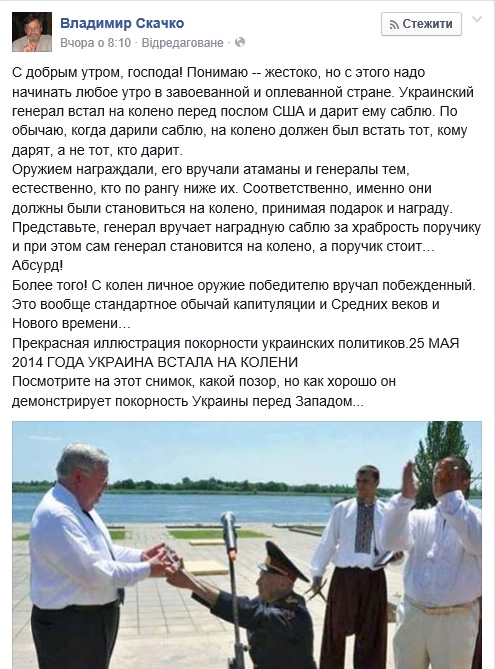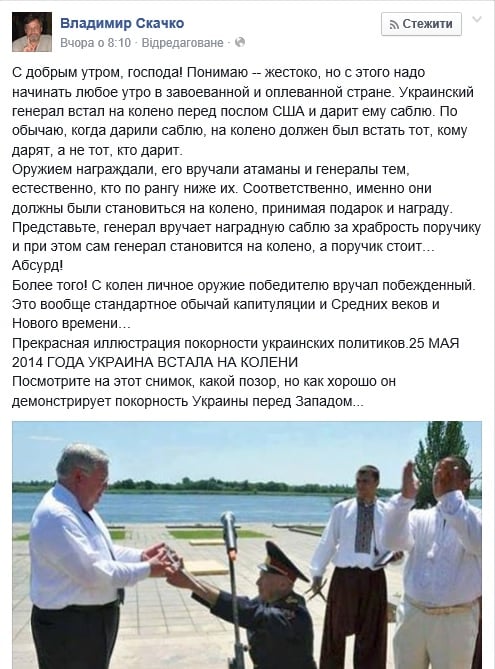 Several Russian TV-channels were quick to spread the news. Including, "Russia 1" and LifeNews.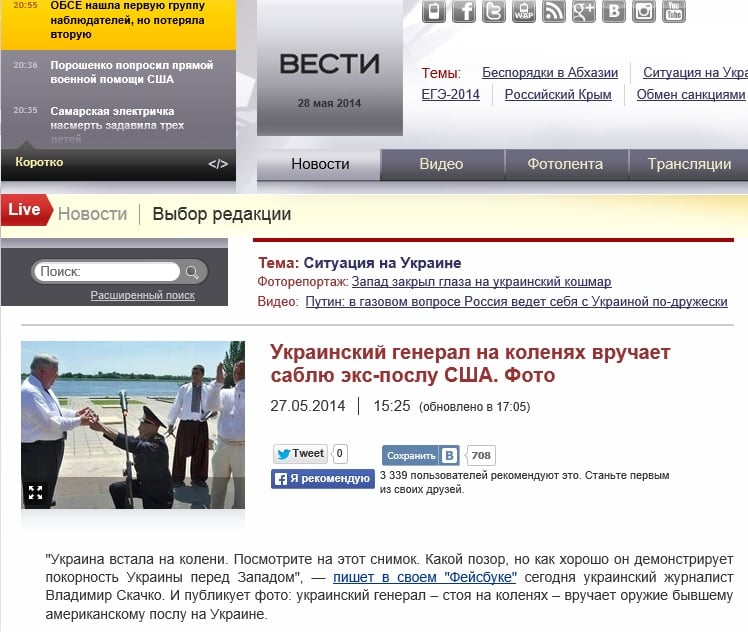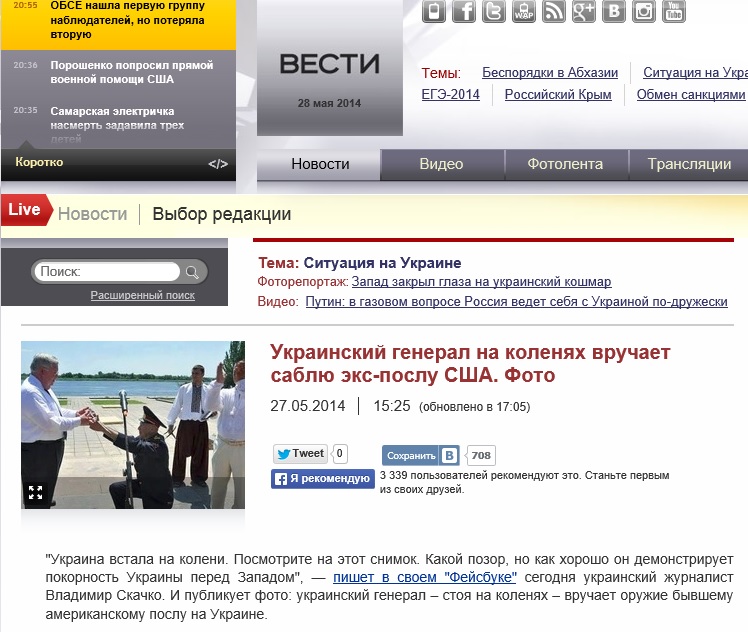 However, the picture was not taken on May 25 2014, it had been taken on June 17 2013 in Kherson. The photo represents the presentation of weapon to the Ambassador Extraordinary and Plenipotentiary of the United States in Ukraine John Tefft in honour of the service of the US navy patriarch John Paul Jones, who took the Cossack oath 226 years ago and served as a rear-admiral of the Russian Imperial Navy.
On June 16-17 1788 during the Russo-Turkish war the Battle of Liman took place in the Dnieper-Bug Estuary. It was that day the Cossack fleet under the command of Sidor Belyi and Antin Golovatyi and under the cover of sail squadron of rear-admiral John Paul Jones destroyed the remaining Turkish ships blocked near Ochakov.
That is why the Cossack representative on the photo is kneeling down. This kneeling down is not the act of the US ambassador boot licking, but paying respect to the Cossack hero John Paul Jones.
"To express gratitude to the US embassy and His Excellency (the ambassador of the US in Ukraine John F. Tefft – ed.) we decided to support the tradition and enlist His Excellency as an honoured member of Ukrainian Cossacks. And to present His Excellency a sabre, " – said the Cossack Council chairman deputy of the Modern Cossack Movement Oleg Sinaev of the Kherson regional government department.
However, as Sinaev noted, the sabre was not presented as a combat weapon to the US ambassador.
"We give it (sabre – ed.) as a present, as a piece of art, as a memento for the Cossack John Tefft, " underlined the Cossack Council chairman deputy.
The sources can be found here and here.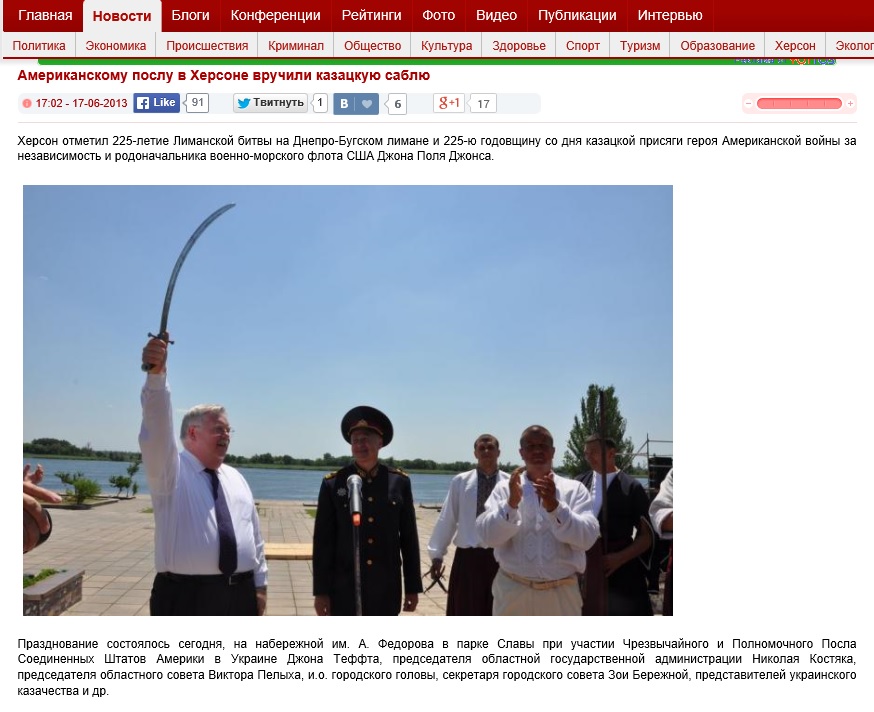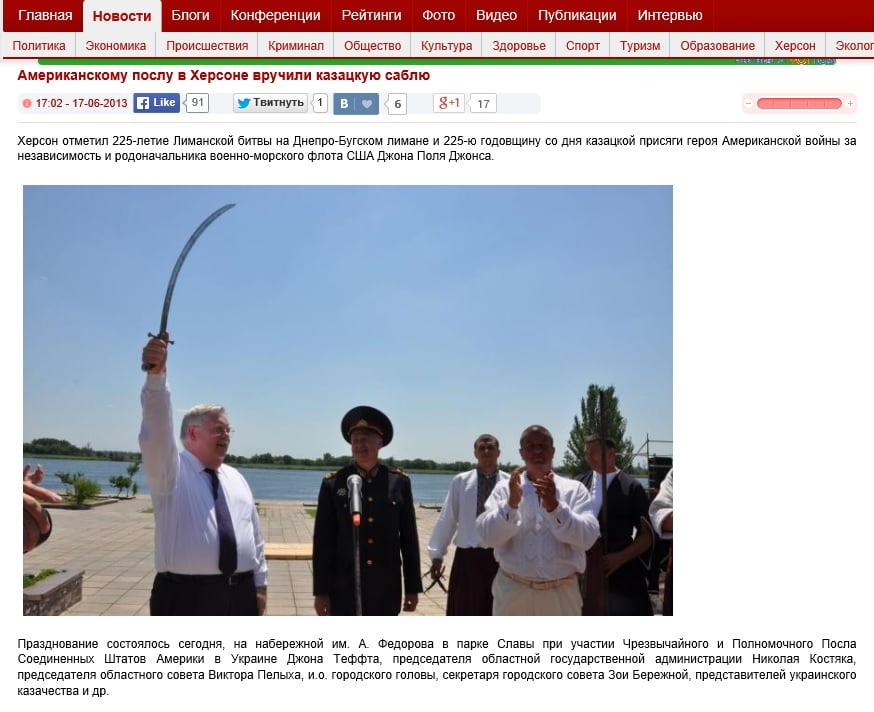 Therefore, the pseudo news from Vladimir Skachko has the wrong photo date. Besides, the accusations against the current Ukrainian authorities are unjust, because when these events took place, the country was under the rule of Yanukovich and his party.
In addition, the Ukrainian generals did not kneel down before the US ambassador. The man on the picture is the general of Ukrainian Cossacks and the situation itself is a dramatic display. The sabre was not presented as a combat weapon.
And lastly, currently John Tefft is not the US ambassador in Ukraine. Since April 2014 he has been the US ambassador in the Russian Federation.