Pro-Kremlin media have been circulating fake stories claiming that Serhiy Kryvonis, the former Secretary of Ukraine's National Security and Defense Council allegedly complained that it was not possible to cover Crimea in blood in 2014. In fact this statement was made by the pro-Russian political analyst Vladimir Dzharalla, as quoted by the Russian newspaper Komsomolskaya Pravda.
Similar fakes were disseminated by Politnavigator, SMI.today, SMI.media, Imag.one and others.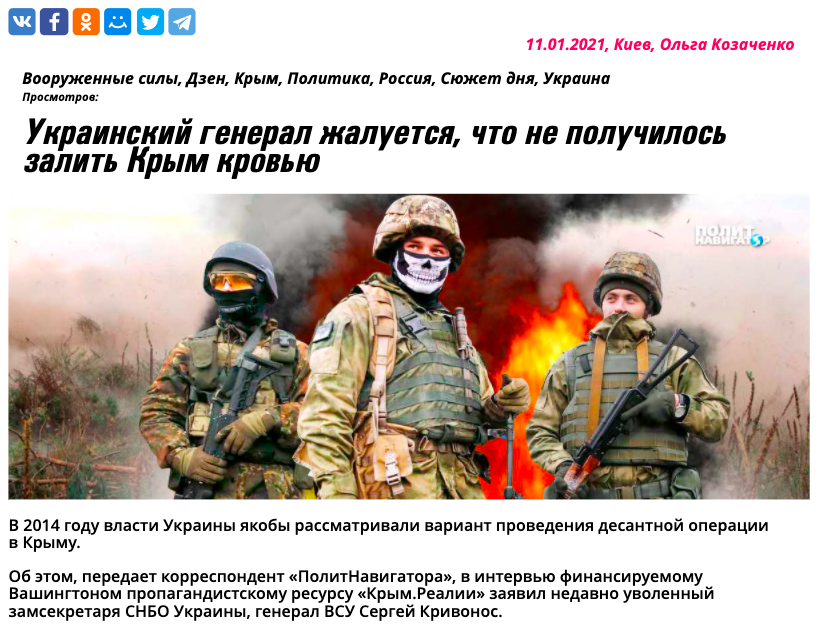 Ukrainian general regrets Crimea wasn't covered in blood, reads the Politnavigator headline of a story citing General Serhiy Krynovonis' interview with the Radio Liberty program Crimea Realities.
Ukrainian armed forces considered the possibility of seizing our territory in Crimea and many military units were directed to follow this plan to repel Russian attempts to seize Crimea, among them the 25th and the 79th brigades. They were supposed to be introduced into Crimea to strengthen our forces already present in Crimea" Kryvonis said.
Kryvonis also noted that 2014 interrogations of certain Russian Federation operatives clearly showed "that had there been clear opposition from Ukraine in 2014 during the seizure of Crimea, the operation would most likely have been curtailed".
During his interview Kryvonis never mentioned covering Crimea in blood.
Meanwhile, pro-Kremlin political analyst Vladimir Djaralla said exactly that. Commenting on the Kryvonis interview for the Russian newspaper Komsomolskaya Pravda Djaralla said:
"…There is something truthful in these fantasies: Crimea had to be covered in blood, as happened in May 2014 in Odessa, Mariupol, Dnipropetrovsk and Kyiv. But the Russian army, together with the soldiers of the Ukrainian army who went over to the side of the people, did not allow this. And they are still the only thing that protects us from the vicious hatred of our northern neighbors. "
Russia illegally annexed the Ukrainian Crimea peninsula in 2014. On March 16, 2014 the Kremlin held a referendum at the point of a gun on the peninsula where 96.7% allegedly voted for Crimea to unite with Russia.