On May 18, Russia's television channel Zvezda published a bogus report entitled, "Ukrainian Mass Media Informed about Starvation in Russia: People Feed on Waste Fish Products."
It stated: "The TV channel TSN told us how Russians live. According to Ukrainian journalists, starvation came to Russia. There is neither bread, nor lard, nor milk. Russians have only waste fish products to feed on."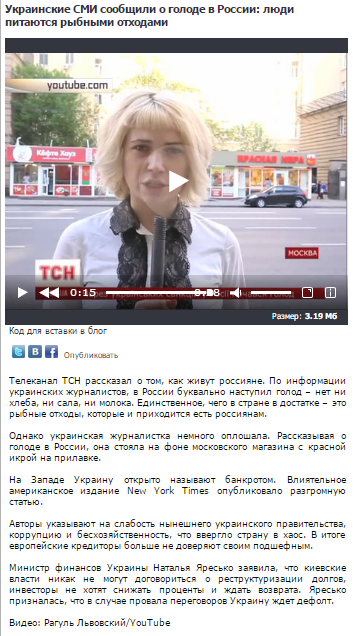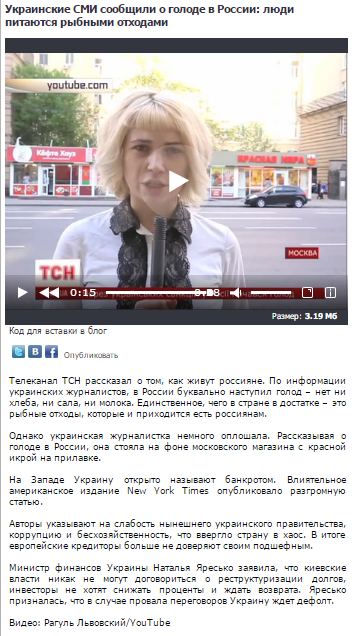 Russia 24 also reports it in an evening newscast (starting from 37:12).

The Russia 24 newscaster indignantly opines: "What would take the place of poverty? How to distract from unemployment and overwhelming water and electricity rates? Only by creating a different reality for Ukrainians. The highest level of a lie. 'We have problems? Look at them! Russians have nothing to eat at all.' Something like that Ukrainians were told lately."
As proof, Russian journalists added the video from the comic Youtube-channel Yobbo from Lviv.
In fact, TSN is not a TV channel. It is a news program on the 1+1 TV channel. 1+1 TV channel did not issue such a news item.  The "artists" behind the story took a lead-in by TSN-Week newscaster Alla Mazur and then pasted it to something else by a fake TSN journalist.
Their woman speaks Ukrainian badly and with an obvious accent. Even on-screen graphics contains serious grammatical mistakes.
1+1 TV channel journalists also announced that this news was a fake.
Though Zvezda TV channel removed the item from its site, it remains in the site's cache.