On April 21 the pro-Kremlin site Politnavigator published a story claiming that Ukrainian military were actively destroying OSCE drones. Politnavigator claims that in the last few days Ukrainian soldiers destroyed one drone and damaged another and twice jammed the GPS signals for OSCE long range drones.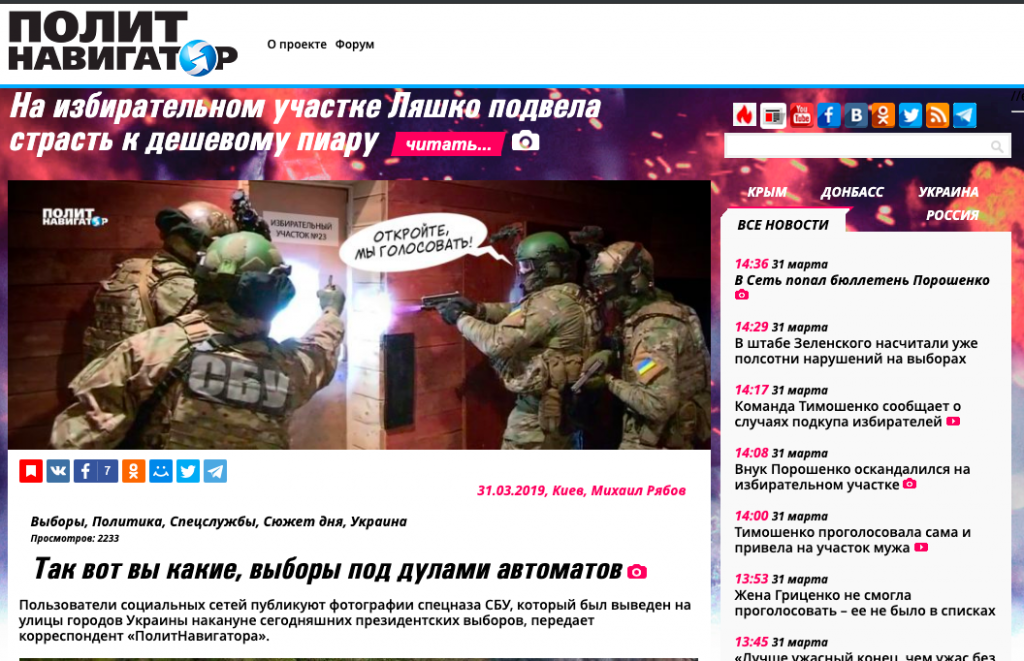 Politnavigator cites self-proclaimed Donetsk People's Republic official representative Danyil Bezsonov as their source, who claimed that on April 19 soldiers from Ukraine's 502 battalion caused an OSCE drone to crash near the town of Kurdiumivka, some 54 kilometers northeast of Donetsk. On that same day, according to Bezsonov, Ukrainian soldiers shot up another OSCE drone causing OSCE monitors to abandon their work in the area.
Another pro-Kremlin publication Donbass Segodnya ran their own version of this story with the sensationalist headline Ukrainian Armed Forces Declare War on OSCE Drones in Donbas.
The April 19 OSCE Monitoring Mission report makes no mention of Ukrainian military shooting down any of their drones. The report states that after attempting to control a drone which was encountering GPS interference, the drone crashed in separatist controlled territory.
"It is premature to draw conclusions about the causes of the incident. The Special Monitoring Mission is making urgent efforts to locate the drone" reads the OSCE report.
Regarding the second drone, the OSCE report states that while conducting a mini drone flight on the south-eastern edge of government controlled Kurdiumivka 54km north of Donetsk, the Special Monitoring Mission heard 15 shots of small-arms fire assessed as aimed at the drone which was flying at an altitude of about 150 meters some 700 meters south-west of the OSCE monitors' position. The Mission landed the drone and observed that one propeller blade had sustained damage, assessed to be caused by a bullet from a rifle. The Special Monitoring Mission then left the area.
Politnavigator had earlier claimed that on April 13 Ukrainian military were jamming GPS signals and that OSCE monitoring mission reports had recorded this.
The OSCE report for that day reads as follows: On the evenings and nights of April 12-13 and April 13-14 two long range drones temporarily lost their GPS signal, assessed as due to jamming, while flying over government controlled areas of northern Donetsk.
The report does not specify the source of the jamming but states that the GPS signal could be jammed from any location within a radius of several kilometers from the drone.
One OSCE drone did crash, one was damaged and two experienced jamming and the OSCE has certainly not blamed the Ukrainian side for these events. Pro-Kremlin media however, do not pay attention to such details however, for them the Ukrainian side is always the one doing the shooting.