During the evacuation of civilians from Irpin', a city some 30 kilometers northeast of the Ukrainian capital Kyiv, Russian troops opened fire on civilians, bombed residential buildings, and blew up railway lines to stop the evacuation of women, children, and the elderly.
Since the Russian invasion of Ukraine began on February 24, Russian propagandist media has gone to extraordinary lengths in its attempts to malign and discredit the Ukrainian armed forces, endlessly pushing its fake narratives about the "Nazi inclinations" of Ukrainian servicemen. On March 5, Kremlin media disseminated stories claiming Ukrainian troops allegedly disrupted the process of evacuating civilians from Irpin' and took its own citizens as hostages. They also continue to propagate the myth that Russian invading troops are not harming the Ukrainian civilian population and civilian infrastructure.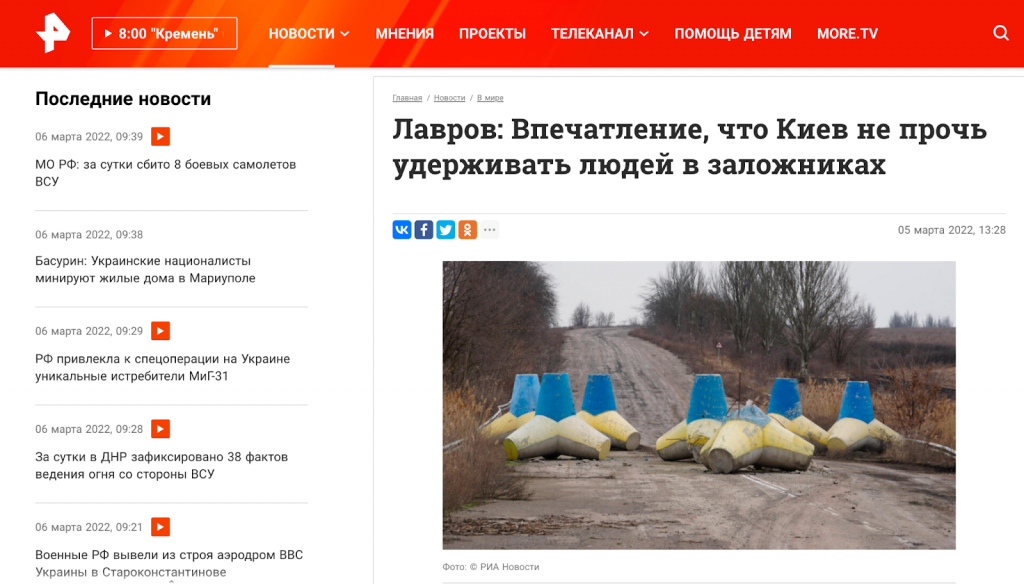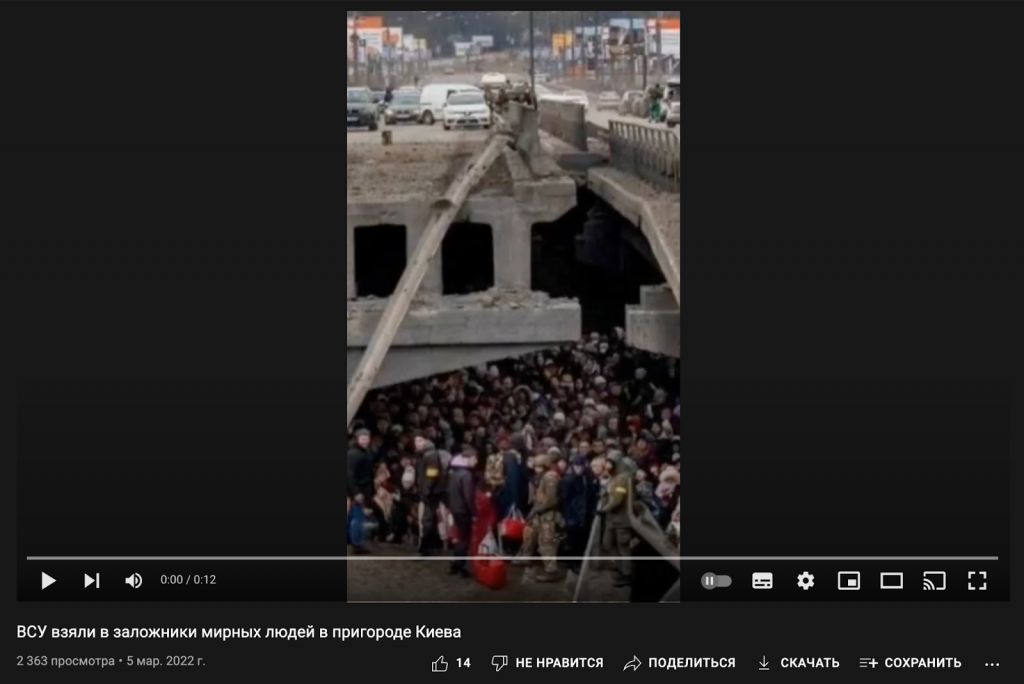 Russian troops began shelling Irpin during the very first days of their invasion of Ukraine. After several unsuccessful attempts to capture the city, they launched a relentless air bombardment. Irpin is a completely peaceful, civilian city, it has no military bases, airfields or any other military facilities. Russian military bombed the city indiscriminately, destroying residential buildings and infrastructure. Irpin' is on the verge of a humanitarian catastrophe.
For over a week, Russian occupying troops prevented the evacuation of civilians, constantly bombing and shelling the city. On March 5, Irpin' city authorities and Ukraine's military were able to agree on a "green corridor" to allow the civilian population to leave, said Irpin' Mayor Oleksander Markushyn. However, Russia once again proved that it cannot be trusted, and launched a new fake that "Ukrainian military, under the barrel of a gun, is not allowing Irpin' residents to leave".
The evacuation of civilians from Irpin' was to begin at 10:00 AM on March 5. Ukrainian military together with Territorial Defense members, volunteers and law enforcement agencies intended to evacuate women, children, the disabled and elderly our of Irpin' by train. To thwart the evacuation,  Russian troops blew up the railway leading into the city, derailing two cars of the evacuation train. Ukrainian authorities routed the evacuees to points where buses could deliver them to the central train station in Kyiv.
Consequently Irpin' civilians had to evacuate via a bridge that Russian troops had previously blown up. During the evacuation Russian troops again ignored agreements and rules of behavior and opened fire on the column of moving civilians and carried out yet another air raid on the city. Ukrainian troops helped the fleeing civilians to hide under the remnants of the ruined bridge. Ukrainian forces did not take any "hostages" as Russian propagandists claim, they helped the civilians as best they could, which can be clearly seen in photos taken by AFP chief photographer Aris Messinis. 
The Ukrainian military continues the rescue operation in Irpin', an operation that is complicated by constant Russian shelling. On March 6 Russian invading troops again aimed their fire at civilians, the shelling was documented by video by Donbas Frontliner photographer Andriy Dubchak. According to Dubchak, at least three people were killed, including two children.