A video of a missile launch from a ship gone wrong is spreading across the Web. It shows a missile falling into the water after the launch, appearing from it some seconds later to fly some distance and finally sink.
The authors of the video claim was a missile launch from U209 Ternopol corvette.
Some videos about this accident received hundreds of thousands of views on YouTube.
https://www.youtube.com/watch?v=AcZgPzwFcgA
While some users and news agencies claim the accident took place during the US-Ukrainian joint maritime exercises Sea Breeze-2014 in the Black Sea.
For example, the website of Russian Ministry of Defence Zvezda: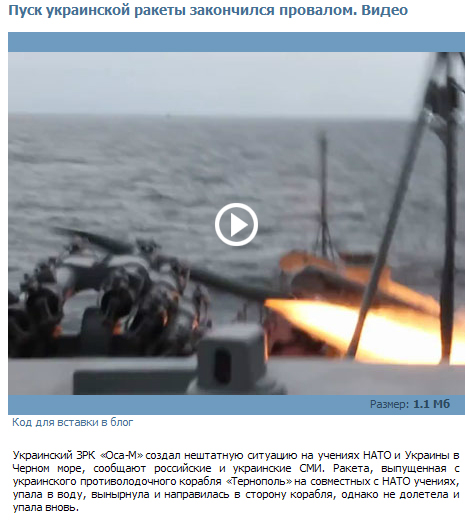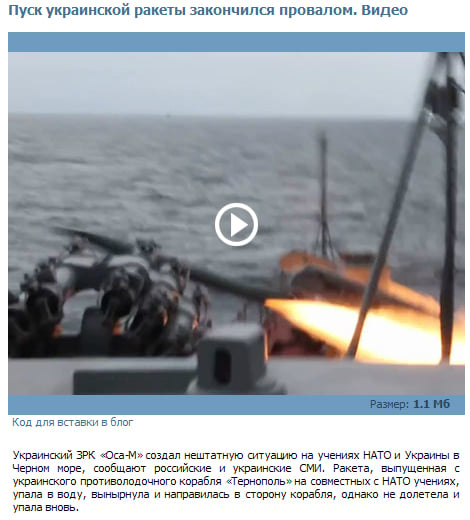 Yet, these declarations are a lie. Firstly, Ukrainian corvette Ternopol was captured bythe Russian gunmen during the Crimean crisis on March 20 and is currently blocked in the port of Sevastopol. Despite the promises to return it along with the number of other ships that were captured, Russia still tarries.
Also, there is no way this could have been a Ukrainian ship that took part in Sea Breeze-2014, since the joint maritime excersises took place between September 8 – 10, while the video with the missile launch going wrong appeared on YouTube on September 3.