Last week pro-Kremlin media circulated stories claiming that Ukrainian Army doctors refused to help a teenager who was injured by explosives. Politnavigator, NewsFront, VseNovosti.Life, Myrovoye Obozrenye, Kont and others all cite the press service of the self-proclaimed Luhansk People's Republic, who claims that on January 3, a 16-year old boy injured by a military explosive device in Ukrainian controlled Donbas was refused medical assistance by Ukrainian military doctors. According to the press service, the boy's father asked military doctors from a Ukrainian army unit deployed nearby for help, was refused and told to go to a civilian hospital. Some of the fakes even claim that this event was confirmed by the Organization for Cooperation and Security in Europe Ukraine Special Monitoring Mission official reports.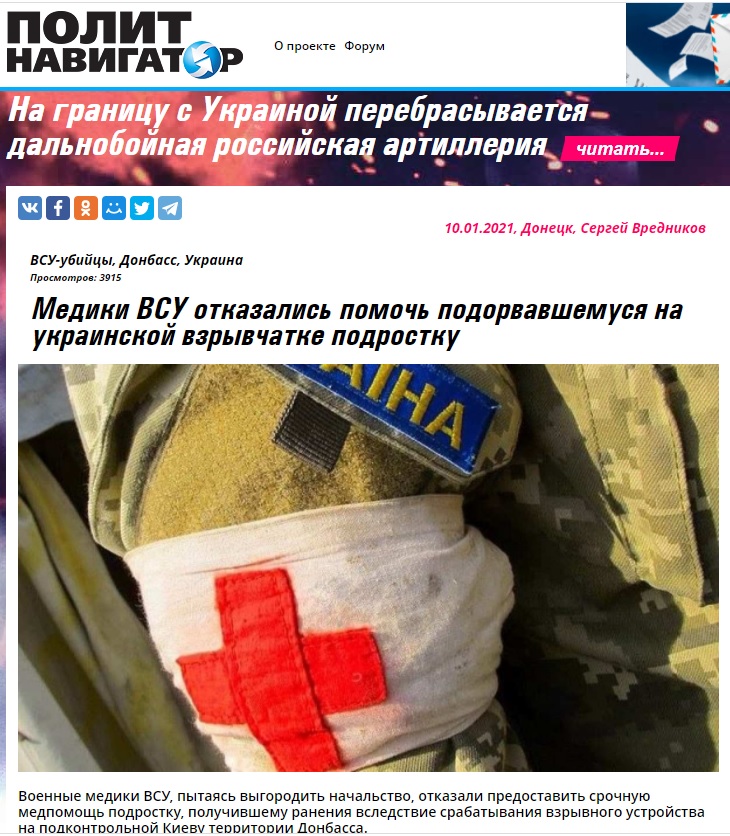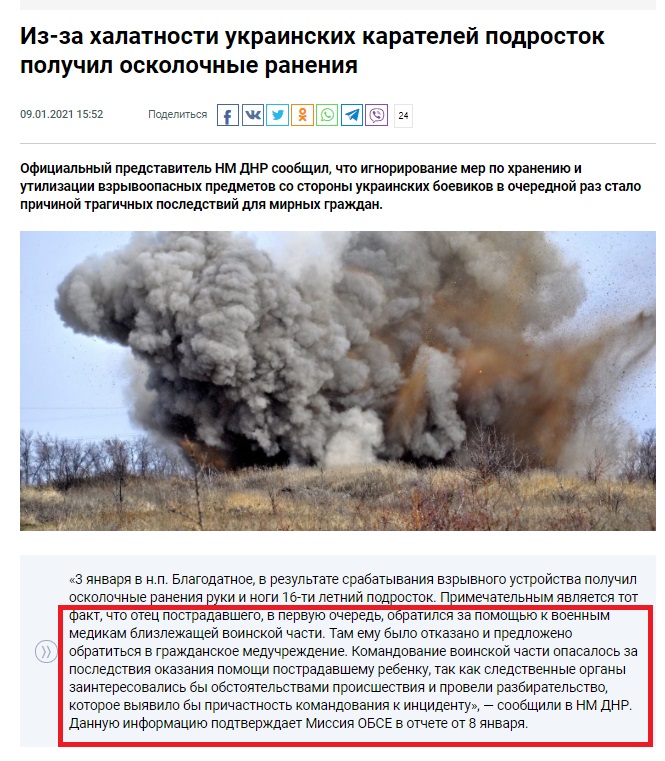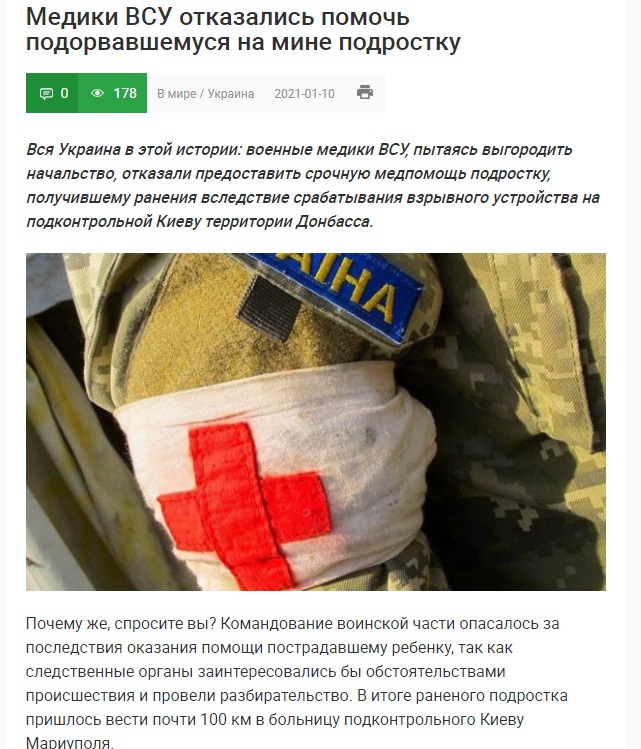 The OSCE Mission January 8 report does indeed mention a 16-year-old boy, who was injured in an explosive device explosion on 3 January in Blahodatne, a Ukrainian controlled town 77km west of Donetsk.
According to the Mission report: "On 5 January, medical staff at a hospital in Velyka Novosilka told the SMM that a boy had been admitted on 3 January with injuries to his leg and arm consistent with those caused by an explosion and had been transferred to a hospital in Mariupol upon receiving treatment… On 6 January, the boy's father told the SMM over the phone that on 3 January, his son had suffered shrapnel injures to his leg and arm after the boy had taken home and tried to disassemble an object he had found in a dumpster."
There is absolutely no mention of the boy being denied medical care by the Ukrainian military.
The Donetsk region State Emergency Service Main Directorate also reported the incident based on a 101 emergency call. Again, there is no mention of any military doctors refusing care.
According to the report "An unfortunate accident that occurred in the village of Blahodatne was reported to the emergency 101 telephone line. A boy (born 2004) was attempting to take apart an explosive device. The device exploded and the boy was taken to the surgery ward."
As neither the OSCE report nor the State Emergency Service notice mentioned the military refusing help for the injured boy, StopFake asked the local police precinct investigating the incident if the Ukrainian military had in fact refused medical help, as Russian media claimed.
In a written response the Donetsk regional police office told StopFake that there is no evidence that confirms that the boy's father asked for help from the Ukrainian military and was refused.