Several Russian media reported that on the day of Ukraine's presidential elections, March 31, Ukraine's military shelled the self-proclaimed Donetsk People's Republic (DPR)  in an attempt to provoke a reaction so as to disrupt polling in the front-line regions. Komsomolskaya Pravda accused the Ukrainian army of shelling the town of Horlivka in occupied Donbas. These claims were refuted by Ukraine's Joint Forces Operation Press Office and the OSCE Special Monitoring Mission.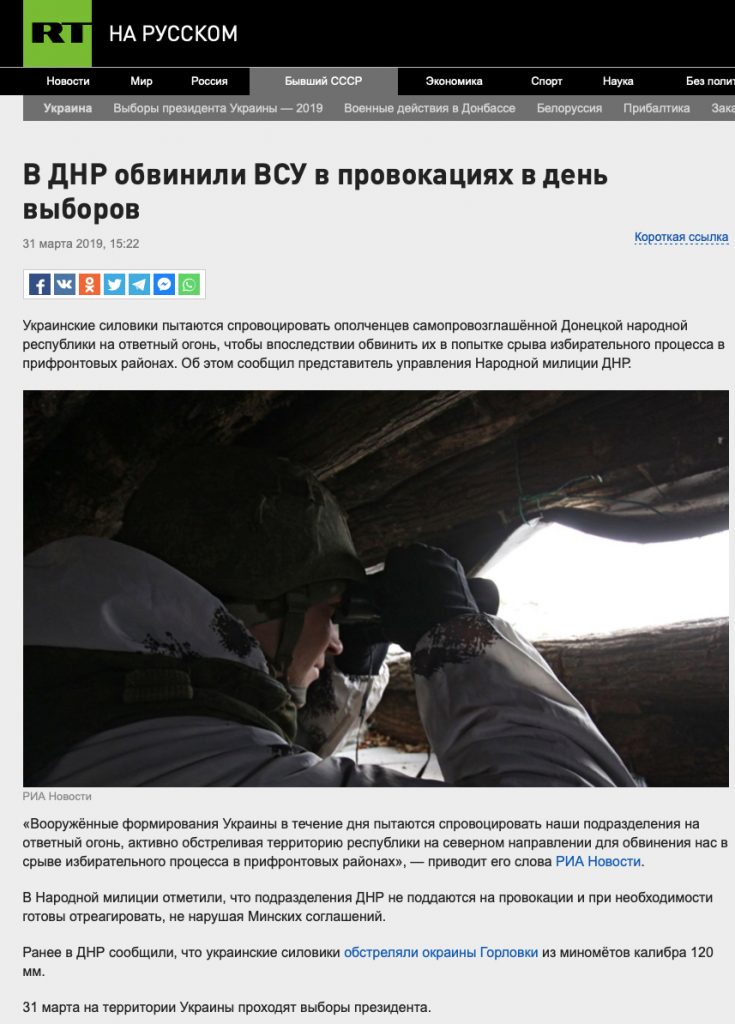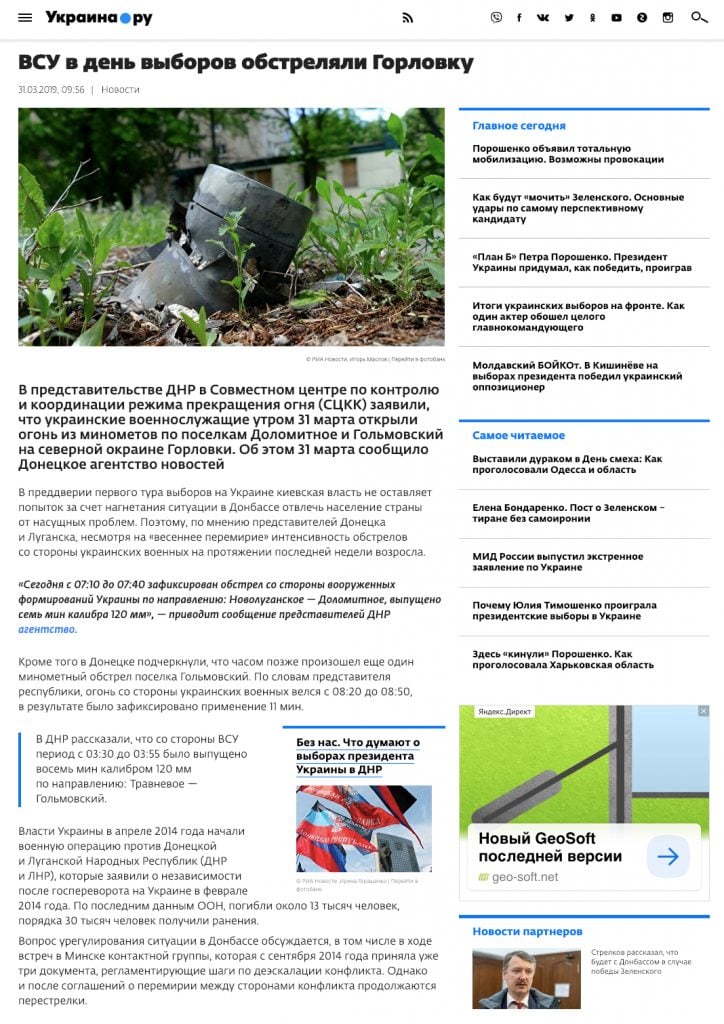 RT, Ukraina.ru and Komsomolskaya Pravda claim that on March 31 the Ukrainian army fired on the occupied territory in an effort to provoke return fire. But the Donetsk People's Republic forces don't give in to provocations and will respond if necessary without violating the Minsk Agreement, Russian media noted. (The Minsk Agreement is a failed peace deal between Ukraine, Russia and the Russian backed separatists.) The publications also allege that the outskirts or Horlivka, the fourth largest city in Donetsk province, were shelled by large caliber mortars, banned by the Minsk Agreement. The source for these claims is an unnamed chief of police of the DPR.
The OSCE Ukraine Special Monitoring Mission report for March 31 does not confirm these claims, quite the contrary; the monitors note that the situation on the front line was calm during the presidential election. The Mission also "observed a calm situation at entry-exit checkpoints in government controlled areas of Donetsk and Luhansk regions".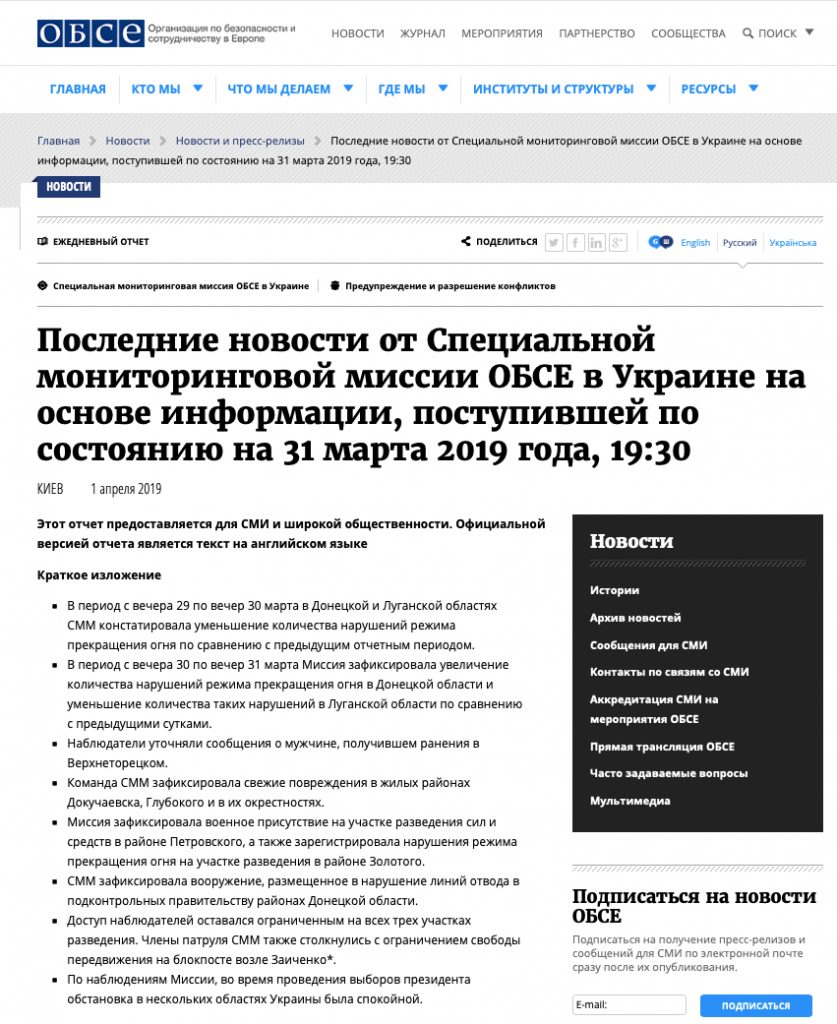 There is no mention of any shelling of Horlivka suburbs in the March 31 OSCE report.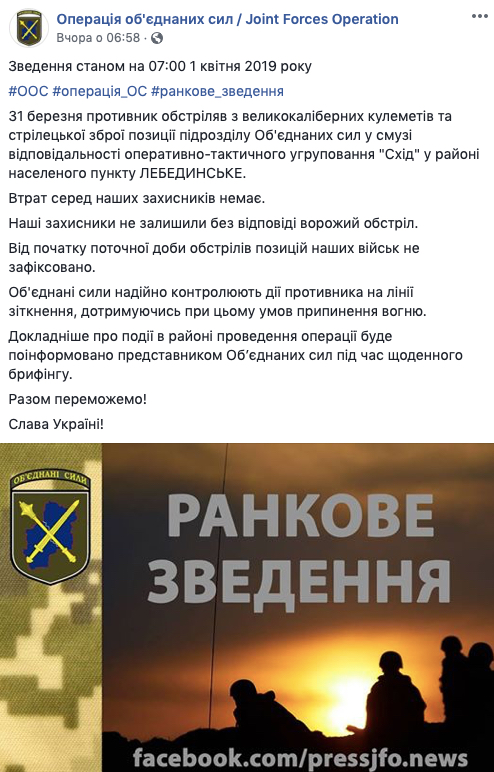 Ukraine's Joint Forces Operation Press Office also did not confirm these Russian media claims. According to the Press Office's official Facebook page, on March 31 Russian separatists fired on Ukrainian forces deployed around the town of Lebedinske with heavy mortars machine guns. Lebedinske is located 127 kilometers south of Donetsk. Ukrainian military responded to the attack. No casualties were incurred.