Russian propagandist media – Govoritmoskva.ru, Sputnik, Vesti.ru, RT – have repeatedly spread false information claiming that Ukrainian President Volodymyr Zelensky hastily left his office in Kyiv and is hiding in the western Ukrainian city of Lviv.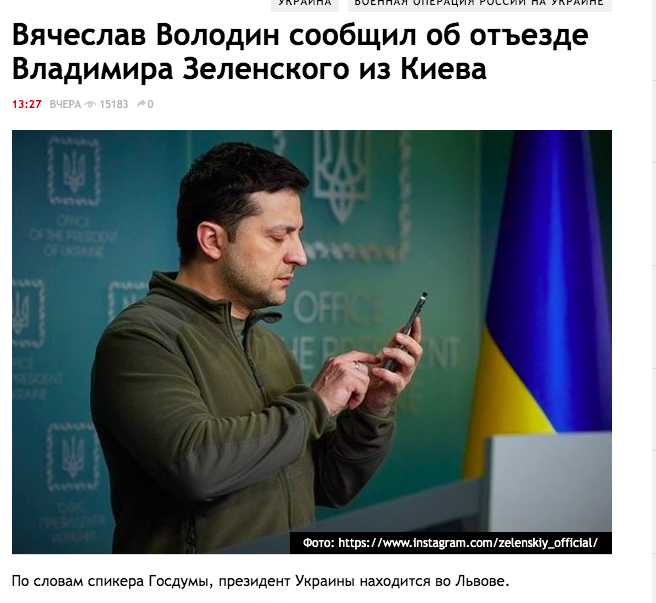 To dispel this myth President Zelensky issued a video taped outside the office of the President in Kyiv. "Good morning to all Ukrainians! Lately there has been a lot of fake information online that I am calling on our army to lay down their arms and to evacuate. Listen, I am here, we're not laying down any arms. We are going to protect our country." This video was cited by scores of western media including Handelsblatt, Spiegel, Berliner Zeitung, Deutsche Welle, CNN, Washington Post, Reuters and others.
In one of his previous videos from Kyiv, Zelensky already debunked claims that he and his team had fled Kyiv. Surrounded by the Prime Minister, several ministers and the chairman of his party, Zelensky assures that all government officials, military and civilian, are in Kyiv and are ready to continue defending their country's independence. To really drive the point home, Prime Minister Denys Shmyhal even showed the date on his cell phone. However this did not stop the propagandists from claiming the video was recorded in advance.
The source and lexicon of this fake
This time the source of the fake about the alleged fleeing of Ukraine's President was the Russian State Duma speaker Volodin, who in his Telegram account and on the Duma website wrote that some anonymous Verkhovna Rada (Ukrainian Parliament) deputies told him that it was impossible to meet with the President in Kyiv, and that is why, in their opinion, he is in Lviv.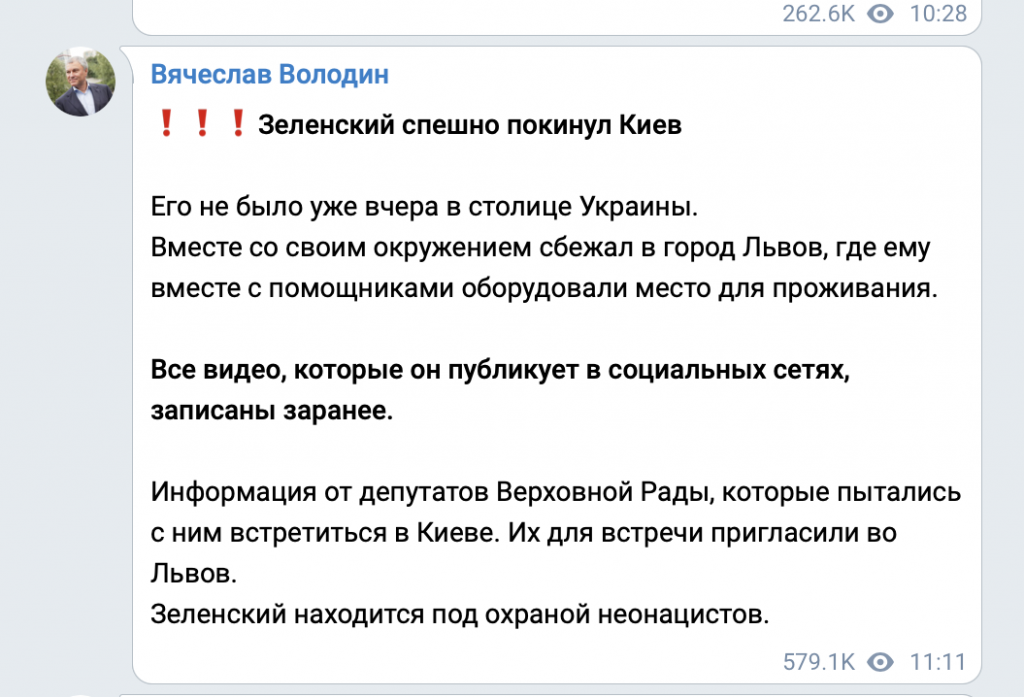 Russian media reprinted this fake story many times. To add emotional tension to this fake and promote false narratives about panic or the inability of Ukrainian leaders to lead the struggle against the Russian invaders, the Kremlin media use loaded emotional language with words such as escape (RT), haste (Ekonomika Segodnya) and illustrations showing a hapless Ukrainian President.