Ukrainians were not involved in any way in the video that was published by Russian propagandists showing protesters blocking traffic. It was not Ukrainians who were blocking the road to traffic, but local environmental activists from the Extinction Rebellion organization.
The pro-Kremlin publication Tsargrad TV published a video showing drivers pulling protesters wearing yellow vests off a roadway. Disgruntled drivers are shown crushing signs and throwing them over road dividers. This video's caption reads "How sick are Europeans of Ukrainians and their protests? Ask the Italians."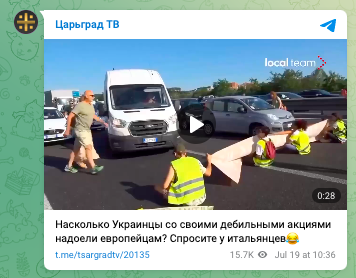 StopFake carefully analyzed the video and discovered that it has absolutely nothing to do with Ukraine or Ukrainians. The video already had existed online one month before Tsargrad doctored it with its caption and published it as an anti-Ukrainian fake. Both Italian and British media wrote about the Extinction Rebellion demonstration and the outraged reaction of Italian motorists who could not get to where they wanted because the protesters staged a sit-in on one of Rome's busiest thoroughfares.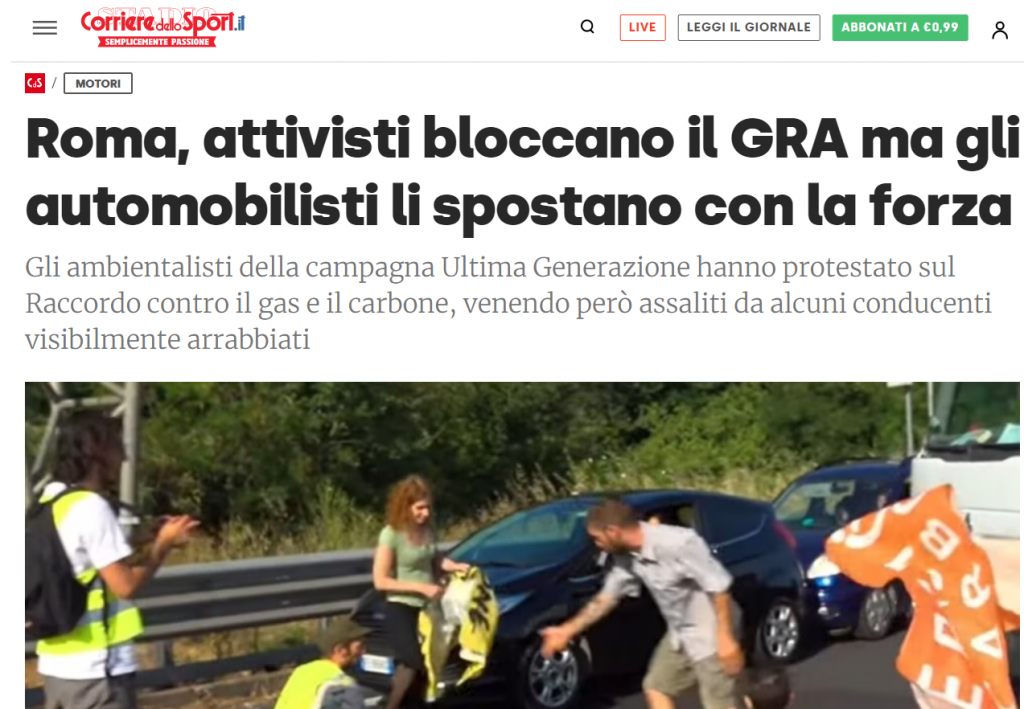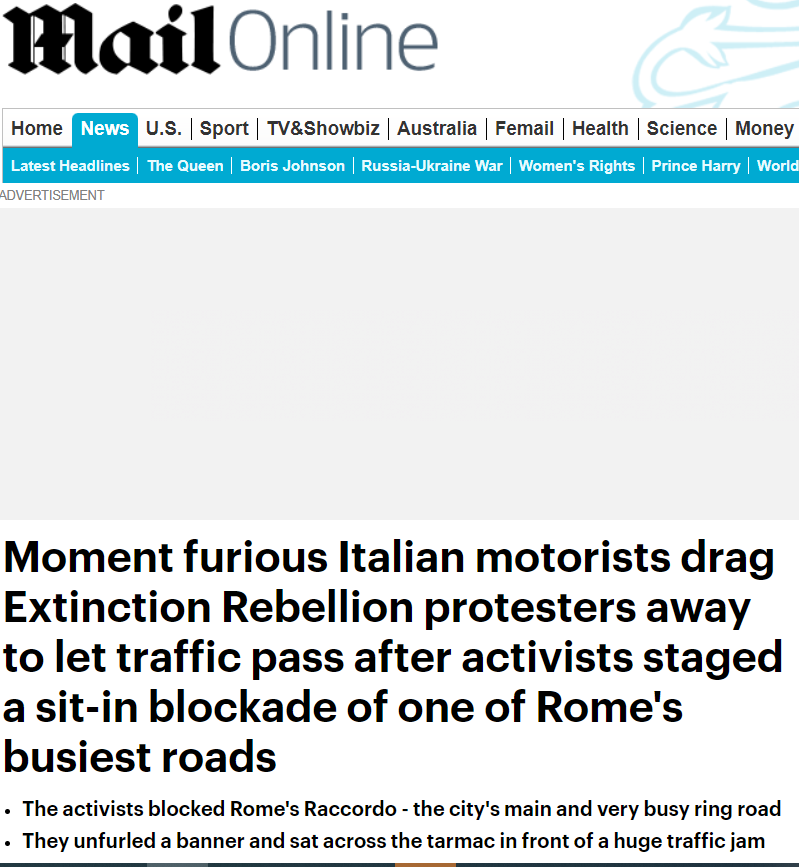 The people that Tsargrad TV tries to pass off as Ukrainian protesters are really activists of the Extinction Rebellion global environmental movement. The group uses non-violent direct action and civil disobedience to fight against climate change and biodiversity loss. The group often blocks bridges and highways as part of their protests, which is what they did in Italy on June 14.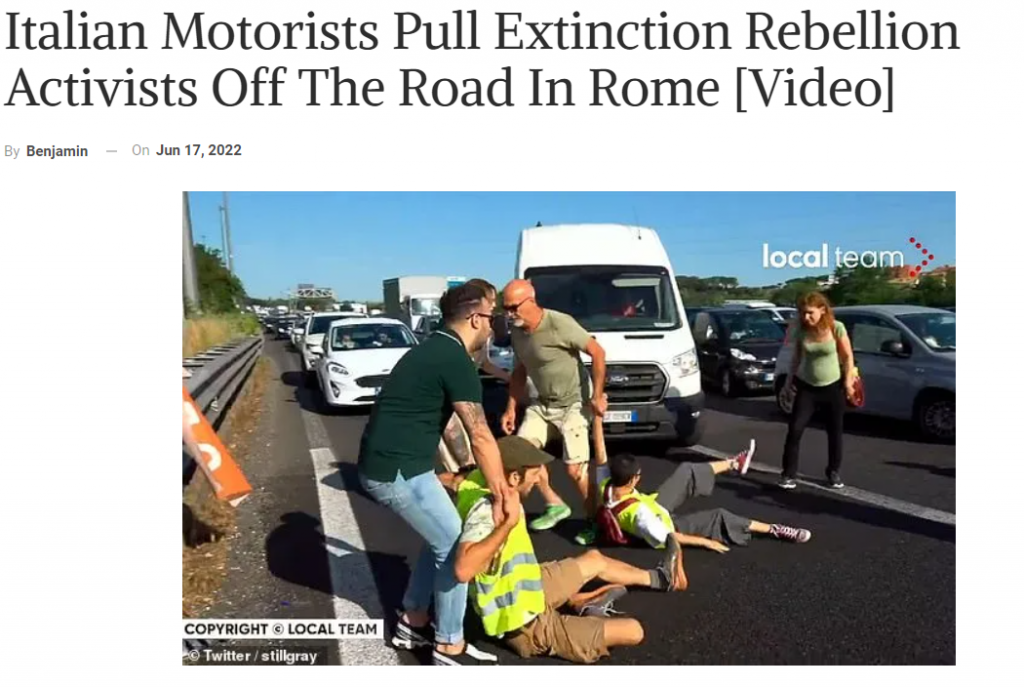 On that day, Extinction Rebellion demonstrators blocked Rome's ring road, the Grande Raccordo Anulare, the three lane 68 kilometer long ring shaped highway that encircles Rome. Disgruntled motorists began to clear the protesters and push them off the road, ripping this signs and placards.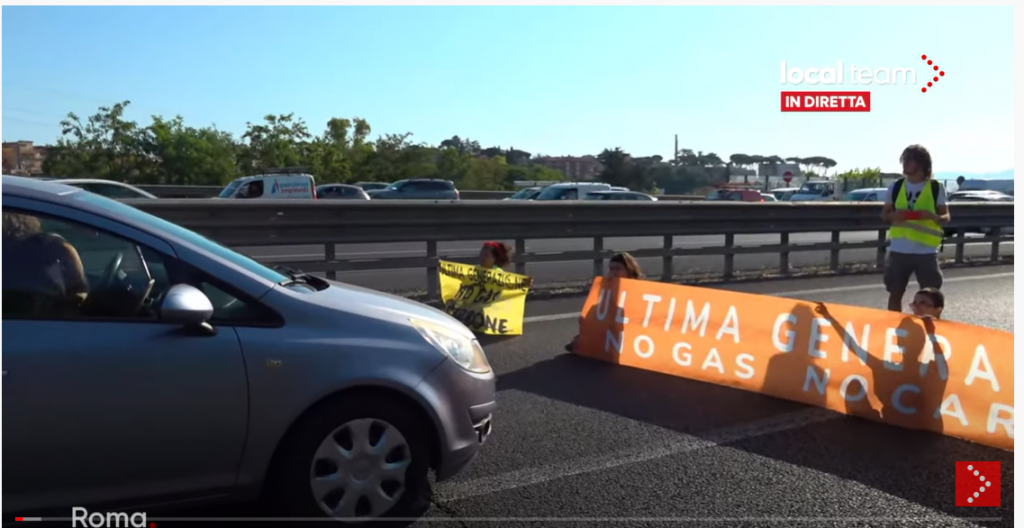 According to the Italian newspaper Corriere dello Sport, the highway was only cleared of the protesters after police and carabinieri arrived on the scene.
There is no connection between Extinction Rebellion and Ukraine, no such connection was found by neither law enforcement nor the media.