Scores of Russian media reported that on November 5 a ten year old boy was killed and another two were wounded as a result of the Ukrainian army shelling the Russian separatist occupied city of Donetsk. All the fake stories cite one source, the official agency RIA Novosti, who in turn cites an anonymous representative of the so-called Donetsk People's Republic.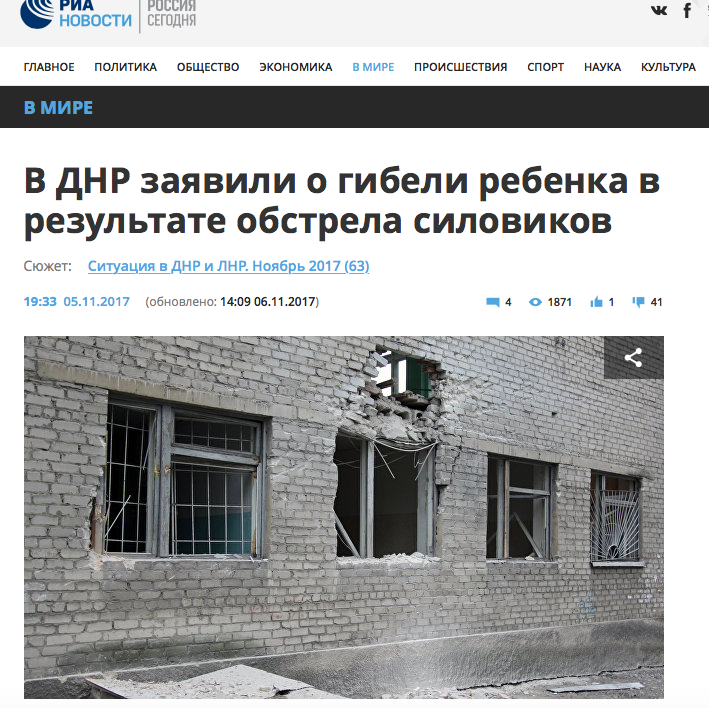 REN TV went further and combines two manipulative claims of Ukrainian caused casualties, one of civilians suffering from shelling and another of a boy who was killed. REN's source for the shelling claim is  Donetsk city acting administrator Aleksey Kulemzin's Facebook post, the boy's death is attributed to the Interfax news agency, which in turn cites an anonymous DPR representative.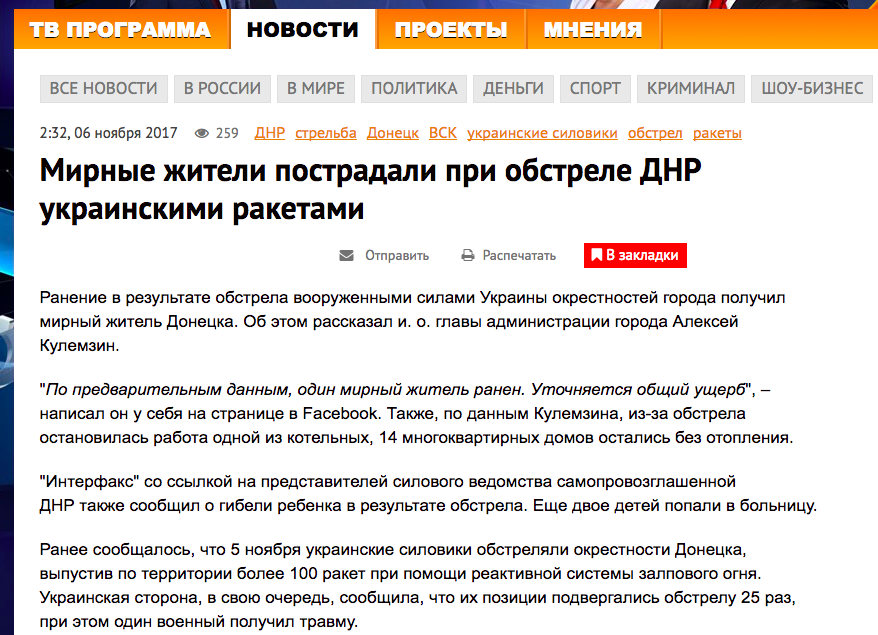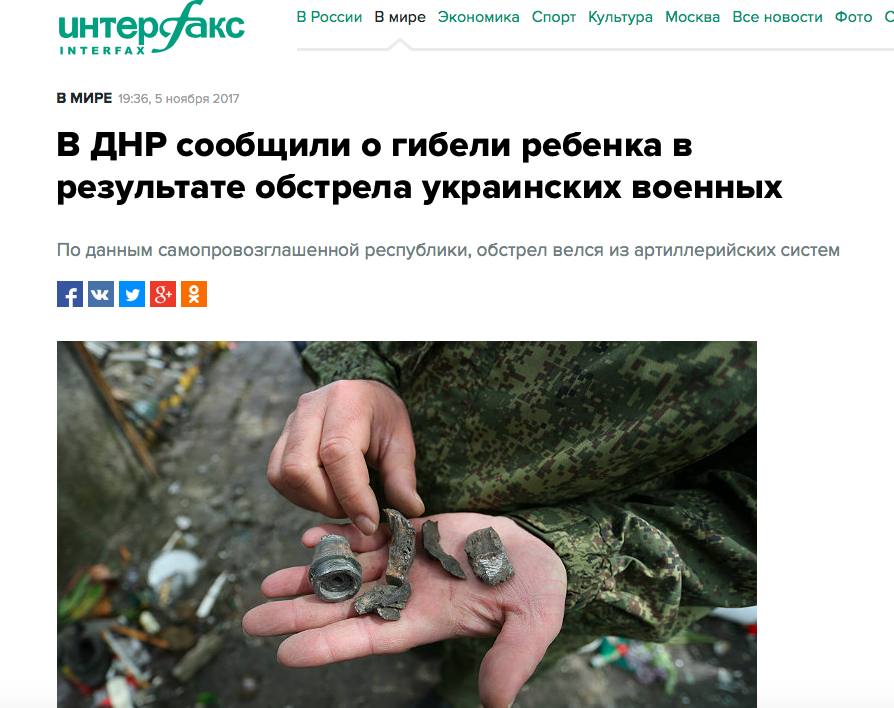 All the stories are illustrated with unnamed and undated photographs of damaged buildings  billowing smoke clouds and bits of shrapnel and exploded ordinance.
Rossiya 24 went even further and declared "10 year old boy dies at the hands of Ukrainian military in Donbas".
RT, Izvestia, Tsargrad, News-Front, Rosbalt and other Russian sites disseminated this fake.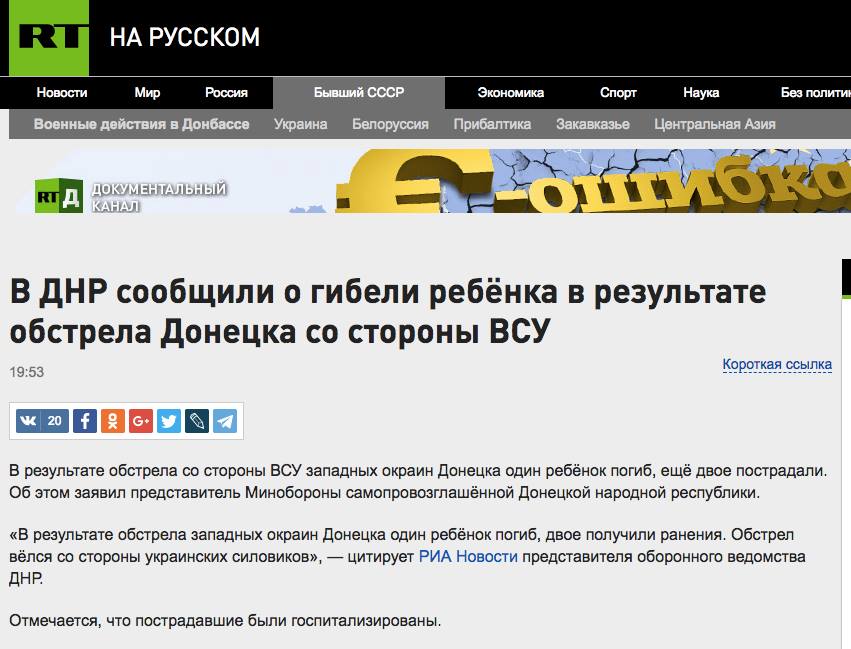 Meanwhile local Donetsk media reported a completely different version of the story. The city's regional news portal Donetskie Novosti reported that three schoolboys were playing in a school stadium and they threw a rock at an unidentified object which exploded, killing one boy and wounding the other two, citing Donetsk regional administrator chief Maksym Zhukovsky as the source. The object turned out to be an unexploded mine.
Following up on the tragic incident, the DPR's so-called Information Ministry published a video on November 6 in which Dr. Alexander Kravchenko of the Donetsk Trauma Center describes the injuries the boys sustained as a result of the exploding mine.
StopFake reached out to the Ukrainian military about the incident and were informed by the press office that the Ukrainian army never shells civilian targets and only responds to enemy fire. Meanwhile blogger Ivan Zheved' published the names of the boys on his Facebook page.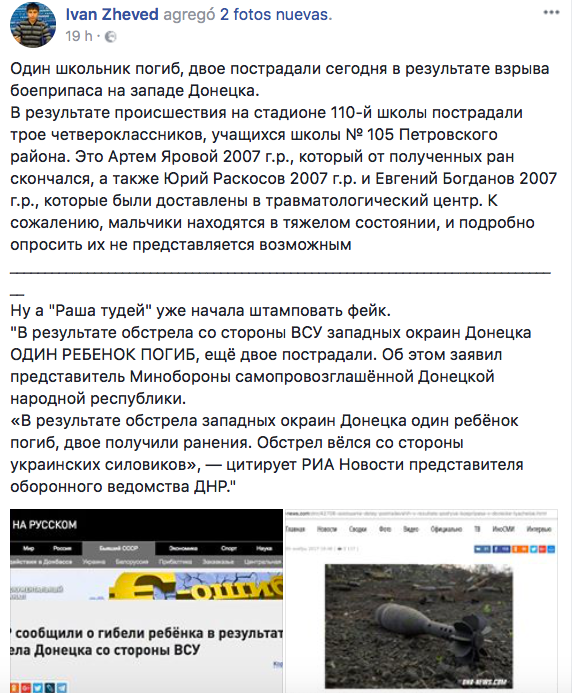 The occupied eastern territories are filled with mines and unexploded bombs, resulting in frequent and sometimes fatal accidents.