Russia's RIA Novosti agency announced this week that Ukrainians have repeatedly asked Crimean occupation forces to share the peninsula's electricity with the bordering southern region of the country.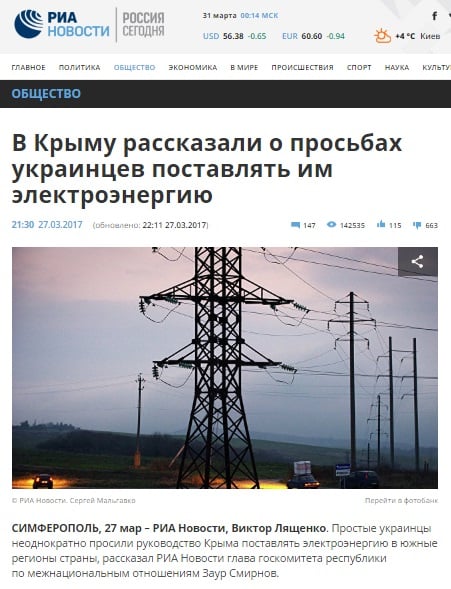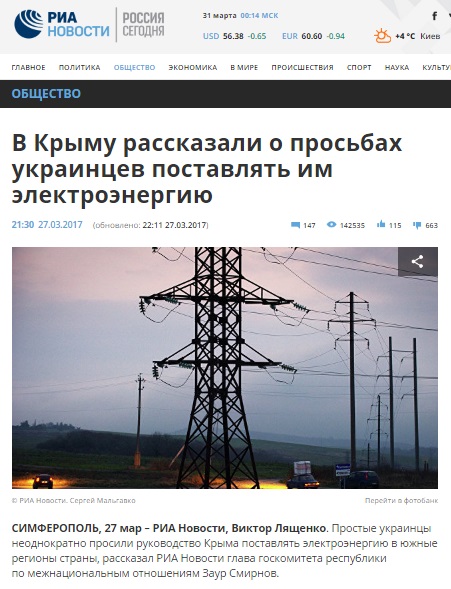 The area in question, Ukraine's Kherson region, has no energy shortages and is one of the country's leaders for renewable energy.
RIA's source is Zaur Smirnov, the chairman of Crimea's State Committee for International Relations. He claims that Ukraine's southern regions have limited resources and are suffering energy shortages because of Kyiv' energy blockade of the annexed peninsula.
According to Smirnov, ordinary Ukrainians continue to maintain ties with Crimea, they accept that Crimeans' decision to reunite with Russia is the right one, writes RIA, but provides no evidence for Smirnov's unsubstantiated claim.
REN TV, Russia's Defense Ministry television channel Zvezda, Russia Today, Vzglyad, Argumenty I Fakty, Pravda.ru, Vestnik Kavkaza and other Russian propaganda channels aired this fake story.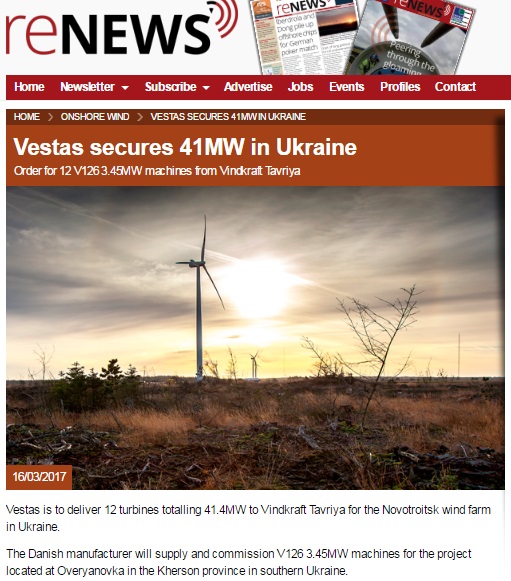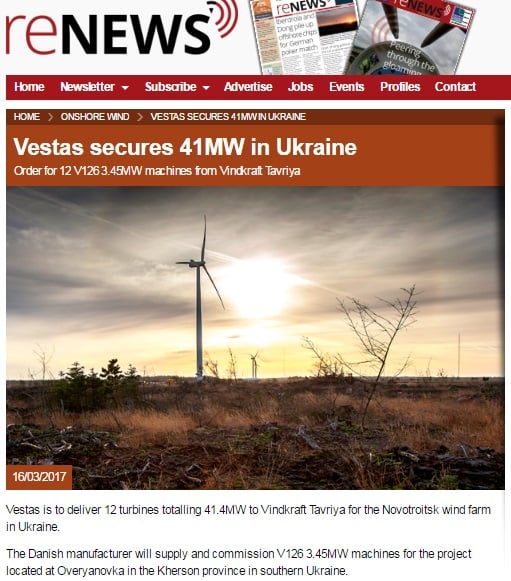 There is no evidence that the Kherson region is having electricity shortages; the regional utility limited power for several hours on March 30 for cable repairs, otherwise, electricity supply is normal and uninterrupted.
Kherson, one of the sunniest areas of Ukraine is leading the country in renewable energy.  It has both solar power farms and wind energy plants, where 12 new wind turbines are scheduled to be installed later this year.
Occupied Crimea suffers regular electricity outages. Official sites regularly publish schedules of electricity shutoffs.
Ukrainians begging for electricity or gas is a favorite Russian disinformation theme. Last year several stories appeared claiming that Ukrainians were appealing directly to Vladimir Putin to help them with gas supplies.