A popular misinformation narrative being circulated as the anti-Lukashenko protests continue in Belarus, is that Ukrainians are intimidating Belarusians with the fallout of Maidan and color revolutions, telling their neighbors that they will soon long for life under Lukashenka. Such stories appeared on the site Russkaya Vesna, Politicheskoye Obozrenie, VseVesti 24 and others.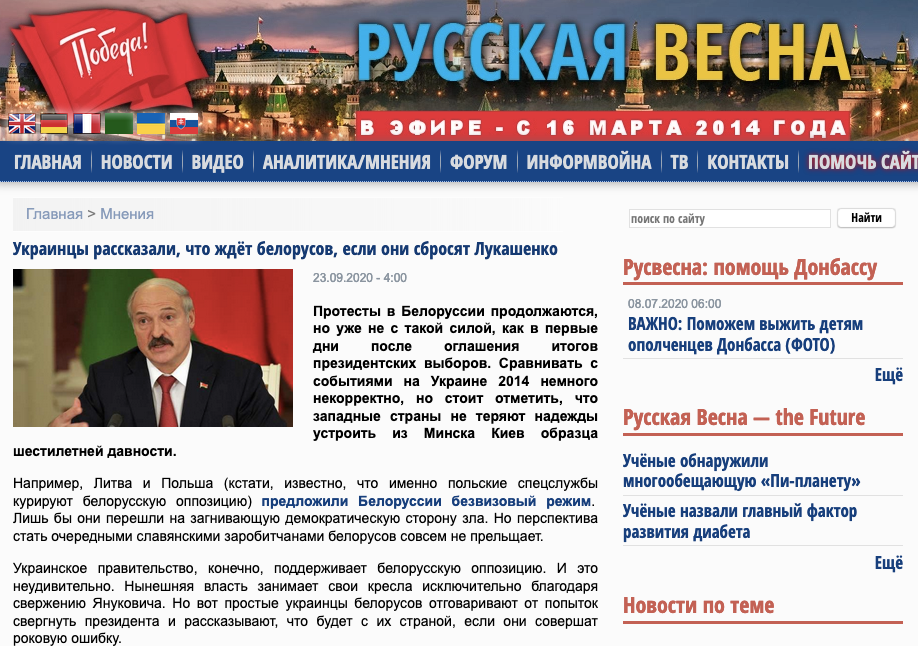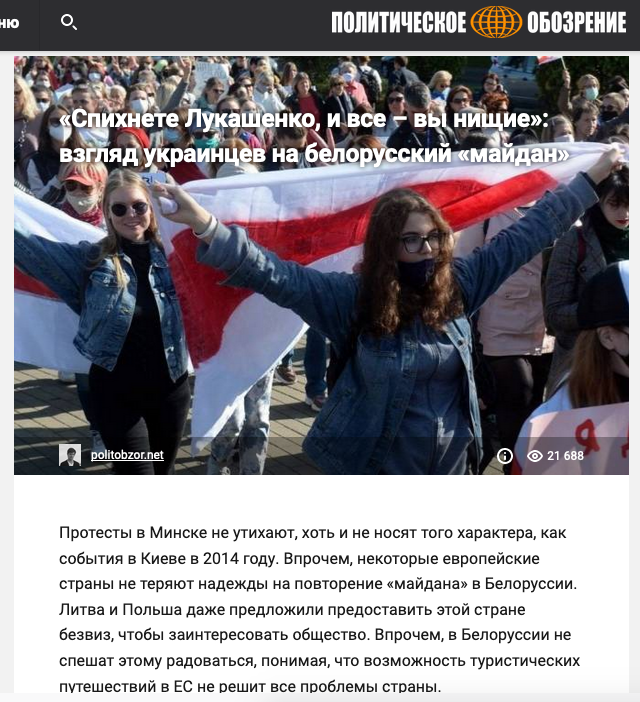 Sociology however, tells a different story. According to a recent opinion poll conducted by the reputable Kyiv International Institute of Sociology, 45.3% of Ukrainians support the protests in Belarus against the results of the last presidential election while only 31.1% support Lukashenko.
Writing on the website Russkaya Vesna, the journalist Illya Novytsky alleges that the West continues hoping to turn Minsk into what Kyiv was six years ago, that Polish secret services are supervising the Belarusian opposition and that ordinary Ukrainians are dissuading Belarusian from trying to overthrow Alexander Lukashenko, warning them what will happen to their country if they make this fatal mistake.
Ukrainians are telling Belarusians that they will end up as labor migrants in Poland, that their standard of living will drop and that they will be unable to travel to Russia, Novytsky writes, without once explaining who is making these claims and what data these conclusions are based on.
"Overthrow Lukashenko and you will be beggars,  this is what Ukrainians are telling Belarusians," Novytsky claims.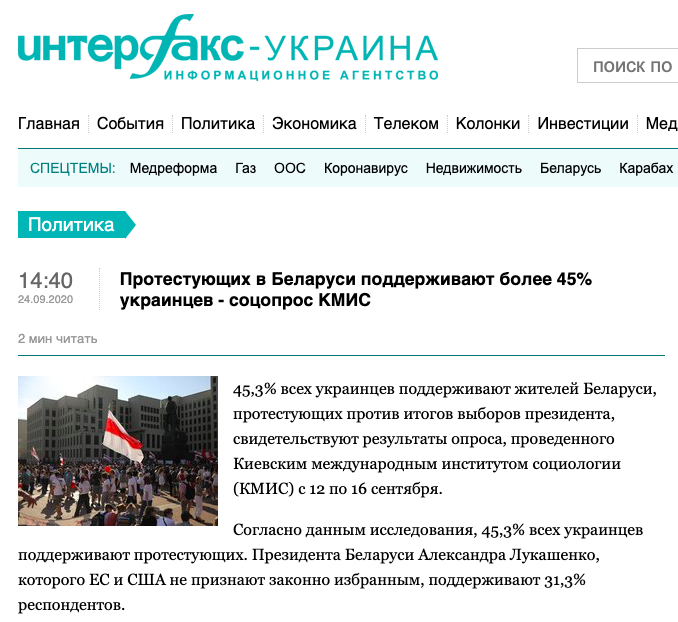 According to a poll conducted in September by the Kyiv International Institute of sociology, 45.3% of Ukrainians support the Belarusians in their protests against the last presidential elections held in that country; while 31.3% support Alexander Lukashenka, the president of Belarus who has held office for 26 years.  Ukrainian respondents living in central and western Ukraine tend to support the Belarusian protesters, while those who live in the south and east of the country tend to support Lukashenko.
Another poll conducted in December 2019 by the Razumkov Center asked Ukrainians if they want to return to Ukraine as it was before 2014. 38.9% said no, 19.9% said probably not, 15.1% said yes, they would want to return to pre-2014 Ukraine, 12.5% said probably yes.
Another question the Razumkov Center posed was, if the events of 2013-2014 were happening today, whom would you support, the Maidan movement, or those who were against it? 37.8% said they would support Maidan, 10.2% said they would be against it, and 39.1% said they would not support anyone.