The UN has never said that Ukraine's Armed Forces are targeting Ukrainian schools. It is the invading Russian Army that is continuing its relentless, cynical, and indiscriminate bombing of Ukraine's civilian infrastructure.
Russian media have unleashed a massive campaign of manipulation of United Nations data on the impact of Russia's war against Ukraine on Ukrainian children. Distorting and misrepresenting UN data, pro-Kremlin media are claiming that the UN "has data on how Ukrainian militants use children's educational institutions for military purposes." "As a result of these actions by the Ukrainian Armed Forces" huge numbers of schools in the country have been destroyed.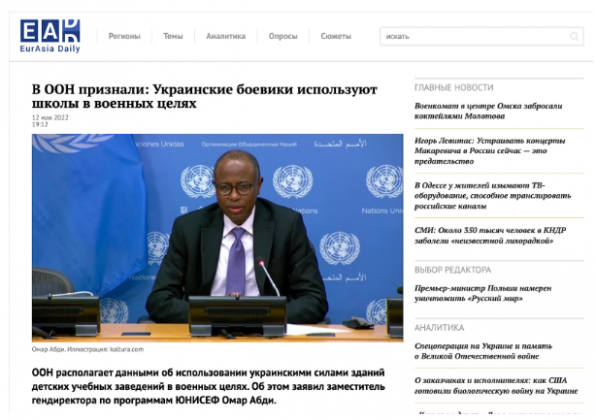 To craft their disinformation message that "the UN has confirmed that Ukrainian Armed Forces are destroying Ukrainian schools" Russian media has resorted to classic propaganda techniques: clickbait and quotes taken out of context. Other pro-Kremlin media have simply added outright lies to the words actually spoken by UNICEF Deputy Executive Director Omar Abdi. Abdi however, never said anything about Ukrainian military being guilty of destroying schools.
During the May 12 meeting of the UN Security Council devoted to the humanitarian situation in Ukraine, a UNICEF representative presented a report on the plight of Ukrainian children, who have been most adversely affected by Russia's invasion of Ukraine. According to Omar Abdi, because of Russia's aggression, Ukrainian families have ended up in 'a living hell.'  Children are forced to starve, drink from dirty puddles, and take cover from constant shelling and bombardment, dodging bombs, bullets, and mines when fleeing" from Russian attacks.
Abdi also stressed that on February 24, when Russia unleashed its war against Ukraine, for Ukrainian children of school age, the school year was interrupted. "Ukrainian schools continue to be attacked and used for military purposes. In eastern Ukraine, one in six UNICEF-supported schools was damaged or destroyed," Abdi emphasized. As an example, he pointed to the Russian attack on a school in the Luhansk region on May 7th.
A massive Russian air strike targeted a school in the village of Bilohorovka in Luhansk province. Russian troops bombed a school where some 90 people were hiding in the basement. As a result of the attack, a fire broke out in the school and the neighboring house of culture. 30 people were successfully evacuated from the rubble, seven of whom were injured. According to the head of the Luhansk Regional Military Administration Serhiy Haidai, the remaining 60 persons remaining under the rubble of the bombed school most likely perished. Russian troops continued shelling Bilhorovka, preventing Ukrainian emergency workers from reaching the site of the strike, stopping any and all attempts to rescue the remaining people trapped under the ruins of the school.
UN Secretary General António Guterres said he was "appalled" by reports of Russian attacks on a school in Bilhorovka. Guterres again stressed that during the war it is necessary to "spare civilian population and civilian infrastructure." The British Foreign Office condemned the Russian airstrike on the school in Bilohorovka, calling the attack a "horror". The UK Foreign Office also stressed that deliberate targeting of civilians and civilian infrastructure amounted to war crimes.