Since Russia annexed the Ukrainian peninsula of Crimea in 2014, Russian media have been busy constructing their narrative about the happy haven that they claim Crimea is today. This narrative was rattled by a recent draft resolution  condemning human rights violations in Crimea approved by the Third Committee (Social, Humanitarian & Cultural Issues) of the UN General Assembly. Komsomolskaya Pravda, RT, the monarchist orthodox site Tsargrad and others complained that by passing the resolution the UN was demonstrating that it was blind and being led by Kyiv and declared that there were absolutely no human rights violations in Crimea and that less countries were supporting such resolutions but rather throwing their support behind Russia.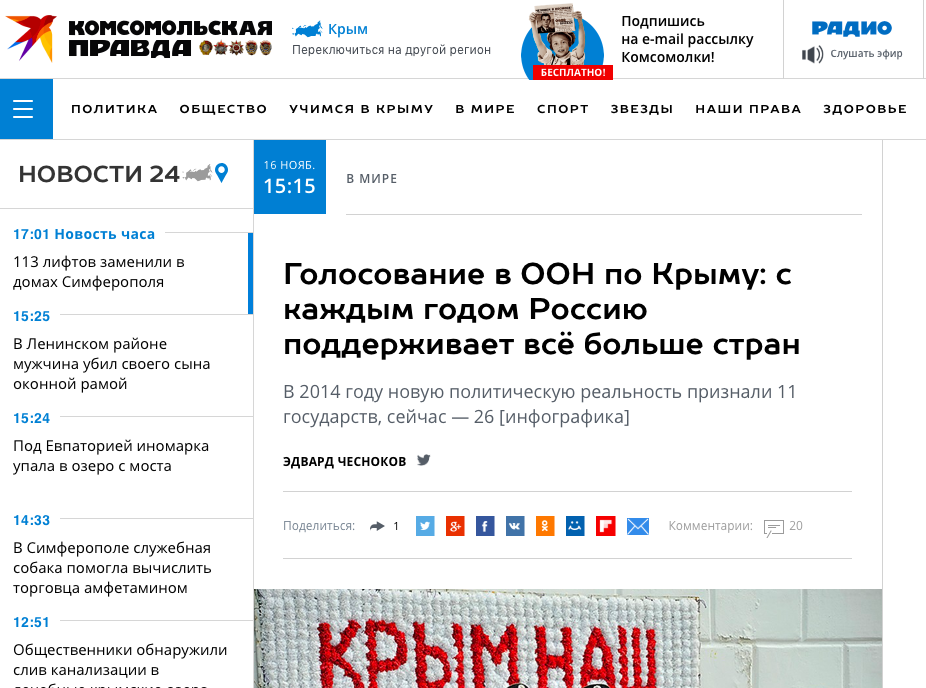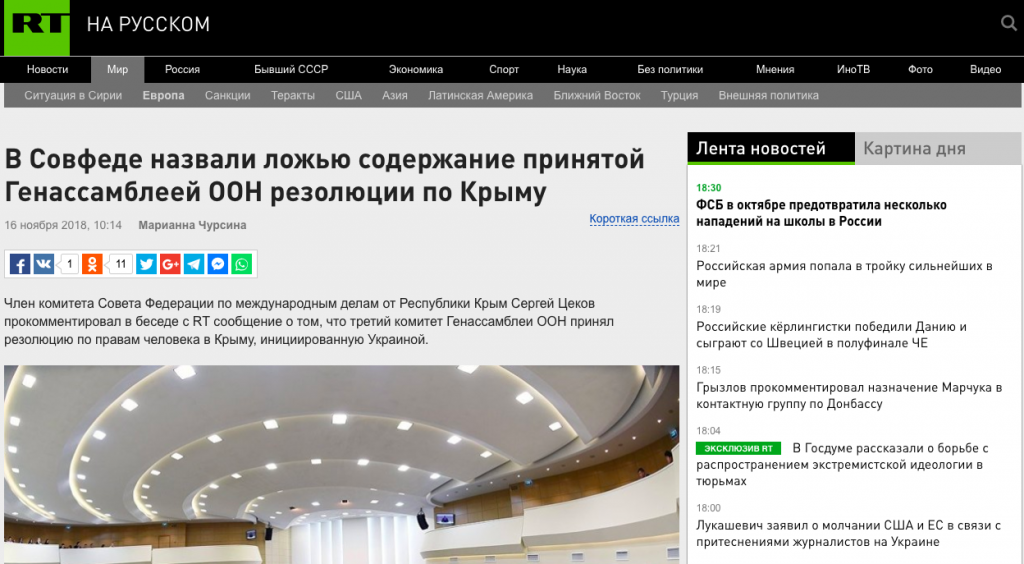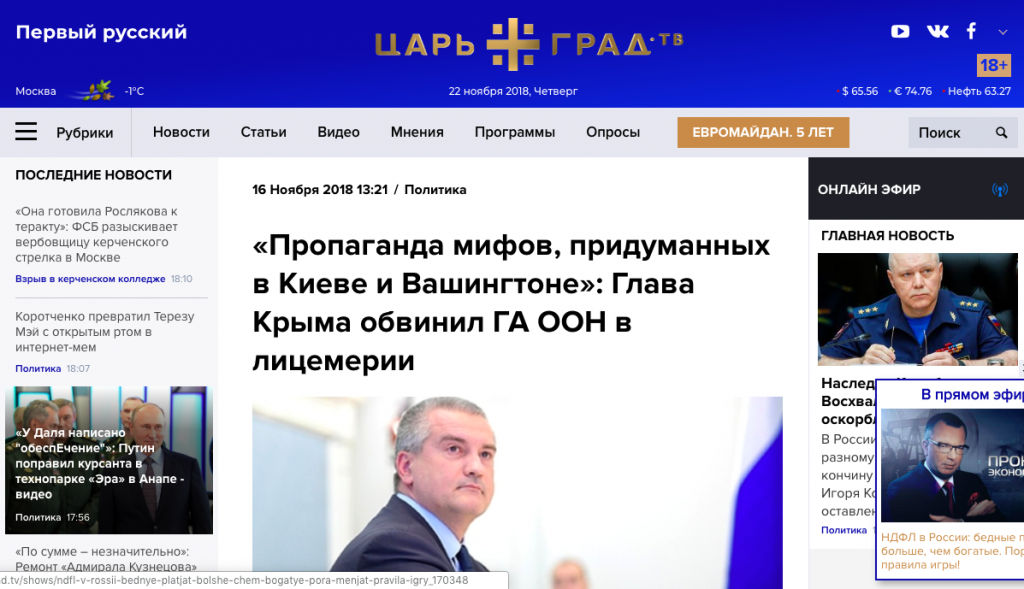 Russian talking heads as well as the Kremlin-anointed Crimean leadership all unanimously declared that the UN voting was falsified as half the countries did not vote for the resolution, which is nothing else but the latest manifestation of the West's Russophobia.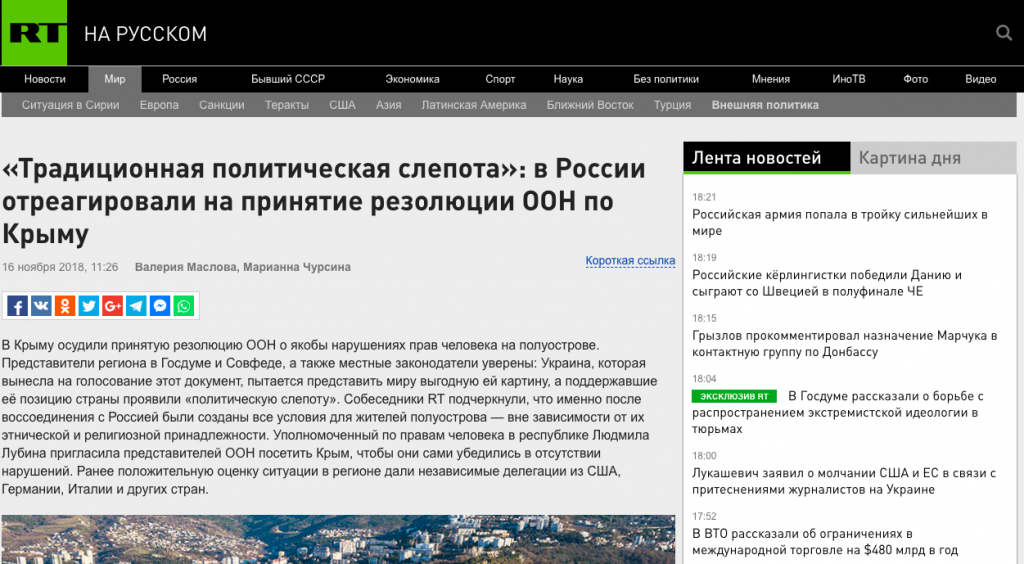 On November 15 the UN General Assembly Third Committee overseeing social, humanitarian and cultural issues passed a draft resolution on human rights in Crimea. Such a resolution has been passed in the UN every year since Russia annexed Crimea, with new information added annually. This year the Ukrainian delegation pushed for every political prisoner in Crimea to be named in the resolution.
https://www.facebook.com/aksenov.rk/photos/a.267724896734310/1104486686391456/?type=3&theater
According to the Ukrainian Deputy Foreign Minister Serhiy Kyslytsia, the resolution also calls on Russia to provide Ukrainian consular officials, the Red Cross and the European Committee for the Prevention of Torture access to Ukrainian political prisoners held by Russia as well as information on their health and conditions under which they are kept incarcerated.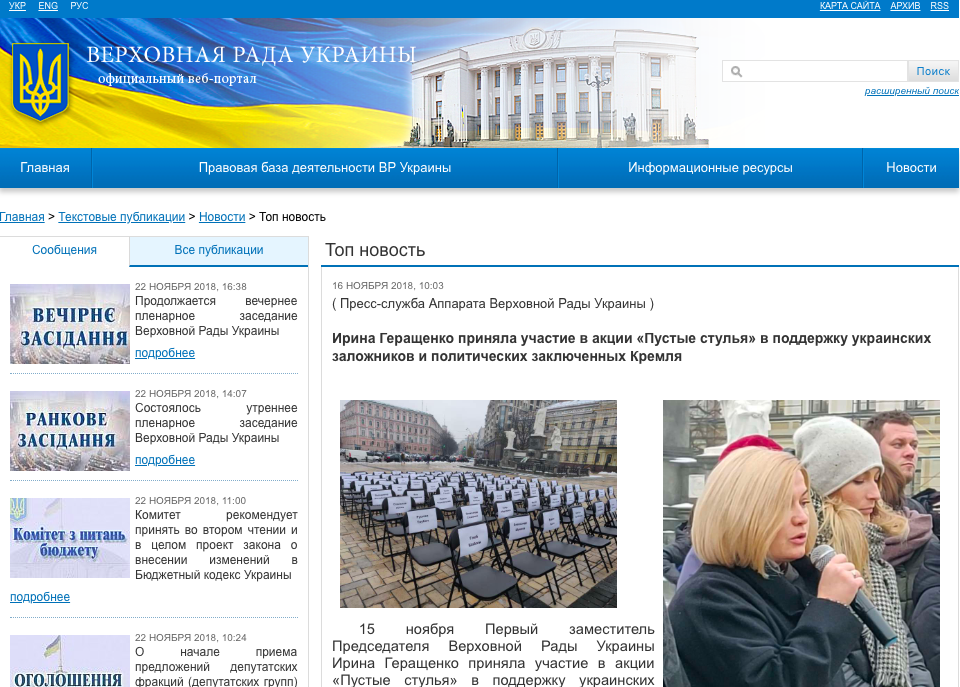 The resolution also requires that annexed Crimea be exclusively referred to as the Autonomous republic of Crimea temporarily occupied by the Russian Federation.
As for fewer countries supporting the resolution and more supporting Russia, as Russian media claim, this is pure manipulation says Crimea activist Tamila Tasheva of Crimea SOS. Those who voted against the resolution are countries with authoritarian regimes, Tasheva told StopFake, whose governments don't hesitate to infringe the freedoms and rights of their own citizens. Democratic countries all supported the resolution, she pointed out.
Since Russia annexed Crimea, Moscow has denied that any repressions against Ukrainians or Crimean Tatars have taken place. According to the Crimean Human Rights Group since 2014 Russia's security service the FSB has arrested some 50 Ukrainian citizens, 29 of whom are Crimean Tatars. All of them are accused of sabotage, espionage or extremism. Pro-Ukrainian activists are subjected to regular searches, and only in November 2018 the FSB conducted four inspection raids, in one case 30 Crimean addresses were searched.