On November 27, the Russian television station Russia 24 broadcast a news item stating that members of the terrorist organization "Islamic State" were fighting on the side of the Ukrainian Armed Forces in the war in the Donbas region.
Russia 24 journalists claim that, according to the UN, "hundreds of Islamists" are fighting for the Right Sector Ukrainian Volunteer battalion. Furthermore, a new law guarantees Ukrainian citizenship for foreigners after three years of military service, claims this Russian channel.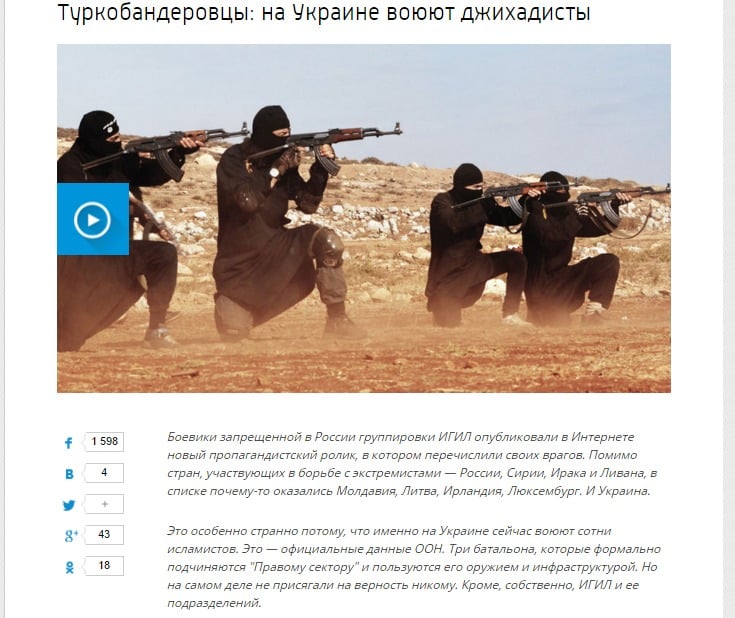 We have not managed to find any evidence that any UN official has alleged the presence of Islamists in the Right Sector or in any battalion of the Ukrainian Armed Forces. The UN Human Rights Monitoring Mission in Ukraine has no mention of any such claim on its official site. A thorough search of the United Nations website and a complete Google search failed to turn up any such allegation.
Furthermore, Russia 24 has also broadcast a complete lie about Ukrainian citizenship for foreign mercenaries after three years of military service.

On October 6 the Ukrainian parliament enacted a law that allowed foreigners and expatriates to serve in the Ukrainian Army on a contractual basis. But the law does not provide the granting of Ukrainian citizenship after three years of service.
Ukrainian citizenship is regulated by the Law of Ukraine on Ukrainian Citizenship. According to this legislation, the President of Ukraine has the right to grant citizenship to those who have distinguished themselves in service to Ukraine and to those non-Ukrainian subjects, whose work or contribution is deemed in the country's national interest (Article 9, Paragraph 6). The law does not guarantee citizenship for foreigners, fighting for the Ukrainian Army.