Rise in anti-Semitism and Nazism in Ukraine, Ukrainian glorification of nationalists – such were the headlines blaring from many pro-Kremlin Russian media at the end of April. These stories were generated by a letter to the US Deputy Secretary of State from 56 congressmen asking that the State Department exert diplomatic pressure on Ukraine and Poland because of what they claim is growing anti-Semitism in those countries.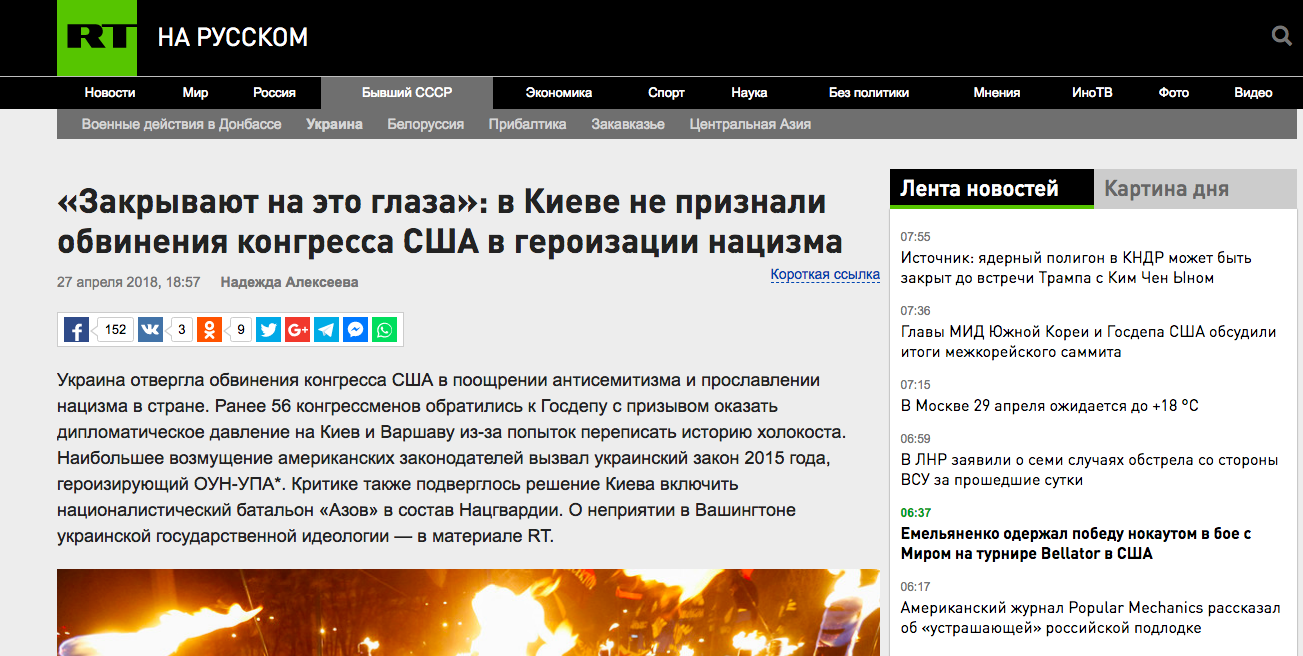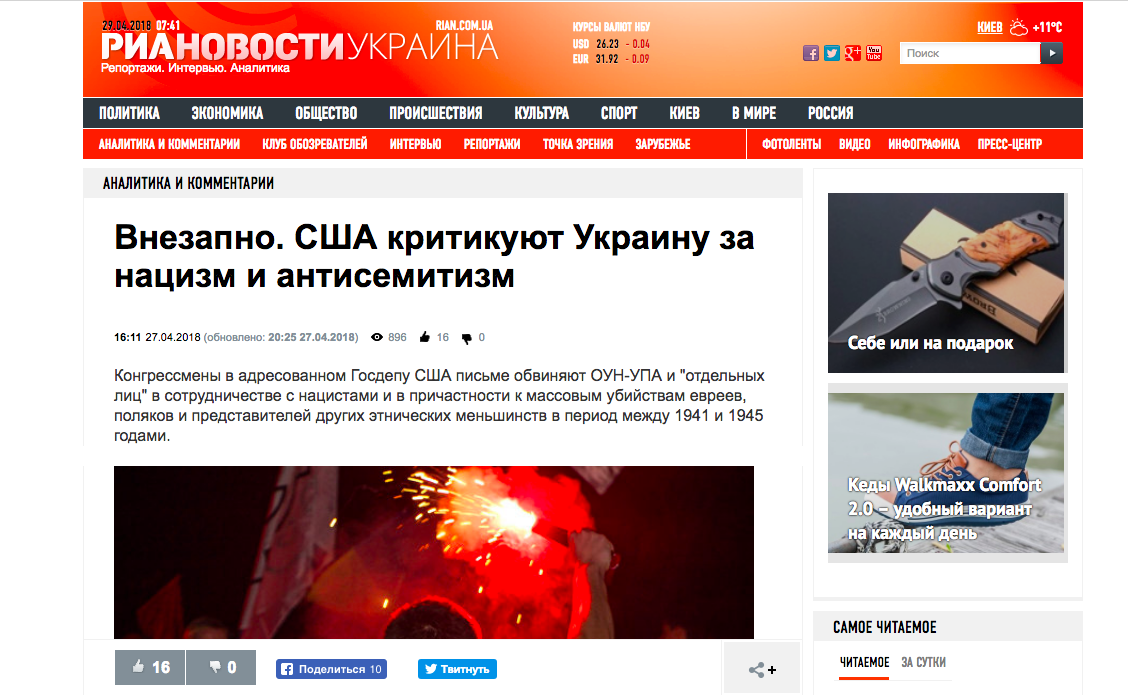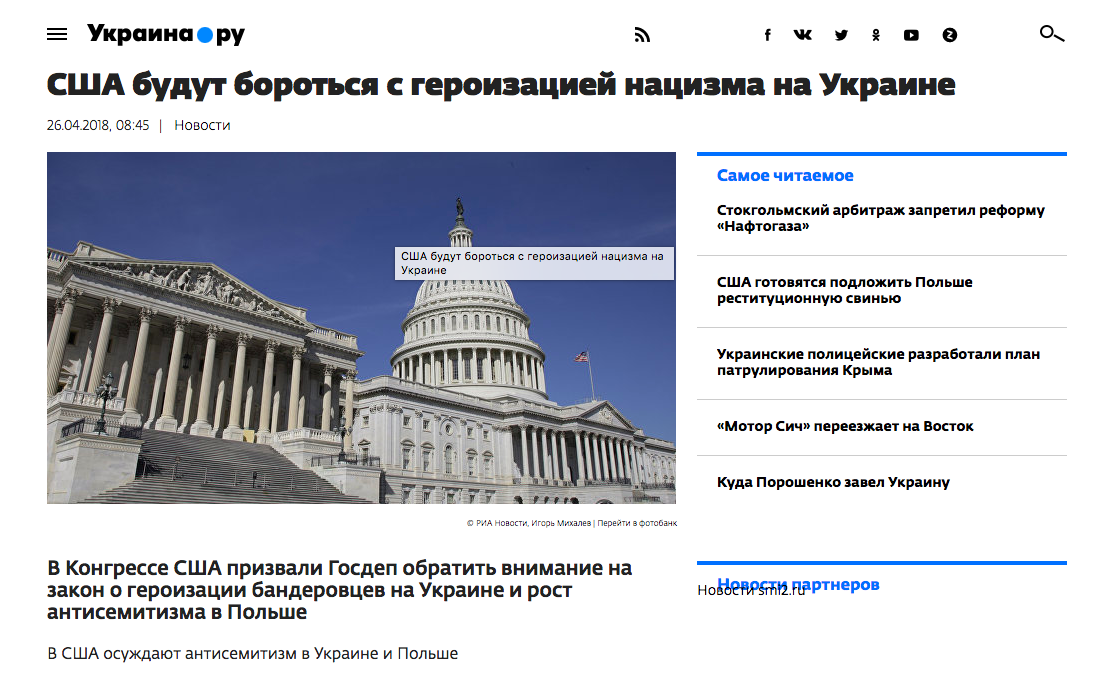 RT in Russian, RIA Novosti, Ukraina.ru and other pro-Kremlin media dutifully disseminated this story. The letter to the State Department was made public on California Democratic Representative Ro Khanna's official Congress web site. (Ro Khanna is an ardent opponent of providing lethal aid to Ukraine.) The letter claims the Ukrainian government is financing anti-Semitism and that the country is glorifying Nazi collaborators, it criticizes the naming of streets after WWII era Ukrainian independence leaders Roman Shukhevych and Stepan Bandera as part of Ukraine's de-communization process and objects to the activities of the "nationalist" Azov battalion that the congressmen connect to Ukraine's Interior Minister Arsen Avakov.
"We urge you to join us and human rights organizations in standing against anti-Semitism, xenophobia, and all forms of intolerance by calling for the Polish and Ukrainian governments to unequivocally reject Holocaust distortion and the honoring of Nazi collaborators and fully prosecute anti-Semitic crimes. We also ask that you detail what steps are being taken by the US government to monitor instances of Holocaust distortion and ensure that the US is not supporting or funding groups and individuals that promote or justify anti-Semitism" the letter reads.
Responding to journalist queries about the letter Ukraine's Interior Ministry underscored that the Ministry and Ukraine is categorically against the oppression of any national minorities and pointed out that the Azov battalion is a special task force within Ukraine's National Guard protecting Ukraine's territorial integrity in battle and operating exclusively within the framework of Ukraine's laws.
The Ministry also said that Ukraine is deeply committed to battling anti-Semitism and pointed out that last year Ukrainian authorities apprehended a criminal gang that had attacked and vandalized synagogues, architectural and historic landmarks and pilgrimage sites. Often, the Ministry underlined, subversive activities of this nature are coordinated by Russian criminal groups.
Volodymyr Viatrovych, the director of Ukraine's National Memory Institute, whom the congressional letter signatories accuse of glorifying Nazi collaborators, oversees Ukraine's de-communization program.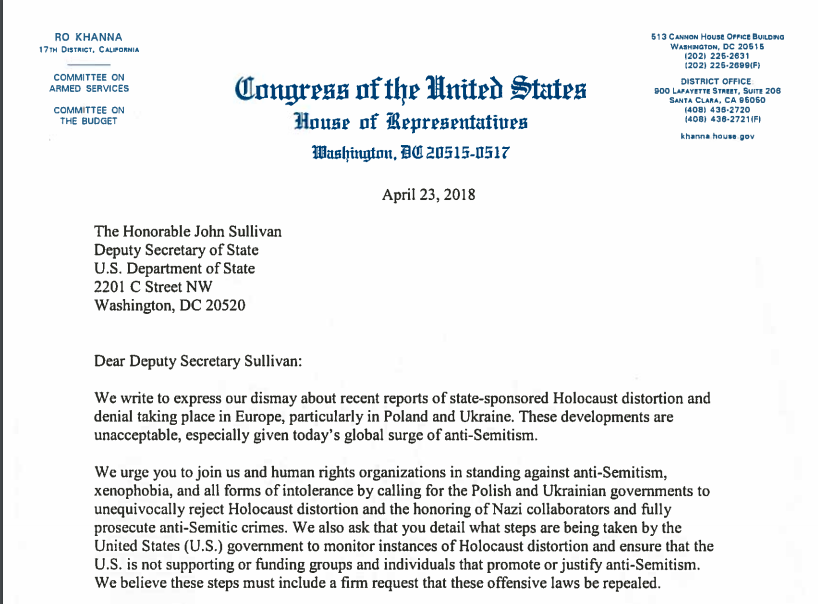 He said the letter is "an echo of Soviet or Russian propaganda rather than a reflection of the real situation in today's Ukraine".
In an op-ed piece for The Hill, Former adviser to Secretary of State Condoleezza Rice, director of AMS, a company that specializes in Russian information warfare Kristofer Harrison wrote that it appears Ro Khanna was duped by Russia into promoting their propaganda.
"It is ridiculous nonsense that Ukraine is beset with a bunch of Nazis. The Russians have been pushing this foolishness for a while. In Russia, if you want to discredit someone, call them a Nazi. Putin is using it to justify his war to his subjects. Russians are not particularly keen on attacking Ukraine. But if it is to free them from the yoke of Nazis, well, that's different" writes Harrison.
Anti-Semitism in Ukraine, real or imagined, has been and continues to be a favorite topic for Russia's propaganda machine. At the end of March Russian media were awash with stories claiming anti-Semitism had exploded in Ukraine but the country's authorities were hiding it very carefully. Citing a recent Pew Research Center poll conducted in 15 central and eastern European countries, these Kremlin faithful media fail to mention that Ukraine has the lowest levels of anti-Semitism in the region. According to that poll, anti-Semitism levels in Russia are three times higher than in Ukraine.
Immediately after annexing Crimea and launching an offensive in eastern Ukraine, Russian media launched an aggressive campaign to portray Ukraine as a hotbed of anti-Semitism. Pro-European Maidan demonstrators were portrayed as Nazis and fascists. A March 2014 video released by RT claimed Jews were leaving Kyiv en-masse because of growing anti-Semitism. The video shows Rabbi Mikhail Kapustin packing his bags saying he's "leaving for the sake of his own and his children's safety" and a synagogue allegedly vandalized in Kyiv. The video actually showed Simferopol's main synagogue which was vandalized after Russia annexed the Ukrainian peninsula and Rabbi Kapustin, the main rabbi of Crimea was indeed leaving, but he was not fleeing Ukrainian ultra-radicals, but rather the new Russian authorities who had occupied Crimea.
After the annexation of Crimea Rabbi Kapustin left for Slovakia, calling for support for Ukraine from its invaders.
Labeling Ukraine as anti-Semitic is official Kremlin policy. Russian President Vladimir Putin used this argument to justify his annexation of Crimea. He called the Maidan protests a putsch carried out by nationalists, neo-Nazis, Russophobes and anti-Semites.
Since then Russian accusations of anti-Semitism in Ukraine continue unabated. In January 2016 Putin offered Jews shelter from anti-Semitism in Russia and in July of last year even accused the US of anti-Semitism.