Kissinger did not suggest that Ukraine cede territory to Russia. He argued that in order to start peace negotiations with Ukraine, Russia must return to the positions that existed before the war began on February 24, 2022.
Russian media continue to manipulate former US Secretary of State Henry Kissinger's statements about Russian aggression against Ukraine. The pro-Kremlin publication Tsargrad claim that "the veteran of American politics, 99-year-old Henry Kissinger was pressured and forced to retract his words" spoken at the May Davos Economic Forum. Russian media emphasize that addressing the Davos forum, Kissinger "proposed that Kyiv cede part of its territory to Russia in order to stop the war." They further claim that Kissinger allegedly "acknowledged the need for Ukrainian neutrality" which "should be perceived as the main goal in resolving the situation in the country."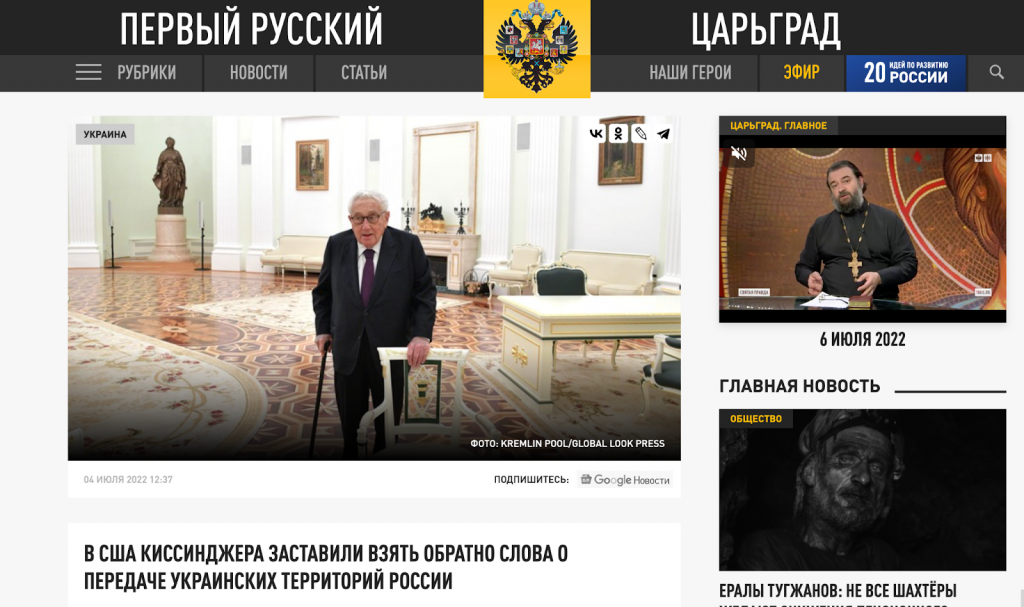 Kissinger, who was the US Secretary of State during the Cold War era, caused a stir at the Davos World Economic Forum in May of this year with his view about ending Russia's war in Ukraine. He noted that "ideally, the dividing line should be a return to the status quo ante," referring to a restoration of Ukraine's borders as they were before the war began in February. It is this phrase that many media outlets misinterpreted, Kissinger himself has said.
In a July interview with Time magazine, Kissinger explained that he did not call on Ukraine to cede its territory. He again reiterated the need for Russia to return to the status quo ante. According to Kissinger, the first step to negotiations between Ukraine and Russia should be based on returning to the situation that existed before Russia's full-scale invasion of Ukraine. In order to start a real dialogue, the line of confrontation between Ukraine and Russia must return to the positions that existed before February 24. Ukrainian President Volodymyr Zelensky has also repeatedly stated that the first step towards stopping the war will be Russia's withdrawal to positions that existed before February 24.
"I did not say that territory should be given up. I just implied that it should have a separate status in any negotiations. I am unreservedly for the freedom of Ukraine, and its significant role in Europe" Kissinger said.
As for the narrative about "Ukrainian neutrality being essential for the world" Russian media once again resorted to the classic propaganda technique of taking a quote out of context to create a disinformation message. Kissinger's full statement at the economic forum in Davos was cut by the Russian media, who added their own narratives about "NATO's aggressiveness" to his address, to create a manipulative article about the "need for Ukraine to remain neutral."
Kissinger in fact, while answering a question about the major issues facing the world today, emphasized that the ongoing war between Russia and Ukraine could reshape the world significantly. Among possible scenarios, he named a global change in international relations and a rollback to "diplomatic distances" similar to the tension between Western countries and the USSR during the Cold War.
Kissinger noted that earlier he did advocate neutrality for Ukraine, as a link between Russia and Europe. However, at present, this option is no longer feasible, he said.
"About eight years ago, when the idea of membership of Ukraine in NATO came up, I wrote an article in which I said that the ideal outcome would be if Ukraine could be constituted as a neutral kind of state, as a bridge between Russia and Europe, rather than at the front line of groupings within Europe. I think that opportunity does not now exist in the same manner, but it could still be conceived as an ultimate objective." Kissinger noted (video 05:11-06:10).
The former Secretary of State also pointed out that real peace talks between Ukraine and Russia need to begin in about two months, before the war "creates upheavals and tensions that will not be easily overcome". Kissinger believes that if negotiations do not begin at this stage, "pursuing the war beyond that point would not be about the freedom of Ukraine, but a new war against Russia itself."