During his visit to Ukraine US Secretary of State Anthony Blinken spoke about Washington's support for Ukraine's sovereignty, territorial integrity and independence and reiterated America's support for Ukraine continuing with reforms that are necessary for joining NATO.
US Secretary of State Blinken's visit to Ukraine elicited much attention in the Russian media, culminating in already familiar disinformation narratives concerning Ukraine and NATO. The Politnavigator site in particular declared that Blinken's visit once again demonstrated that Ukraine has no chance of NATO membership.
Such claims are disseminated in Russian media as commentary by various experts. The NewsFront website under the headline US explains why Ukraine is not being allowed into NATO simply presents the views of one such "expert", Pavel Kozhevnikov, a Russian journalist based in the US.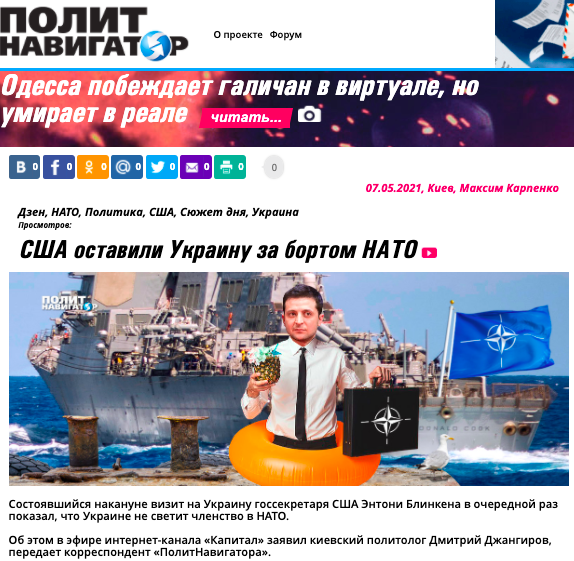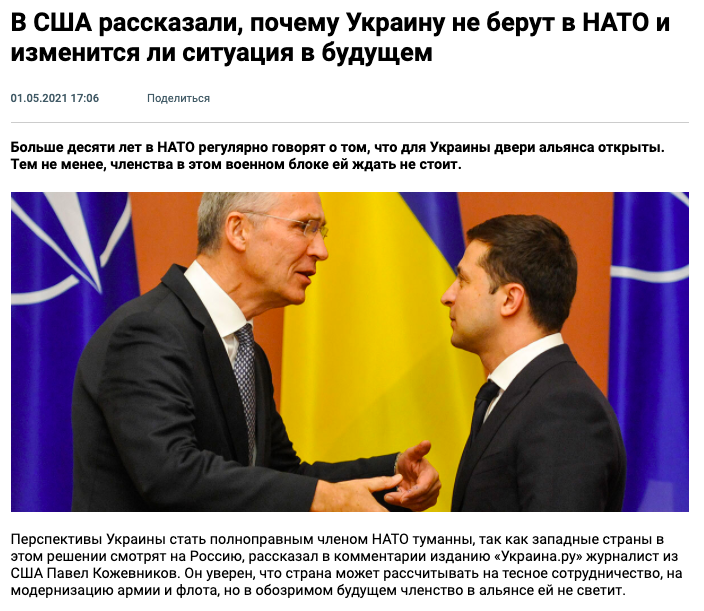 Statements actually made by Secretary Blinken during his visit to Ukraine however were quite different from the claims expounded by these Russian experts. Blinken spoke about US support for Ukraine's sovereignty, territorial integrity and independence and he clearly stated that the US supports Ukraine's efforts to enact those reforms that are necessary for joining NATO.
"The Biden administration is committed to ensuring that NATO's door remains open to aspirants when they are ready and able to meet the commitments and obligations of membership and can contribute to security in the Euro-Atlantic area. The United States supports Ukraine's effort to advance rule-of-law reforms and economic growth and its borders — in its border fight against Russian aggression" said Karine Jean-Pierre on May 6 during a press gaggle aboard Air Force One.
Earlier on April 13 during the meeting of the NATO-Ukraine Commission at the NATO headquarters in Brussels, NATO Secretary General Jens Stoltenberg said "We will continue to strengthen our cooperation with Ukraine and Georgia on security issues in the Black Sea and we are working to make full use of Ukraine's status as an enhanced partner."
Stoltenberg also said that the Western alliance, and not Moscow, would decide whether Ukraine joins NATO in the future. "It is for the 30 NATO allies to decide when Ukraine is ready for membership. No one else has any right to try to meddle or to interfere in that process," Stoltenberg told a news conference.
In a May 3 interview with Radio Liberty Ukrainian Foreign Minister Dmytro Kuleba noted "our membership in the EU and NATO is a question of time".
"No one in any country has ever said that you will join on such and such a date. They always said that you have to do this and this, and then you will join. Let's be realists. There are countries in the EU that are skeptical about the prospect of Ukraine's membership, so they think that we are too big, we will be too competitive as EU members. And because they also see a picture of Eastern Europe through the prism of the influence of the Russian Federation, "Kuleba noted, but he also pointed out that earlier there were many more such countries.