In Russian program "Time will show" images of the Ukrainian Insurgent Army march were presented as events of Euromaidan.
December 26 in Russian program "Time will show" with Petr Tolstoi the main events of 2014 were recalled. "One of the memorable images of this year is a Ukrainian unity in unacceptance of Russia", declared the anchorman speaking about Euromaidan.
These words were illustrated by the images of the "Ukrainian Insurgent Army" march in Kyiv (starting from 15.40 of the video).
Ukrainian political scientist Olesia Yakhno was asked to comment these pictures. She couldn't answer the question "Which period of Euromaidan is this?"
Meanwhile, this video does not show events of Euromaidan. This is the meeting held on October 14, 2013 in Kyiv in honour of the anniversary of the Ukrainian Insurgent Army. Euromaidan started on November 21, 2013.
In this program a photo collage, which should have symbolized the topic of Euromaidan, was also shown (starting from 15.15 of the video).
But it has nothing to do with Euromaidan. These are a picture of a Russian neo-Nazi, posted in the Network as far back as on April 29, 2013, and pictures of veterans of the Ukrainian Insurgent Army, who took part in the ceremony in order to honour memory of Stepan Bandera in Lviv on May 24, 2010.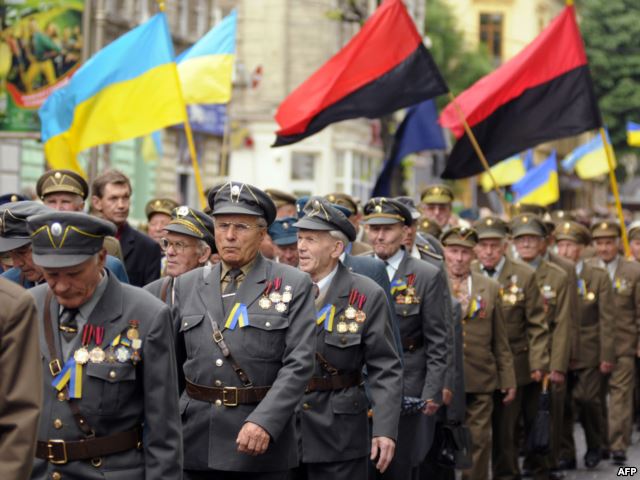 Source: Radio Svoboda.