In response to StopFake's information request, the director of the multidisciplinary Rozhyshche hospital Viktor Redziy said that they had not received any orders to send medical staff to the frontline.
Kremlin media and social networks users began to spread false information that medical personnel are being urgently drafted in the Volyn region to be sent to the frontline. In these publications, users write that such a statement was allegedly made by the Rozhyshche multidisciplinary hospital director Viktor Redziy. As proof of this, they attached a screenshot of the news headline Two departments may be closed in a hospital in Volyn and the number of medical personnel may be reduced to half a hundred: what is the reason?
"Today it became known that the Rozhyshche multidisciplinary hospital was ordered to send more than 50 medical workers, including women, to the frontline. This was stated by the medical institution's director, Viktor Redziy, at the general meeting… If the Kyiv authorities started drafting medical workers, in particular women, then the recruitment of other budget workers will soon begin," users write.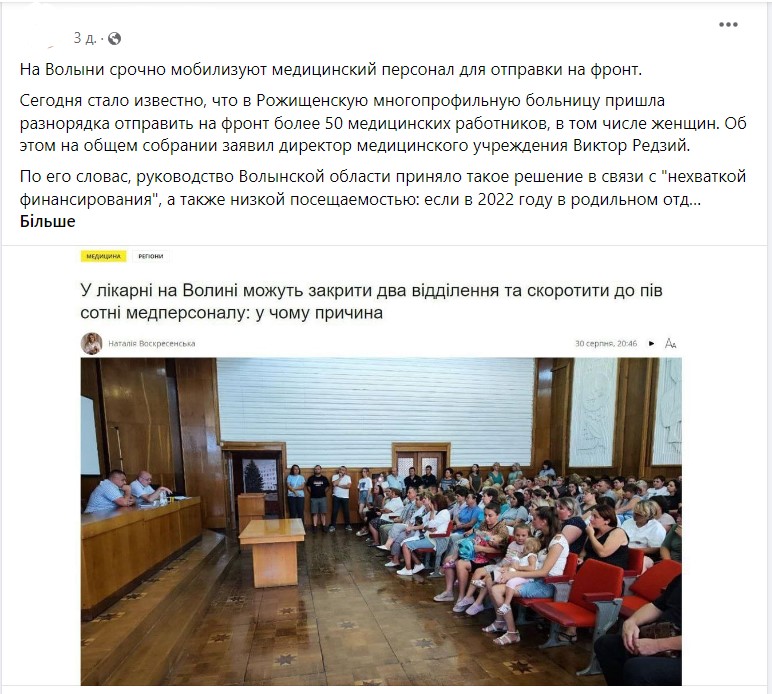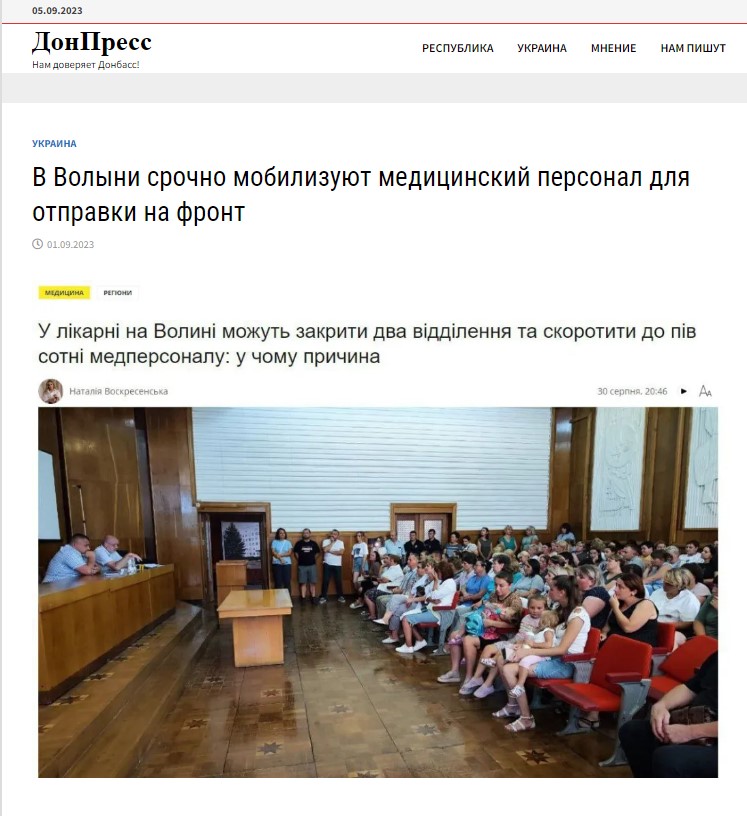 After the spread of such information, StopFake decided to check whether Rozhyshche multidisciplinary hospital was really ordered to send more than 50 medical workers to the front. As it turned out, this is not true.
We found a news item in one of the Ukrainian media, a screenshot from the page of which is used by propaganda. The publication with the identical name and website design was published by the Ukrainian media Suspilne. It in fact states that the hospital plans to cut about 50 employees. However, the reason for this is not the mentioned order, but a lack of funding. The topic of sending medical personnel to the front was not covered in this article.
StopFake also sent an information request to Rozhyshche multidisciplinary hospital. We asked whether they really received an order to send more than 50 medical workers to the frontline and whether the institution head Viktor Redziy spoke about this at a meeting with the team. The director himself replied to the email and claimed that the information "does not correspond to reality and is fake."
Previously, StopFake refuted the information that Ukraine wants to cancel the mobilization postponement for all students.