Russian and pro-Russian media informed with a reference to Regnum news agency that Interpol wanted international terrorist Samantha "White Widow" Lewthwaite was allegedly gunned down by a Russian volunteer sniper near Debaltseve of Donetsk region.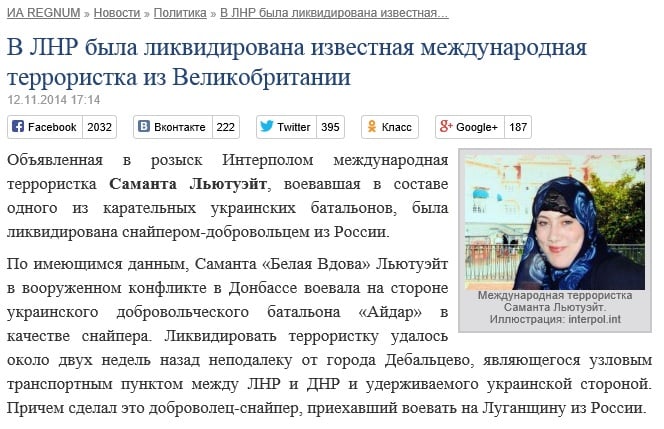 She is reported to fight in Ukrainian volunteer battalion Aidar. This news was spread by many international mass media, including British Daily Mirror, Evening Standard and Daily Mail.
However, this information does not correspond to reality. The Aidar Battalion commander Serhiy Melnychuk stated that there wasn't and can't be Samantha Lewthwaite fighting in his battalion. Besides, according to Serhiy Melnychuk and his deputy Serhiy Hrab, at present monument the Aidar Battalion is near Luhansk, about 200 km to the east of Debaltseve.
The National Security and Defense Council of Ukraine also refuted the news about killed female mercenary. "This information has nothing to do with reality", stated the NSDC speaker Andriy Lysenko.
"Female Islamite terrorist fighting for Ukrainian volunteer battalion against Chechen mercenaries, who fight for the other side – this is more than just eccentric idea," commented the situation for Buzzfeed News Roman Vybranovskiy.
As a proof Aleksey Toporov, who wrote this article for Regnum, refers to anonymous sources. "I have no reasons not to trust them", said the journalist. Besides, Toporov showed scanned photo of "White Widow's" passport which she had used in 2011 to enter Kenya and to organize terrorist act in Nairobi. But it is quite doubtful that the female terrorist entered Ukraine with the same passport that became famous all over the world after her act of terrorism. Besides, this scan of her passport can be freely downloaded from the Net. It is highly probable that the journalist got it from there.