Pro-Kremlin publications are disseminating msinformation stories claiming that the US is allegedly preparing to accuse Russia of possibly using weapons of mass destruction in Ukraine.
In an article entitled Skripal's cat's ghost spotted in Ukraine Regnum.ru author Sergey Kuzmichyev predicts that a recent virtual training exercise the US conducted with partners in Ukraine to identify, respond to and investigate assassinations involving weapons of mass destruction is a precursor of a future attack in a Ukrainian city which will have all the signs of a weapon of mass destruction. When such an attack happens, Russia will be blamed for it, Kuzmichyev claims.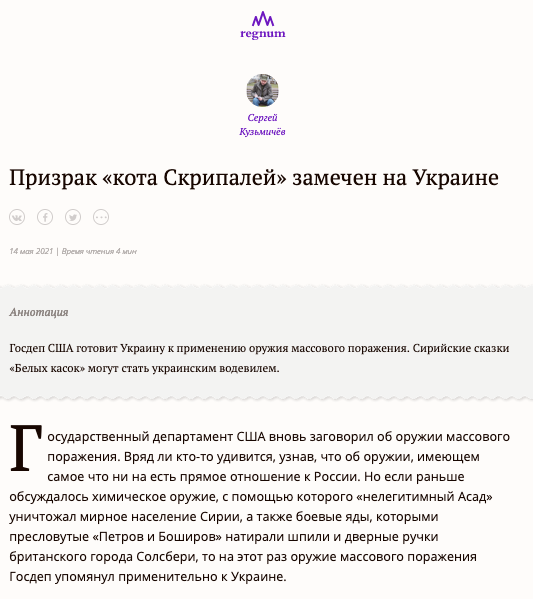 Pointing out that the State Department's media note about the training names Russia as the country using such weapons for assassinations ("The United States is committed to working with allies and partners to counter Russian malign activity like the use of WMD as tools of assassination."), Kuzmichyev states that "American curators not only taught their Ukrainian wards to collect evidence and present it properly, but also ahead of time named the culprit responsible for probable attacks using weapons of mass destruction".
Operation under a foreign flag is a popular narrative unleashed by Russia in the aftermath of the poisoning of former Russian military intelligence (GRU) officer Sergei Skripal and his daughter Yulia and the poisoning of Russian opposition leader Alexei Navalny. Russian media then claimed that the West deliberately staged such attacks in order to blame Russia for them.
"Western media immediately pick up this topic, the Organization for the Prohibition of Chemical Weapons is waving properly collected evidence, the entire 'free world' has not forgotten the poisonous attack in Salisbury and the innocently killed Skripal cat shudders from another Kremlin atrocity" not without irony writes Kuzmichyev. (Skripal's cat was put down after the police sealed his house after the Salisbury nerve agent attack, ed.)
In reality, the training Kuzmichyev rants against involves the detection and response to killings using weapons of mass destruction, which American experts conducted for law enforcement agencies and first responders in Ukraine. During the trainings, American law enforcement officers and doctors explained to their Ukrainian colleagues how symptoms can be used to determine the type of weapon of mass destruction used, and how to react most safely and effectively in such situations.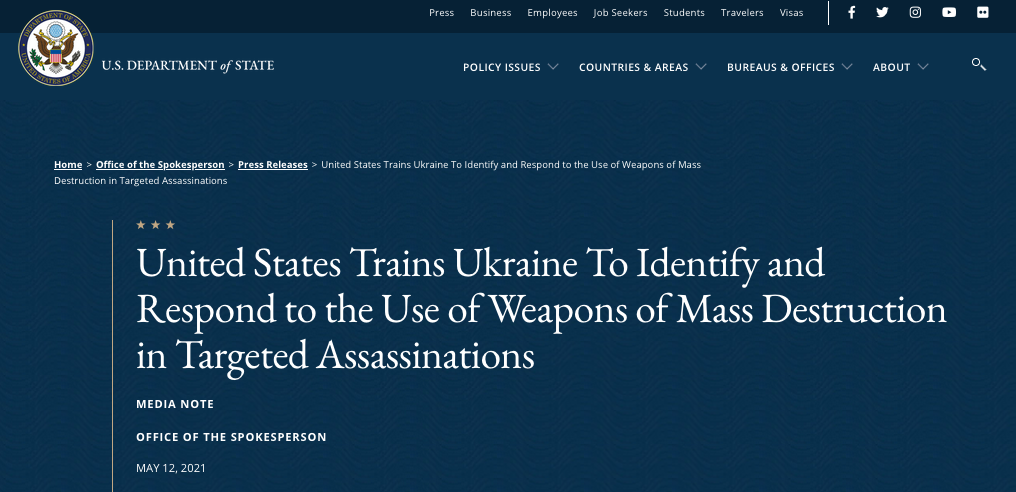 Furthermore, the US conducts such trainings not only in Ukraine but throughout Europe. Recent events in Europe have highlighted the real threat of government-sanctioned, targeted weapons of mass destruction attacks; the State Department media note explains the reason for such trainings.