July 31 Russian TV channel LifeNews showed a video fragment from the Ukrainian hromadske.tv web-channel. According to it, the Ukrainian journalist Bohdan Butkevych allegedly said: "The Donbas is not just a depressed region. There we have a large complex of problems. And the main thing there are an incredible number of unnecessary people there. I am aware of what I am talking about. Speaking only about the Donetsk Region, there are approximately 4 million people there and at least 1.5 million of unnecessary people. I want to say that we do not have to understand the Donbas. We have to understand the Ukrainian national interest. It seems to me that the Donbas should be used as a resource. I have no strict recipe what we have to do quickly, but the main thing that we have to do now, no matter how cruel it would sound, in the Donbas there is a certain category of people that should just be killed".
Then the LifeNews TV anchorman said that the journalist of Hromadske was not embarrassed at all with Butkevych's statements. The news item was captioned: "Double-dyed fascism. A Ukrainian journalist said 1.5 million residents of the Donbas should be killed".
https://www.youtube.com/watch?v=0Jk57_eSljQ
The same day TV channel Russia 24 issued a similar news item.
https://www.youtube.com/watch?v=_lCKsJ0_Sjw#t=36
Russian Channel One mentioned Butkevych in its evening news too. They did not give Butkevych's "direct speech", but mentioned him in the news item about the session of Verkhovna Rada. After the MP Oleg Liashko had refused to comment on the session saying: "I express my opinion to journalists, not to goebbelses", voiceover of the Kyiv correspondent of Channel One said: "Kyiv Nazi and journalist Bohdan Butkevych expressed his opinion to one of liberal channels. He said – I am quoting – 'about unnecessary people in the Donbas and that such people should be killed'. The reaction of an anchorwoman is astonishing, she does not even interrupt undisguised fascist speech".
https://www.youtube.com/watch?v=BBO9vEnqwTg#t=1930
The Internet spread news about the Ukrainian journalist allegedly proposing to kill more than a million people: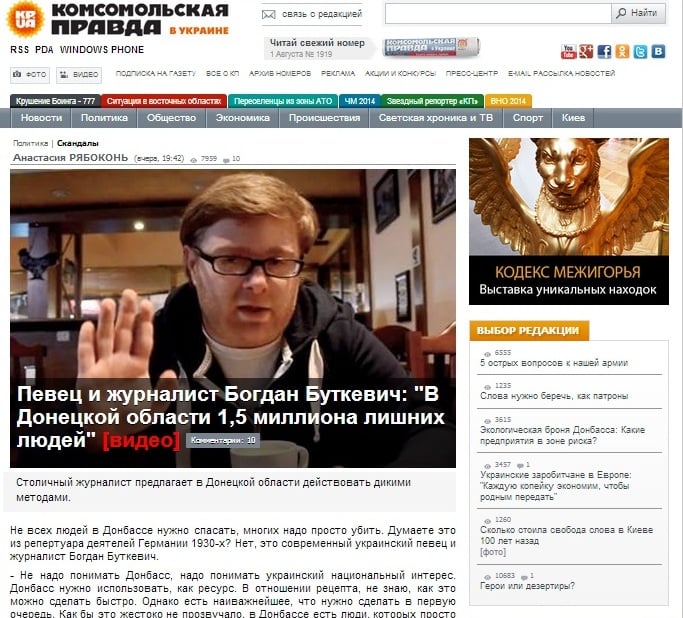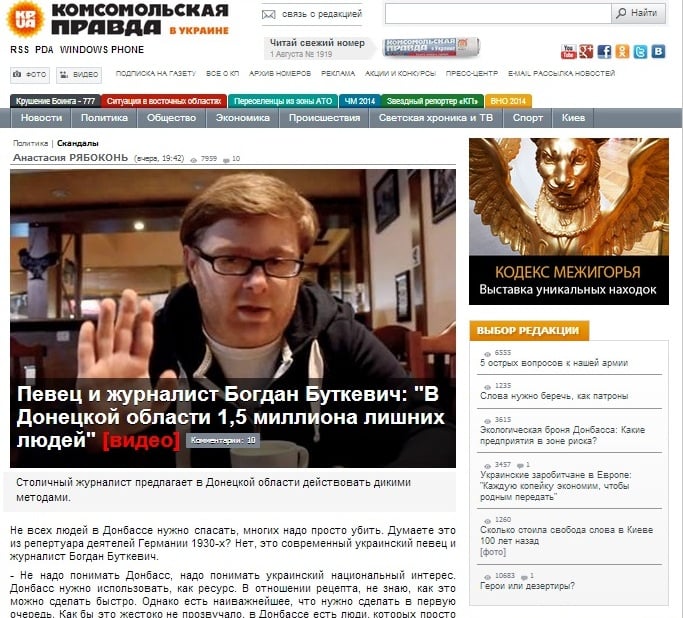 We decided to examine what the Ukrainian journalist said to hromadske.tv and why anchorwoman Nastia Stanko was not embarrassed with his words.
It appeared Russian channels news took a 49-seconds video which is entitled "Bohdan Butkevych. Everything is simple. We just need to kill 1.5 million of Donbas residents".
Firstly, the video had three edit transitions. It meant that was not a continuous speech, but four different fragments of it.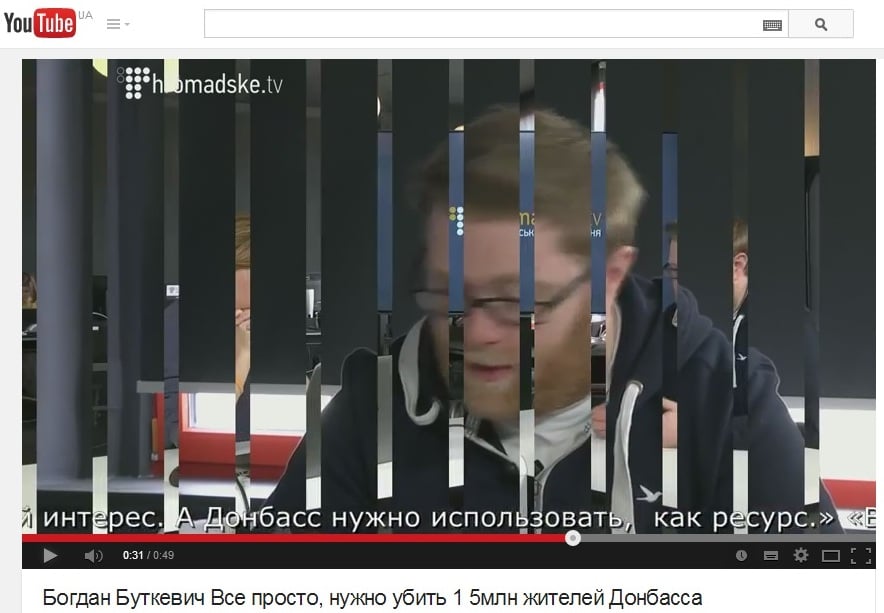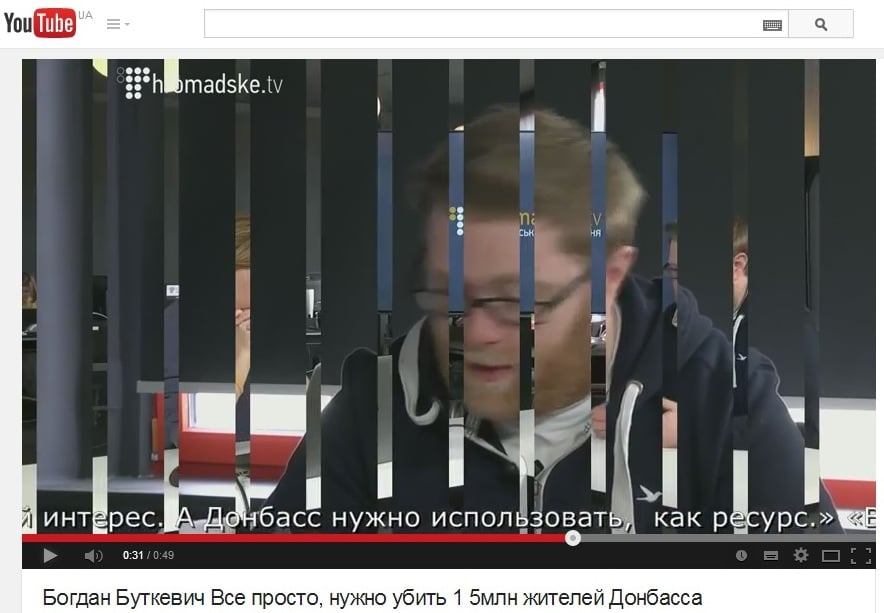 Secondly, the original video lasted about 32 minutes. Even if you excluded from it 7-minute Skype-conversation with another journalist (from 1:40 to 8:40), you could see that, comparing to edited 49-second video, the interview with Butkevych is 20 times longer.
Special attention should be paid to the video starting from 19 minute. "The Donbas is not just a depressed region. There we have a large complex of problems. And the main thing is that THERE ARE AN INCREDIBLE NUMBER OF UNNECESSARY PEOPLE THERE, first of all IN ECONOMY. THEY CANNOT BE EMPLOYED. That is because an economical structure, constructed there, is so inefficient. When you talk to Metinvest officials off the record, they will tell you a lot of interesting things. I AM AWARE OF WHAT I AM TALKING ABOUT. SPEAKING ONLY ABOUT THE DONETSK REGION, THERE ARE APPROXIMATELY 4 MILLION PEOPLE THERE AND AT LEAST 1.5 MILLION OF THEM ARE UNNECESSARY PEOPLE. THEY WILL NEVER HAVE A JOB THERE"(…) "THE DONBAS IS OUR RESOURCE. AND IT IS OUR PROBLEM THAT WE CANNOT USE IT. WE GIVE THIS RESOURCE TO THE BUNCH OF WELL-TO-DO MONSTERS FROM PARTY TOP BUREAUCRACY, which joined the local criminal clans" (…). THERE IS A CERTAIN CATEGORY OF PEOPLE THAT JUST SHOULD BE KILLED. UNFORTUNATELY WE CANNOT MAKE AN AGREEMENT WITH THEM. I WAS IN SLOVIANSK AND I WAS TRYING TO TALK TO THEM. THE MAJORITY OF REBELS NEED ECONOMIC ALTERNATIVE. The Donbas always went on strike for 'food'. If you give them 'food', they will stop protests". So we could understand that Butkevych proposed to "kill" terrorists.
The journalist reacted to the publication of the edited video on his Facebook page: "As for killing. I said that terrorists, who took guns and with whom we cannot reach agreement, should be killed". Nastia Stanko understood that he was talking about terrorists that should be killed and about 1.5 million unnecessary people that have no job. That is why she is so calm.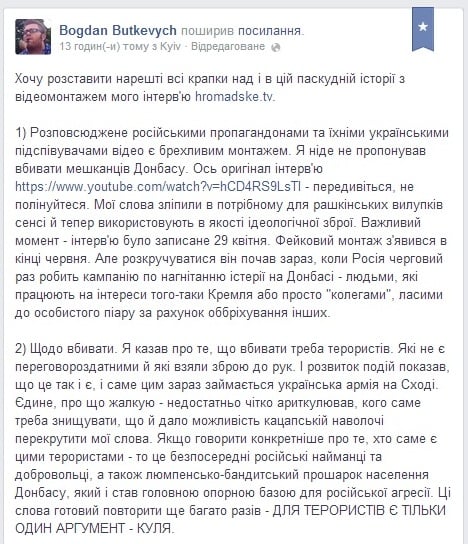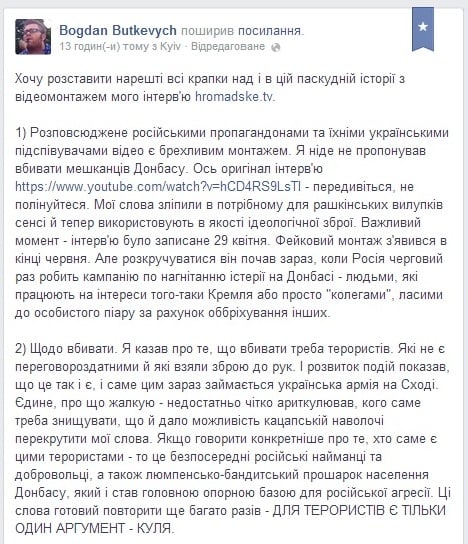 Thirdly, this interview was recorded on April 29, 2014 and the edited video was uploaded to the Internet on July 31, three months later. And a 3-months old video was shown on some of the most popular Russian TV channels. News journalists call yesterday news "antiquity". Why Russian main channels suddenly showed in their news a fragment of a 3-months old video – this is a question rather of editorial policy than news standards.