Russian media have been busy these last years disseminating one of the Kremlin's most popular propaganda motifs – that Ukraine is fascinated with Nazism and is fast becoming a Nazi state. Citing a former pro-Russian member of parliament, they have now concluded that Ukraine is already beginning to be a considered a Nazi country throughout the world.
The monarchist site Tsargrad, Novoross.info, Narodnoye Novosti and other publications all featured stories of this nature.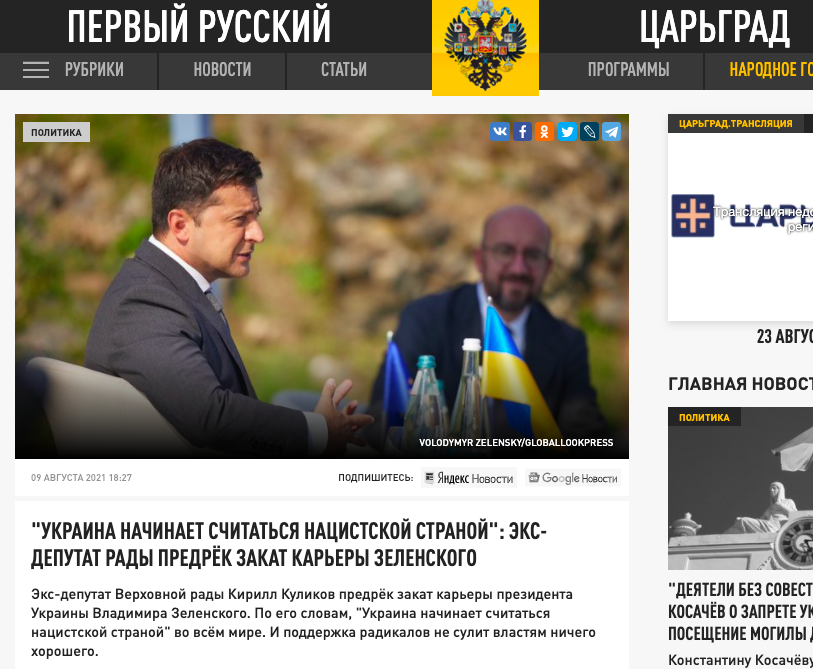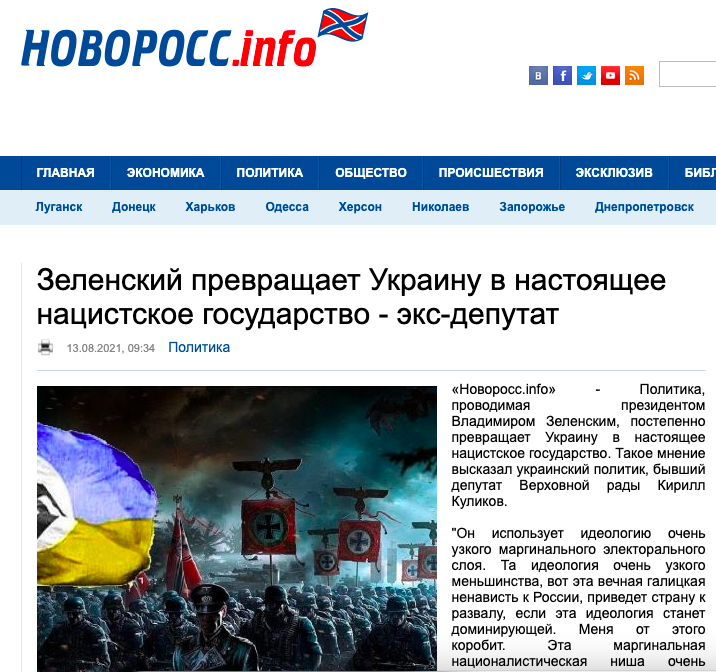 According to Tsargrad, Ukrainian President Volodymyr Zelensky is turning the whole world against Ukraine, and even those Western countries that support Kyiv do not want to have anything to do with nationalism. Many countries are beginning to consider Ukraine a Nazi state and even Western countries admit that Nazism has raised its head in Ukraine, Tsargrad concludes.
There is no evidence that many countries are indeed beginning to consider Ukraine as a Nazi state.
In 2015, Ukraine passed a law condemning the communist and Nazi totalitarian regimes snd prohibiteing their propaganda and symbols. The document recognizes the Nazi totalitarian regime as criminal and prohibits all Nazi symbols and propaganda and bans all Nazi and fascist activities.
The State of Hate Far-right extremism in Europe 2021 report exploring the state of far-right movements across Europe notes that the growing threat of far-right terrorism and a "new era of conspiracy theories" is permeating the continent. At the same time, the movements are not confined by borders or seaboards, instead, "the modern far-right is currently undergoing a broader and more fundamental shift" the report says, "the emergence of a transnational and post-organizational threat." Regarding Ukraine, the report noted that the ultra-right continues to strengthen its presence in the country and enjoy significant impunity.
Prepared by three European organizations, the report notes the main far-right events of 2020: the mass shooting by a far-right terrorist in Hanau, Germany, the reelection of Poland's far-right president, the mass shooting in Christchurch, New Zealand, the trial of the leadership of the Greek neo-Nazi party Golden Dawn and the legal travails of former Italian interior minister Matteo Salvini. The analysts who prepared the report conclude that in order to understand the danger posed by the politics of hatred and division, one cannot simply limit one's view to one street, community or country, but rather one must think outside the boundaries of political parties' official organizations and even national borders.
According to the market data statistics portal Statista, the countries where ultra-right parties have had the most success are Poland, where the far right Law and Justice Party is leading the country, Switzerland, with its ruling Swiss People's Party and Hungary with the Jobbik party.