The TV channel of the Ministry of Defense of Russia Zvezda made news from the joke of Dmytro Yarosh, the member of the Ukrainian parliament. Journalists informed that the leader of the Right Sector Dmytro Yarosh had allegedly promised to set off a grenade during a session of the Verkhovna Rada (the Ukrainian Parlament).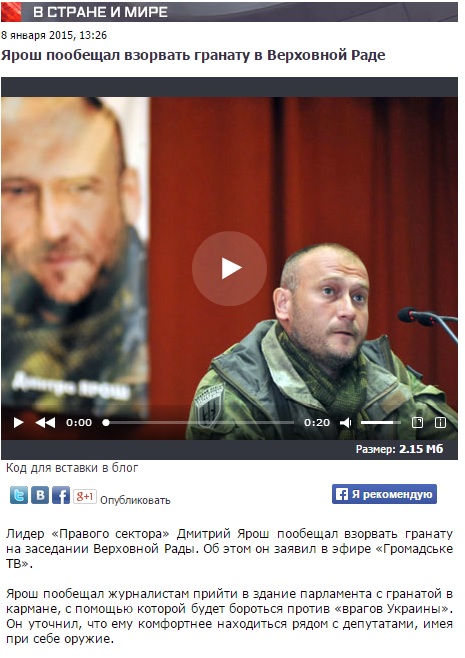 "He announced this on Hromadske TV. Yarosh promised to journalists to come to the building of the parliament with a grenade in his pocket in order to use it against the "enemies of Ukraine". He added that he felt himself near the members of the parliament more comfortable with a weapon", reports Zvezda.
https://www.youtube.com/watch?feature=player_embedded&v=oBMKL7jY1SQ
On Thursday this news was republished by web portals of Russian federal channels and Internet mass media: Russia Today, NTV, Vesti.ru. "Yarosh told that he constantly cheated guards: he denied having any weapon and easily entered the building. The radical promised that "in case of emergency" he would set off a grenade during a session of the parliament", informed Vesti.ru.
The web portal ukraina.ru published this news under the title "Yarosh threatens to blow up the Verkhovna Rada".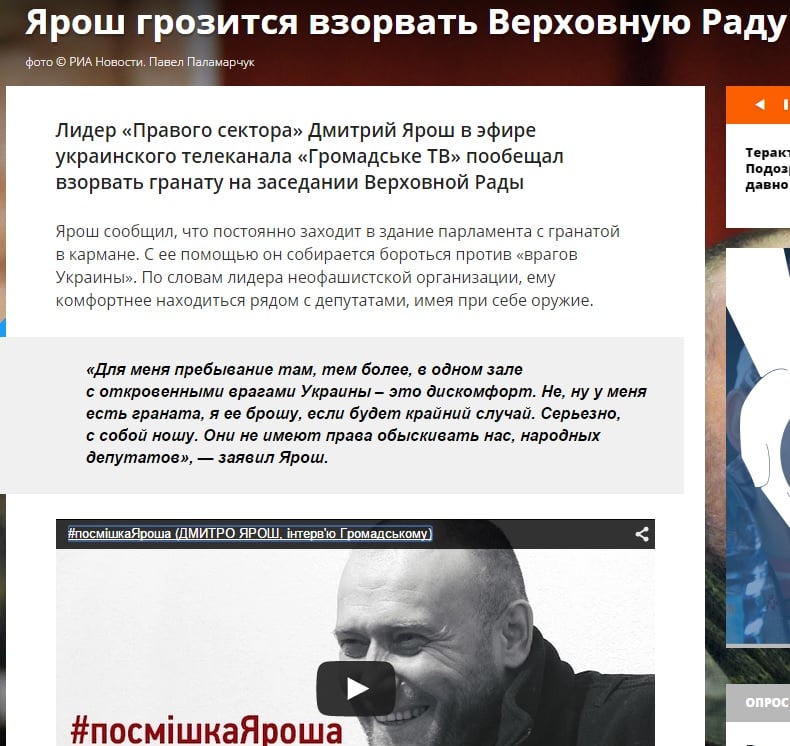 Dmytro Yarosh's phrase, or rather his joke (starting from 4:15 of the whole interview), was cut from his interview to Hromadske TV with hash tag #посмішкаЯроша (eng. – Yarosh's smile), where the leader of the Right Sector told about the "truce", problems with criminal prosecution of the members of volunteer battalions and commented on his status as a member of the parliament.
The joke about a grenade in a pocket was said within the context of criticism of the Verkhovna Rada and the government of Ukraine. According to the leader of the Right Sector, the authority has not "transformed" yet in the right way. There are no radical and revolutionary changes demanded by the Maidan either.
However, before joking about a grenade, Yarosh repeatedly emphasized in the same interview that he did not have an intention to settle matters in the Verkhovna Rada through "aggression" or "physical power".
"I do not see real possibility to settle matters there. Of course, you could come to the Chairman, for example, and say "let me speak or I will hit you in the face", but this would be uncivilized and against the rules of the Verkhovna Rada", pointed out Dmytro Yarosh.
"I know, everyone wanted that I would come to the Verkhovna Rada and smash somebody's face, organize a show or something like that. But I am not used to play according to the rules of people that want something of me…", he added (from 4.00).
Source: Radio Svoboda.