Russian tabloid "Komsomolskaya Pravda" (KP) reported on its site the Prime Minister of Ukraine Arsenii Yatsenyuk and the acting President of Ukraine Oleksandr Turchynov being booed and whistled by Kyiv citizens during the wreath-laying ceremony at the eternal flame in Kyiv.
"But the locals were not happy with the self-proclaimed leaders of the country. Kyiv citizens booed and whistled at Turchynov and Yatsenyuk, so they hurried from the park," — stated KP.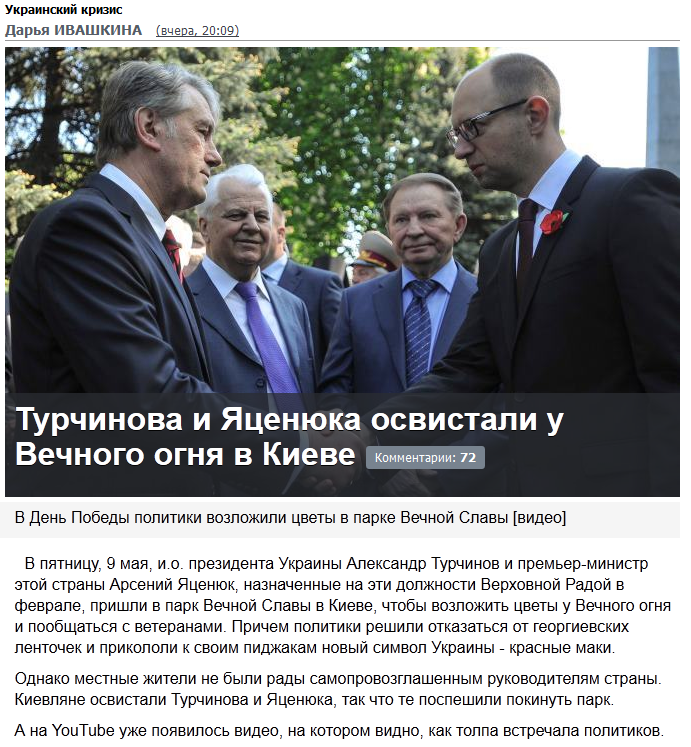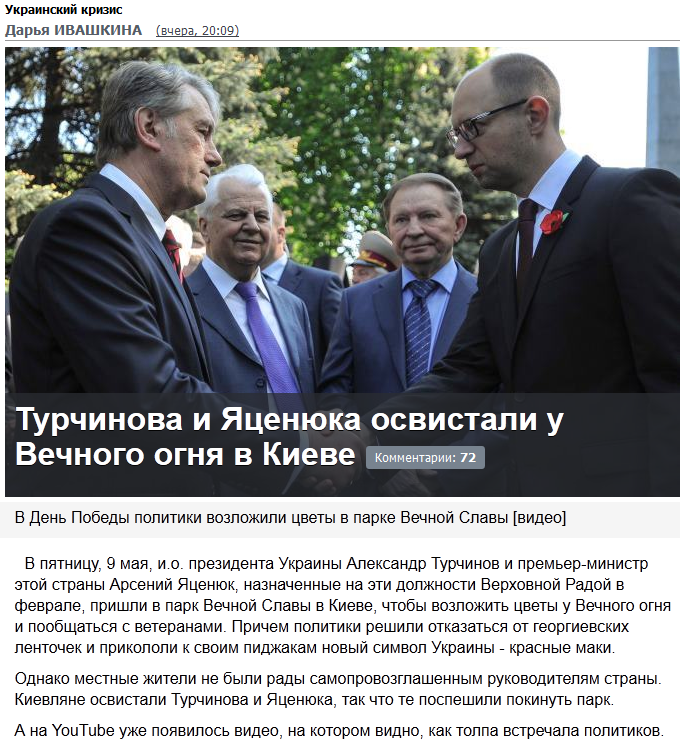 To back up this story, KP even posted the video, in which Turchynov and Yatsenyuk are getting booed and whistled:
While "Komsomolskaya Pravda" did not concern themselves with the fact that Yatsenyuk on the picture in their report is unbarbered, has cordovan tie and a red poppy on his jacket lapel, while in the video which is supposed to have been shot on May 9 2014, he is clean-shaven, wears blue tie and a blue-yellow ribbon.
In addition, the tabloid did not pay attention to the voice of the journalist Sergei Rulev, who had shot the video, calling Yatsenyuk and Turchynov the representatives of the united opposition, not the authorities.
Lastly, KP did not see the problem that the video had been shot a year ago on May 9 2013.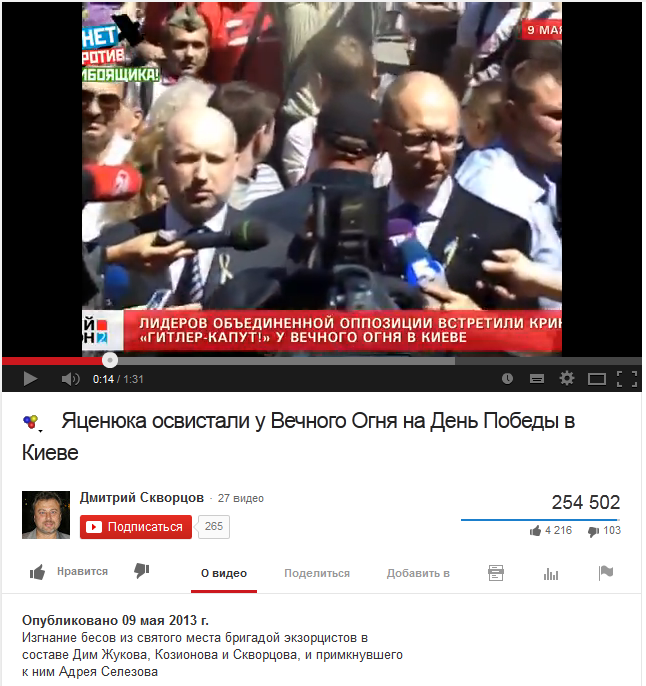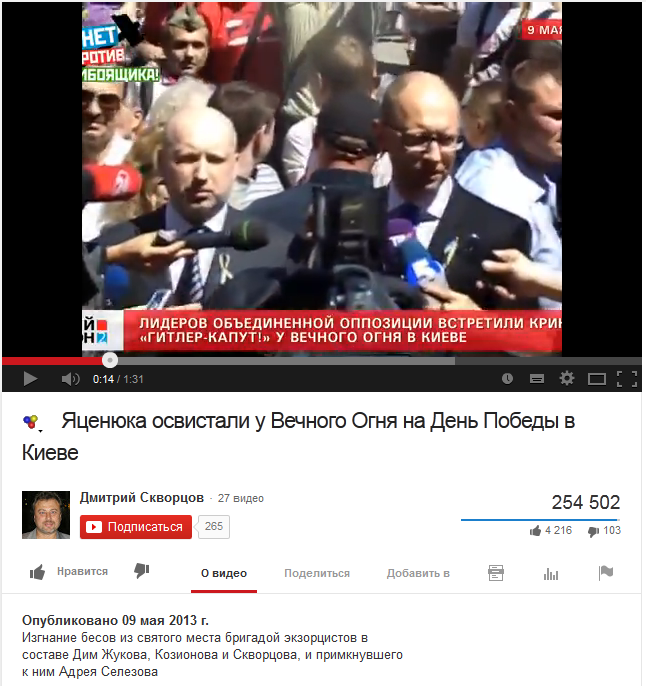 They just took one of the "fresh" videos that keep spawning on YouTube with new dates in the titles.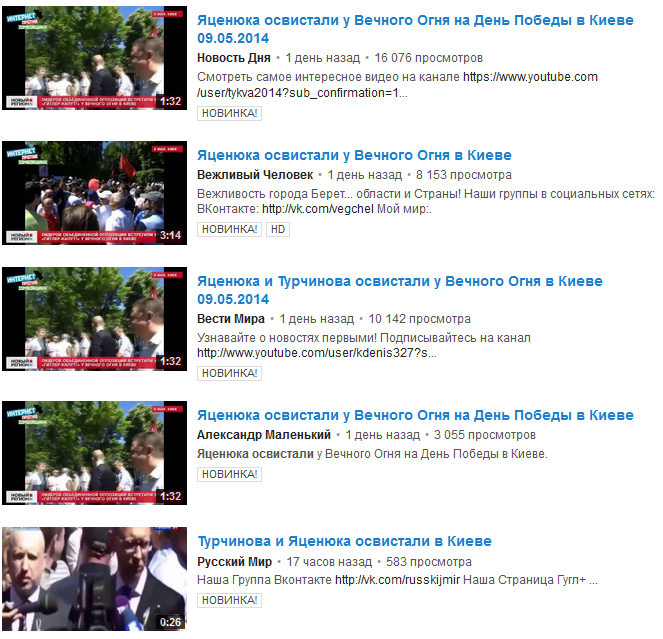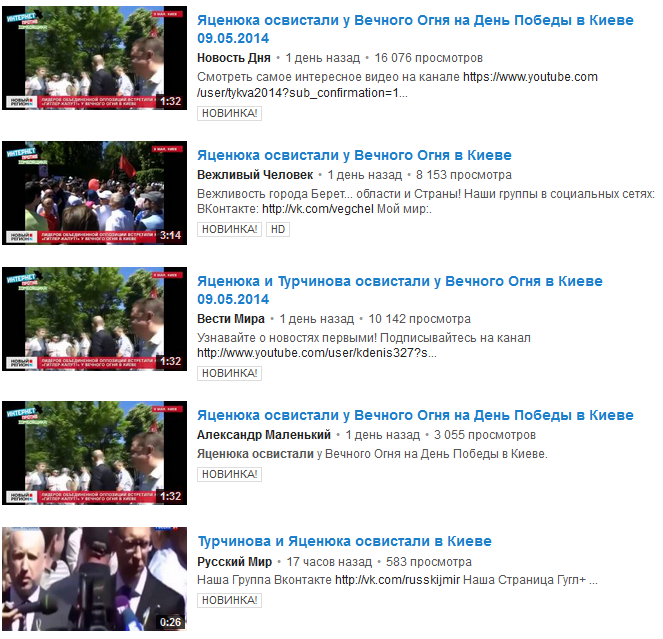 In 2013, Yatsenyuk and Turchynov were booed and whistled at by the members of the Communist party, who had come to the eternal flame with their banners.
The wreath-laying ceremony by Yatsenyuk and Turchynov that took place:
No booing or whistling.