On August 20 information spread through the internet that four young people, all citizens of the Russian Federation, painted the star at the legendary Stalin 176-meter high-rise, located at the Kotelnichesky street in Moscow, in the colors of the Ukrainian flag.  All of them are parachutists.
Currently, there is no evidence that this information could be true.
One of the inhabitants of the high-rise claimed to accidentally make a video-recording of the moment when somebody jumped from the building.
On August 21, a court sanctioned house arrest of Aleksandr Progebov, Anna Lepeshkina, Aleksey Shirokozhukhov, and Evgeniya Korotkova till October 19.  They are forbidden to talk to anybody but their close relatives, and to use any means of communication.  Earlier their cases were reclassified from the criminal code article of "vandalism" to a graver article of "disorderly conduct": they are facing up to seven years in penal colony.  All four accused deny their guilt.
"We are sportspeople, parachutists, and not extremists, and we do nothing illegal," said Pogrebov.  He insisted that he and his friends did not mount the flag and did not paint the star, and they happened to be at the roof to make a jump with a parachute.  According to him, they entered the building from the back entrance, came up on the elevator to the 28th floor and then jumped from the roof.  "We were at the roof, 40-50 meters below the spire; those who mounted the flag were higher [than us] and we did not see them, because we were looking down to find an area for the landing," explained Pogrebov.
According to him, all four successfully jumped and then went to a riverfront and, as they were making a photograph, they were detained by policemen.
"I am a patriot of my country and would have never done anything like that," insisted Pogrebov, pointing out that vandals would not jump on a parachute to attract so much attention to themselves.
Friends of the parachutists actively discuss in social networks a version that they were "framed", and that the vandal is still walking at large.
"These guys are very good.  They take no interest in politics and live the parachutist life.  They came there by cars, but during their detention they had to surrender everything.  Meanwhile, somebody secretly tossed a paint spray into a car of one of the girls.  Also they did not climb to the star.  One needs climbing gear, which they did not have.  And with mere parachutes one cannot climb there, they [parachutes] are not harnesses.  In any case, there is their video showing from where they were jumping.  Also, they had no signs of paint at the time of detention," told a female friend of detained parachutists to Gazeta.Ru.
She also added that the guys made a video-recording of their jump and did not run away, but they were taking photos at the riverfront, where they were detained.
At the same time, on August 22, an Ukrainian sportsman-roofer (a person whose hobby is to climb building roofs – Stopfake) Gregory, known by nickname Mustang Wanted, admitted his painting of the star, substantiating his words by photographic evidence.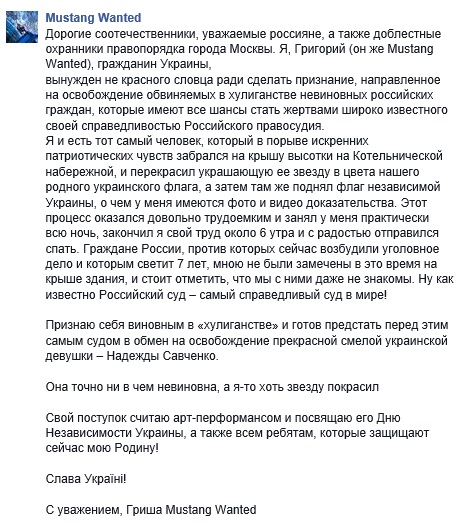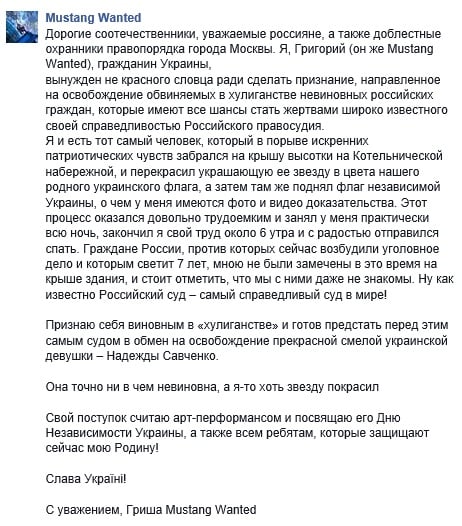 "Dear fellow countrymen, dear Russians, as well as the valiant police guards of the city of Moscow.  I, Gregory (also known as Mustang Wanted), a citizen of Ukraine, is forced not for the sake of my own wit to make a confession in order to make possible the release of innocent Russian citizens, who are accused of hooliganism and who have all chances to become victims of the Russian justice, widely known for its fairness.  I am that man who, in a burst of sincere patriotic feelings, climbed onto the roof of the high-rise on Kotelnicheskaya riverfront, repainted its star in the colors of our native Ukrainian flag, and then raised the flag of independent Ukraine, – [in support] of all this I have photo and video evidence.  This process turned out quite time-consuming and took me almost the whole night, I finished my work at around 6 am and went to sleep with rejoice.  The citizens of Russia, against whom a criminal case was initiated and who are facing 7 years in prison, were not noticed by me at that time on the roof of the building.  It should be noted I am not even acquainted with them.  But as is known, a Russian court is the most fair court in the world!"
"I admit of being guilty of 'disorderly conduct' and I am ready to face this same court in exchange of releasing the beautiful and brave Ukrainian girl – Nadezhda Savchenko."
"She is surely not guilty of anything, and I at least painted the star."
"I consider my action an art-performance and dedicate it to the Independence Day of Ukraine, and also to all guys who defend my Motherland at this time!"
"Glory to Ukraine!"
"With respect, Grisha Mustang Wanted."
Still this statement did not impel the court to change the preventive measure for the suspects.  The parachutists are still under house arrest.  Any evidence proving their guilt were not officially announced.