The death of Alexander Zakharchenko, the leader of the self-proclaimed Donetsk People's Republic as a result of a blast at a coffee shop in Donetsk prompted immediate finger pointing at Ukraine in the Russian media with claims that Ukraine does not want peace and is trampling on the Minsk accords. Russian President Vladimir Putin also reacted, promising that the people of Donbas "would not be brought to their knees".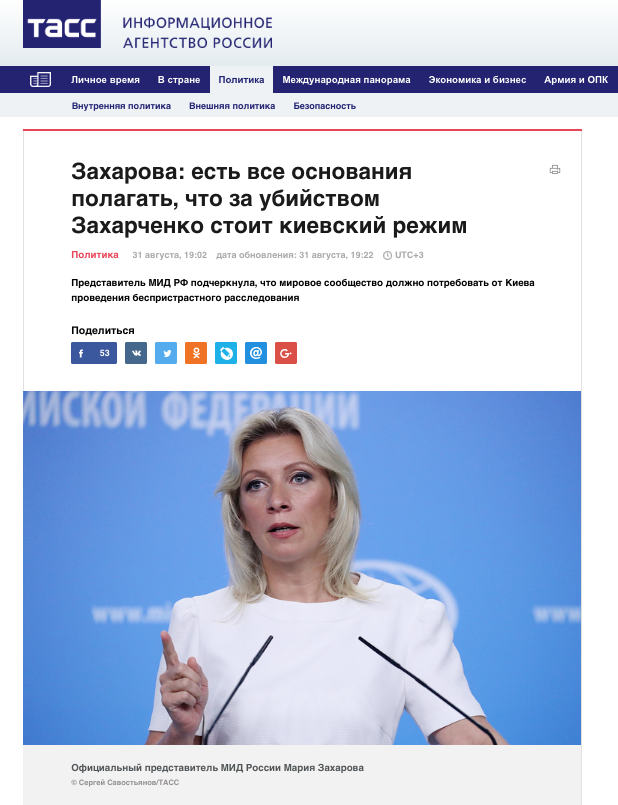 Russian Foreign Ministry spokeswoman Maria Zakharova immediately accused Ukraine of orchestrating Zakharchenko's death. "There is every reason to believe that Kyiv is behind this murder, this regime has repeatedly used similar methods to eliminate dissidents and undesirables. Ukraine has not carried out any of its obligations towards establishing peace in eastern Ukraine and has now resorted to blood," Zakharova declared.
Vladimir Putin called Zakharcheko's death "a vile murder" which would be punished and is evidence that those who chose the path of terror and violence do not want to seek a peaceful political solution to the conflict and conduct a dialogue with the people who live in southeastern Ukraine. "They are placing a dangerous bet on destabilizing the situation, to bring the people of Donbas to their knees. This will not happen," Putin said.
Other Russian politicians echoed Putin's position. The chairman of Russia's State Duma Vyacheslav Volodin said this murder "nullifies the meaning of the Minsk agreements" while Bogdan Bezpalko, a member of the Russian council on Interethnic Relations said Ukrainian President Petro Poroshenko should not count on a military solution to the Donbas war because Zakharchenko's place will be taken by others.
The newspaper Vesti brought in its own verdict of the killing, claiming that it was an "official political order from Kyiv, which has not shied from using terrorist methods in the fight against the republics in southeast Ukraine. They were not deterred by the fact that the blast was planned in central Donetsk, on Pushkin boulevard where dozens, if not hundreds of people could have been injured."
RT predicts that Zakharchenko's death will escalate the situation in the Donbas. The Donetsk republic survived in difficult conditions thanks to Zakharcheko, his death could bring an escalation of the conflict with the Ukrainian military resorting to all sorts of provocations along the contact line, RT posits.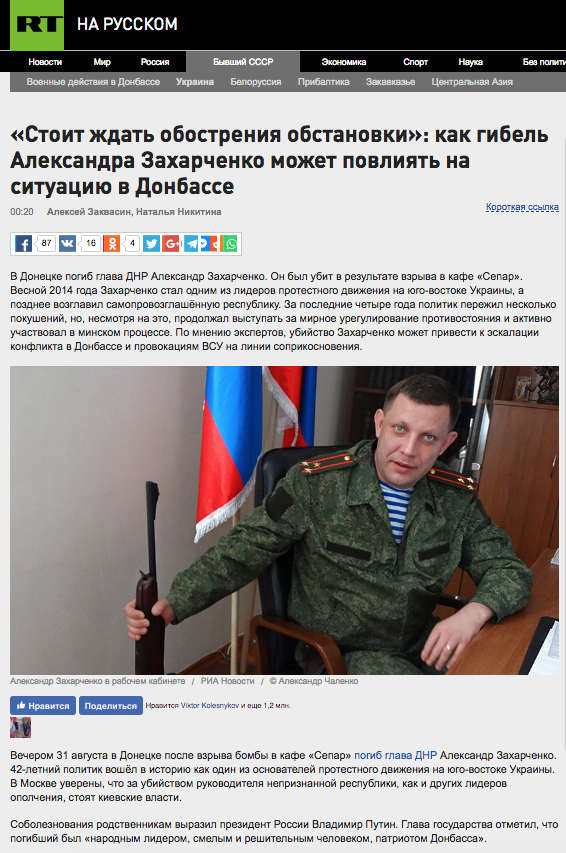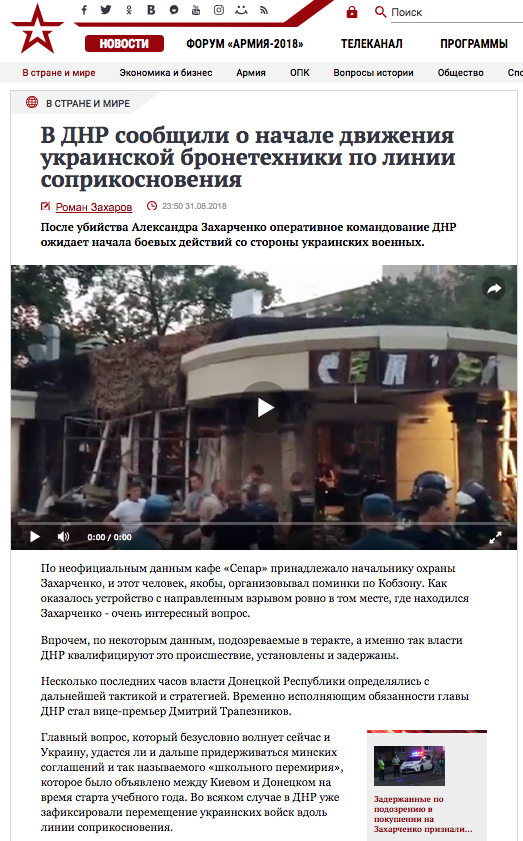 Russian Defense Ministry television station Zvezda meanwhile claims that the so-called Donetsk People's Republic (DNR) has already recorded Ukrainian troop movement along the line of contact. Zvezda accuses Ukraine's security services of murdering Zakharchenko, with the help and patronage of specialists from the United States, of course. In another story Zvezda claims that the perpetrators have already been detained in the DNR and have confirmed their involvement in a Ukrainian sabotage group.
Meanwhile Russian MP Leonid Slutsky, the chairman of Russian Duma International Affairs Committee and a leader of Vladimir Zhirinovsky's Liberal Democratic Party told the NTV television station that Ukrainian military were amassing materiel along the line of contact.
Life.ru is certain as to who is responsible for Zakharchenko's death. "Donetsk People's Republic security services and experts have no doubt that this terrorist act against the leader of the republic was carried out by a Ukrainian Security Service sabotage group on the orders of President Petro Poroshenko".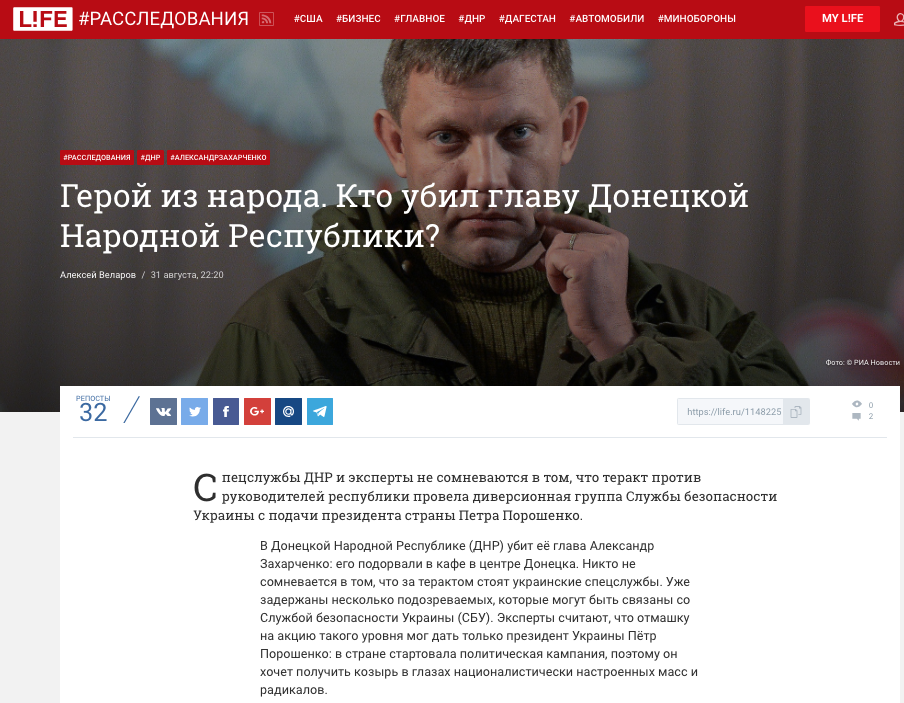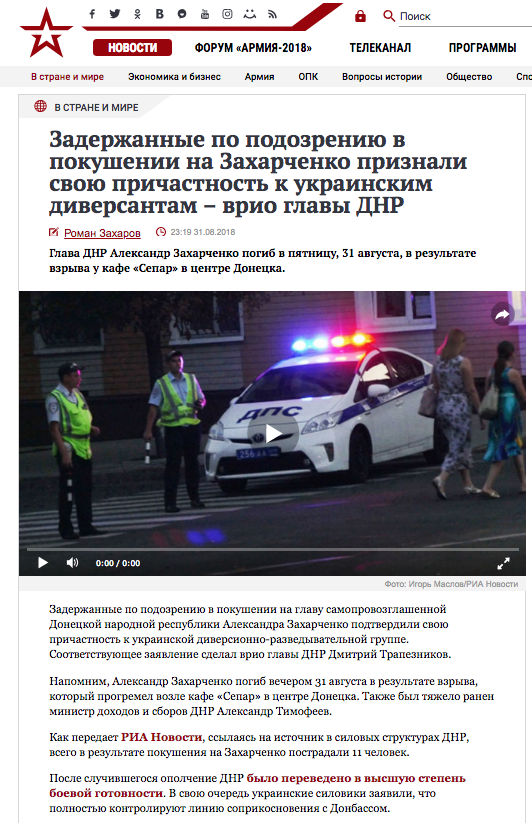 Moskovskyi Komsomolets interviewed DNR representative Andrey Purgin who said Zakharchenko's death has brought the situation in the occupied territories into a tailspin and it is difficult to predict what tomorrow will bring. This death will lead to an avalanche of consequences Purgin predicts.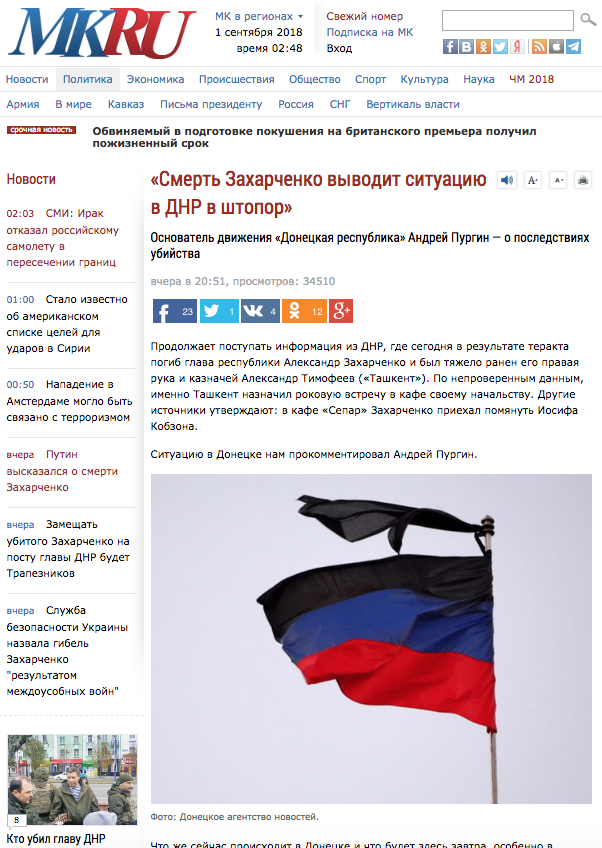 Vzglyad ruminates on the ramification of Zakharchenko's death for the further existence of the DNR and calls his death an "irreplaceable loss" which will revive the conflicts and disputes between different Donetsk factions. Vzglyad however does not predict an escalation at the front other than artillery shelling against the backdrop of an exchange of menacing statements.