by Sarah Hurst (@XSovietNews), for StopFake
Every year Russian state media boasts about the spread of "Immortal Regiment" marches around the world, in which people wear orange and black St. George ribbons, wave Soviet flags and carry signs with pictures ostensibly of their relatives who were killed in World War II while singing "patriotic" songs. This year TASS and Russian embassies tweeted about events that took place in Seoul, Buenos Aires, Johannesburg, Lusaka, Sydney and Washington, D.C. in front of the White House, for example.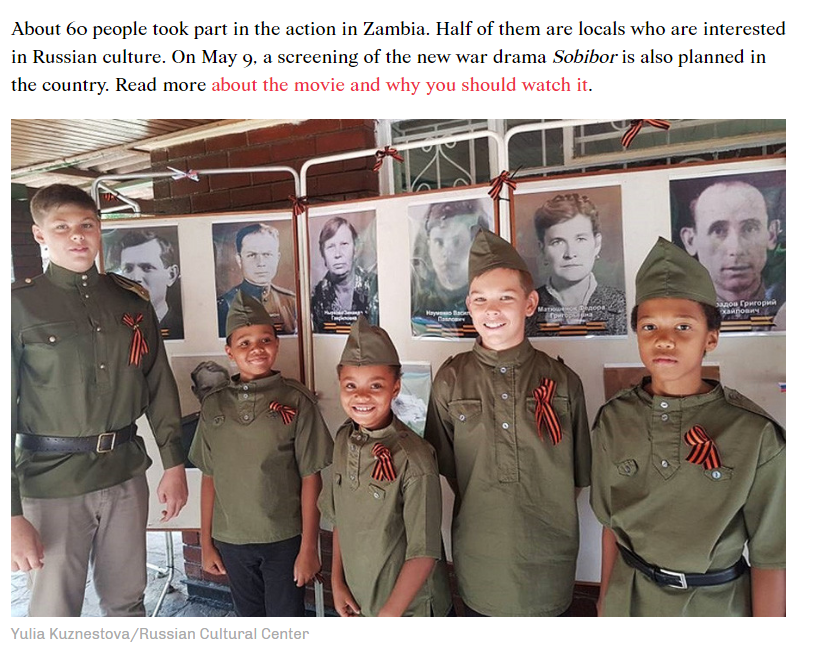 Outside Russia and Ukraine it isn't commonly known that the St. George ribbon, supposedly representing victory in World War II, is also a symbol of Vladimir Putin's aggression against Ukraine: it is worn by those fighting on the Russian side. Nor that the Immortal Regiment started out a few years ago as a grassroots movement in Russia, but has now become an obligatory mass event in Moscow and other cities, organised by the authorities, with random pictures of "relatives" handed out to participants and tossed away afterwards.
Tension in Minsk, Kyiv and Dushanbe
Pictures of Stalin are also commonly seen at the events, including today in Minsk, where authorities initially refused to give permission for the Immortal Regiment march to take place, but changed their minds after complaints from an organisation called "Young Russia", according to Belsat. Minsk authorities had asked the Immortal Regiment participants to join a "Belarus Remembers" World War II commemoration, but the organisers responded angrily that "holding a separate action contributes to undermining the ideological foundations of the Union State of Belarus and Russia" and accused Belarus of "nationalism". About 1,000 people ended up participating in the march, Radio Svoboda reported.
An Immortal Regiment march with Ukrainian flags also took place in Kyiv today, and a small group parodied it by holding signs with pictures of characters from World of Warcraft, while elsewhere in the city nationalists threw green chemicals and faeces at the head of the Russian government organisation Rossotrudnichestvo, Konstantin Vorobiev, who was said to be the organiser of the march. Members of the C14 far-right group claimed Immortal Regiment participants had been paid 400 hryvnia (about $15) each, Euroradio.fm reported. During the march itself one man's nose was broken in a scuffle, possibly again with nationalists. In Odesa two people were detained at an Immortal Regiment march for shouting "Glory to President Putin!", and two others for wearing St. George ribbons (banned in Ukraine), according to Dumskaya.net.
In Dushanbe, the capital of Tajikistan, about 500 people participated in an Immortal Regiment march today despite it being banned by the authorities on security grounds, Akhbor reported. The resort town of Jurmala, Latvia, also refused permission for an Immortal Regiment march on the grounds that the organisers applied too late, Russian media reported. The organisers responded that they had applied in time and this was just an excuse. Perhaps so, but it is hugely ironic that Putin tries to exploit freedom of speech and assembly around the world for his propaganda, while using exactly the same types of excuses to ban any opposition gatherings and jailing even the mildest critics of his regime.
Donbas terrorists commemorated in London
One of the most notorious incidents at an Immortal Regiment march occurred last year, when blogger Adam Garrie carried portraits in London of the dead terrorists "Givi" and "Motorola", who participated in the war in Donbas before outliving their usefulness. Afterwards, Garrie complained that the photograph of him in the march had been censored by Facebook, who removed it because it violated community standards. "This year, because of the fight against fascism currently transpiring in Donbas, Donetsk People's Republic leader Aleksandr Zakharchenko said that people can additionally carry images of the fallen heroes of the Donbas [sic] people's war for liberation against fascist aggression from the post-coup Ukrainian regime which was installed in February of 2014," Garrie wrote on pro-Russian website The Duran on May 10, 2017.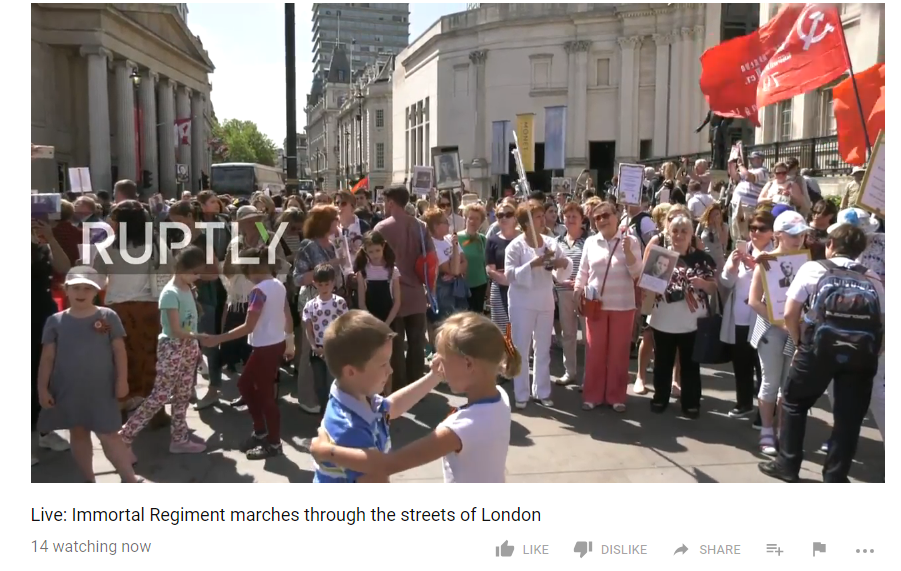 "The western mainstream media machine, of which Facebook's corporate owners are a part, are hellbent on white washing the fact that the Ukrainian regime is a fascist aggressor which has murdered thousands (mostly civilians) in Donbas over the three years," Garrie continued. However, a post from the same day as Garrie's article by Paul Daghlian with the photograph can still be seen on Facebook, with the comment, "That great patriot, Russophile and humanitarian Adam Garrie leads an Immortal Regiment march through London." Daghlian – apparently a Trump fan in Oregon – has a recent link on his page to an article in Russia Insider called "How Neocons Turned American Jews Against Russia."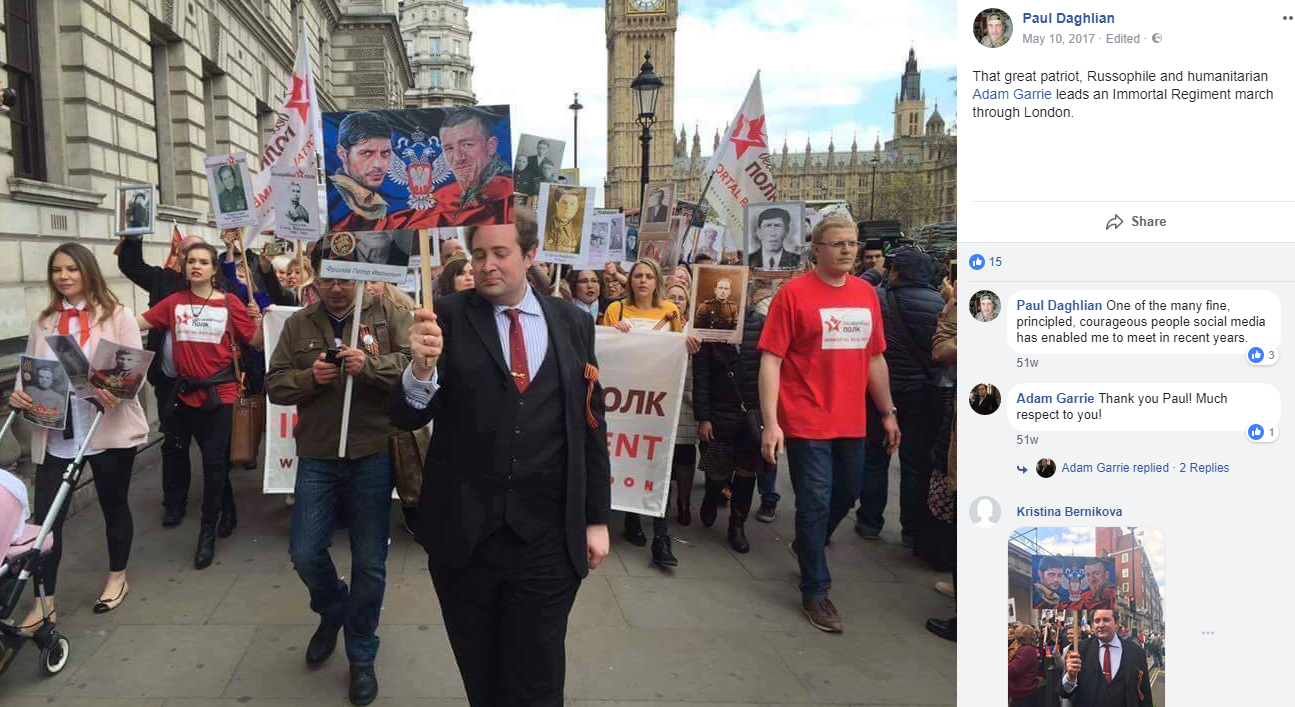 Garrie also makes regular appearances on RT and is now director of yet another pro-Kremlin (Kremlin sponsored?) website called Eurasia Future. He has 7,597 followers on Facebook. He is an admirer of the president of the Philippines, Rodrigo Duterte (known for his police death squads that execute suspected drug users), tweeting on May 5, "Just remember, every time a foreign so-called journalist insults Duterte, such a person is also insulting millions and millions of his supporters. We are winning and we will win."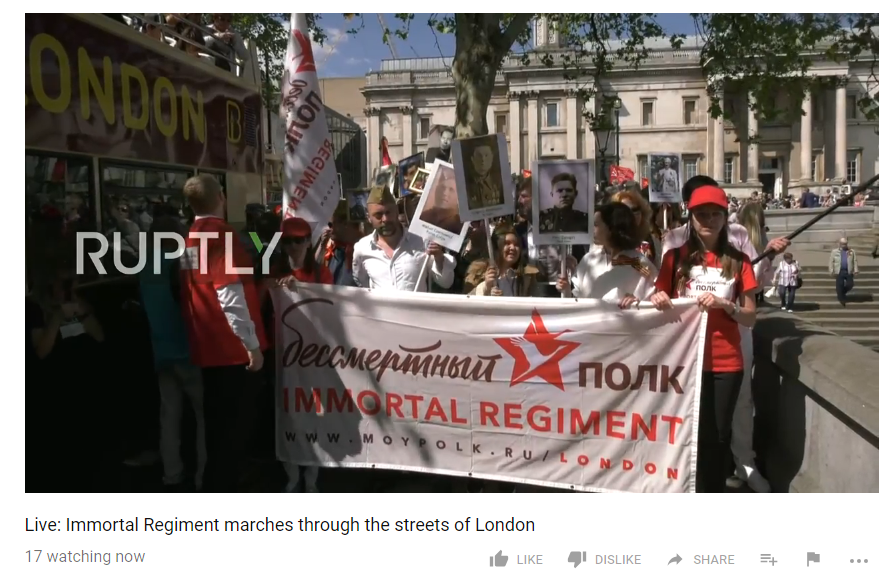 In February this year Garrie wrote on Eurasia Future: "It was one year ago today that Commander Mikhail Sergeyevich Tolstykh, better known by his call-sign Givi, was brutally murdered by the Ukrainian regime while he sat in his humble Donetsk office. During his time commanding the Somali Battalion of the Donetsk People's Republic armed forces, he gained notoriety for his fearless attitude, his personal charm and a sense of humour that was known to those around him, while being feared on the battlefield." Garrie included a video about Givi made by pro-Kremlin British blogger Graham Phillips, who has been seen tormenting Ukrainian POWs and firing weapons in Donbas, as well as posing with several of the best-known Russian terrorists and receiving a medal from the FSB.
Low attendance
This year the Immortal Regiment march in London started in Trafalgar Square today at 2 pm. The UK is very strict about not allowing children to miss school for excursions and family holidays, and even fines parents for unauthorised absences. But the organisers of the march encouraged parents to take their children out of school for the event and even provided a template letter requesting permission. "I'm writing to request your permission as it is a once in a lifetime opportunity to see her participate in the second event of its kind to be held in London," organisers suggested people wrote on behalf of their daughters or sons. There was no reason why the event couldn't have been held at the weekend like many of the others around the world, though – especially since Monday was a public holiday in the UK. About 40-50 people attended, including several children, and Adam Garrie made live videos of the event on his Facebook page.
Yesterday in Prague exiled Russian blogger Rustem Adagamov confronted a woman in an Immortal Regiment march who was holding the flag of the "Donetsk People's Republic" and a photograph of people giving Nazi salutes, whom she described as "Ukrainian fascists". Adagamov recognised the picture as being from the nationalist "Russian march" in Moscow in 2007 and although the woman was furious, she put the photo away, he said on Twitter.
Russia regresses
Russia's own events commemorating the end of World War II become more Soviet with every passing year. In addition to holding military parades in Red Square and cities all over Russia, there are also parades in the "Donetsk People's Republic" and "Luhansk People's Republic", which are broadcast on state TV as if they are taking place in Russia itself, with veterans of the war against Ukraine being celebrated. Today TASS boasted that almost 14,000 people sang the song "Victory Day" in Krasnoyarsk, setting a record. Meanwhile, 23 members of the Left Bloc were detained in Moscow for marching with a banner calling Putin a fascist and saying "No war in Ukraine".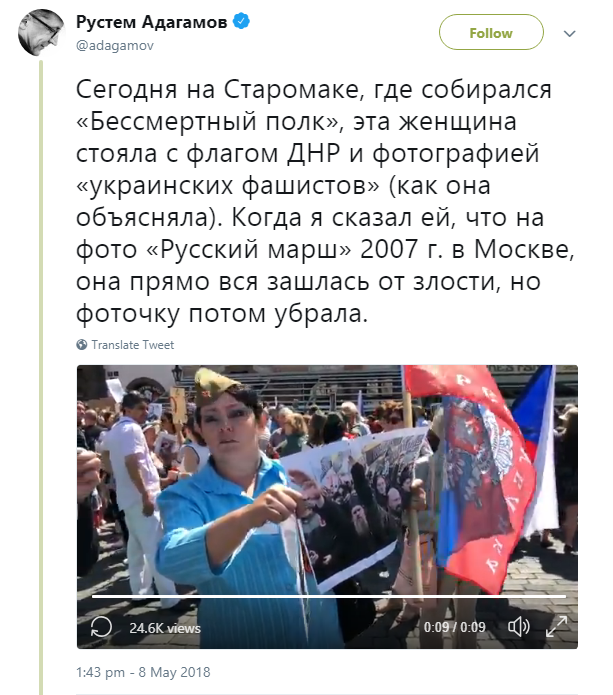 Russia is also heavily promoting a new film called Sobibor about the Soviet liberation of the German death camp in Poland. Putin was joined by Israel's Benjamin Netanyahu and Serbia's Aleksandar Vucic at the Victory parade today, and made a speech about how the Holocaust should not be forgotten, saying that he would not allow history to be rewritten. But Putin's only real use for the atrocities and tragedies of World War II is to make political capital out of them. After the parade, he and Netanyahu and Vucic joined the Immortal Regiment march in the centre of Moscow, where four days ago hundreds of participants in "He's not our tsar!" protests were arrested, and some were beaten with whips by people in Cossack uniforms.