On May 18, the Russia 24 network dedicated a news program to focus exclusively on alleged anti-Semitism in Ukraine. "Vesti at 23:00" aired a report and discussion entitled "The new exodus of Jews from Ukraine: Jewish organizations accuse Brussels of keeping problem of neo-Nazism in Ukraine quiet" (from 6:35).

The news anchor reported:
"In fact, in Ukraine there is another exodus that is much more important, but it is deprived the attention to actual events in Ukraine. Approximately 2,000 Jews left this country during the first months of this year and this is twice more than during the same period of 2014. Five thousand Jews left Ukraine last year. The statistics are frightening, but people who were more than once put on a side of [fighting for] survival have reasons to be afraid … It is confirmed by the glorification of the Ukrainian Insurgent Army, whose soldiers have tortured thousands of Jews; and the widespread anti-Semitic slogans that it is possible to hear at different demonstrations and meetings. Also Jewish organizations and schools are closed without reasons. Menachem Margolin, the head of a European Jewish organization, has sent a letter with a request to respond as quickly as possible to Juncker, the European Commission President. I will specify that the letter was sent to Brussels on April 22, but it was published on the CNN's web-site just now. There is still no reaction from the European Commission."
Text of the letter:
"There are multiple cases registered of compulsory closings of Jewish organizations and schools. They revoke licenses from media that broadcast in Hebrew and Yiddish. It takes places in cities with a large Jewish community: Kyiv, Odesa, Kharkiv, Dnipropetrovsk, Vinnitsa, Zhytomyr and Chernivtsi.
Jewish cultural and historical monuments were destroyed already more than once by men in uniform with the symbols of volunteer battalions that are fighting in Donbas. There are criminal slogans with an appeal of forced relocation of Jews at mass meetings and demonstrations. The shocking revival of traditions of Nazi Germany in a modern state is a manifest threat to Europe and European values. It is important that the EU leadership responds to these challenges as soon as possible".
Stopfake contacted the Association of the Jewish Organizations and Communities of Ukraine (VAAD), which contains 265 organizations from 94 cities in Ukraine, including religious communities, social institutions, schools, and cultural and youth organizations.
A member of this group, Vyacheslav Likhachev, the head of Monitoring group of the rights of ethnic minorities commented on the claims made during the "Vesti" program.
StopFake: What is the reason for the significant number of Jews emigrating from Ukraine?
V.Likhachev: There is an increase of Aliyah [immigration of Jews to Israel] from Ukraine in 2015 – it is true.
Only in January 2015, 340 people immigrated to Israel according to the Jewish agency Sohnut. The total for the first quarter is 1856. First of all, Jews are hurrying to leave the zone of military operations and an area occupied by Russia and its accomplices. In fact, all who have the opportunity try to leave those areas. The problem of internally displaced persons from occupied territories is well known. There is a simple explication that Jews have places they can go to. The State of Israel is ready to accept them. In addition, the situation with the Ukrainian economy has some impact on the number of Jewish emigrants.
As far as I know from my communications with the new Ukrainian expatriates, and also according to members of the Israeli Foreign Ministry and the services providing Aliyah organization, the problem of Ukrainian "neo-Nazi" is not the cause of Jewish emigration from Ukraine.
There is a more interesting fact, and it is that at the beginning of 2015, almost as many Jews left Russia: 368 in January, and 1415 in only three months. This considerably surpasses indicators from last year. The results from 2014 demonstrate approximately the same proportion: 4500 Jewish emigrants were from Russia and 5700 of people were from Ukraine. Aliyah increased about the same – by 50% from Russia and from Ukraine in the first quarter of 2015 in comparison with the first three months of 2014.
It means an almost identical percentage in the increase of Aliyah from Russia and from Ukraine (especially taking into account the fighting on the territory of Ukraine) in 2015 compared to 2014. The comparison with previous years shows that reasons for Jewish emigration have nothing to do with the so-called "fascist threat" in Ukraine.
What about the anti-Semitic slogans shouted at peaceful demonstrations that Channel 24 reported?
Anti-Semitic statements were recorded during rallies in Vinnitsa and Ternopol, according to those monitoring public anti-Semitism. I do not think that the Russian TV workers had this in mind or even went into details. In any case, I claim that the anti-Semitism is much more widely used in the public rhetoric on territories occupied by Russia and its affiliates – in parts of the Crimea, and the Donetsk and Luhansk regions. This information is according to the report of the Monitoring Group of the rights of national minorities. It's a fact.
The story reported about the systematic closure of Jewish schools and organizations. Is it true?
This is a lie, of course. I know only about the closure of Jewish schools in Donetsk and Luhansk, which took place due to mass departure of Jews from there. It is necessary to indicate that there was a report about the capture of a school by militants, which the community hastened to deny for obvious reasons and claimed that there are simply no pupils there to study. Perhaps Russia 24 reported about these cases?
Do you keep in touch with Menachem Margolin, the head of the Association of Jewish Organizations? What do you know about the letter?
As far as I know, the association headed by Margolin doesn't consist of Ukrainian organizations. At least, I have no imformation about it and we don't keep in touch with him. I got to know about this letter from the media a couple of days ago. I suspect that this is stove-piping, because starting from May 15, this letter is used in a similar context and in a similar sequence, as TV news reported about it [the increase of emigration from Ukraine, anti-Semitism, and the Margolini letter).
There has been a closure of Jewish mass media in Ukraine?
No. The funny thing about this is that in Ukraine there is no newspaper published in Hebrew or Yiddish. The letter claims that there is a revocation of licenses of these newspapers. The only newspaper, Jewish News, continues to come out. This newspaper contains one page in Yiddish, which has been supported for a long time from the state budget. I don't know if Ukrainian state supports it now.
Was there destruction of Jewish cultural and historical monuments during the last years?
We pay a lot of attention to the monitoring of anti-Semitic vandalism in Ukraine. I declare that there was not a single case of men "in uniform with symbols of volunteer battalions that are fighting in Donbas and destroy Jewish cultural and historical monuments," as the TV program reported.
It is necessary to comment on the subsequent discussion in the program "Vesti at 23:00." There are guests in the studio – Avigdor Eskin, who is an Israeli right-wing politician and journalist; and Yevgeny Satanovsky, a Russian orientalist and political scientist. Eskin claims that "Jews are a real target for successors of Bandera," but he has no facts to confirm this. Because they do not exists.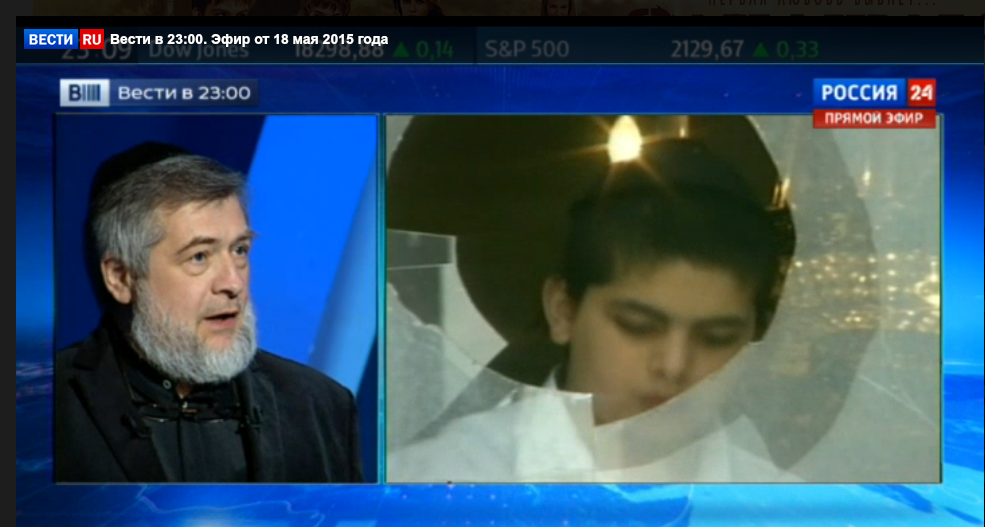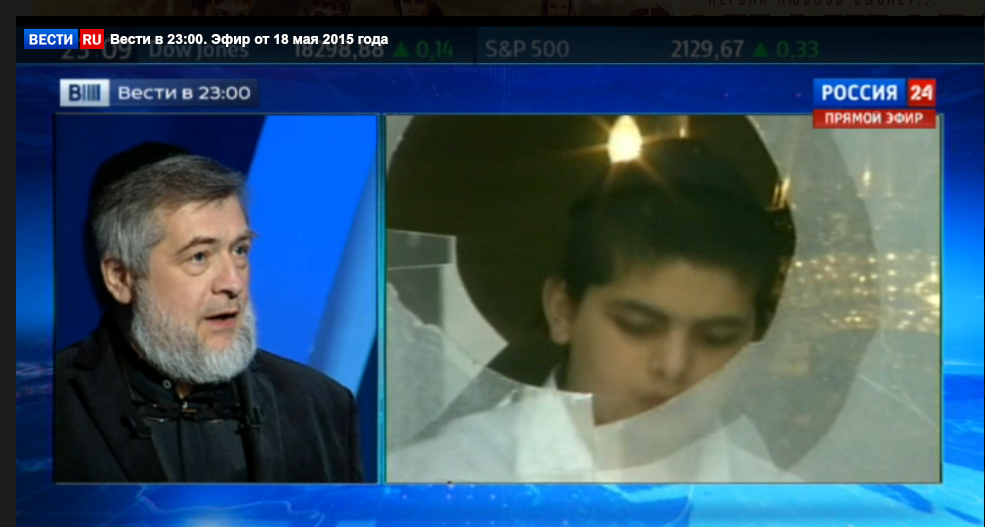 The video sequence that accompanies the speech of Eskin and Satanovsky represents clashes between protesters and Berkut. It has no relation to anti-Semitism. Then they show the façade of Brodsky synagogue in Kyiv and the broken windowpane. These are likely images from 2002. Then, football hooligans really behaved aggressively, even the son of a rabbi suffered injuries. However, most active participants of the "disorder" were arrested; and the organizer, one of the leaders of the Ukrainian skinheads, was tried under Article 161 for inciting ethnic hatred. So this video illustration of the rampant impunity of neo-Nazis in Kyiv allegedly in 2015 represents a manipulation.
The next video shows the desecration of synagogue in Simferopol. On the night of February 28, 2014, in Simferopol, unknown anti-Semites vandalized the façade of the Ner Tamid synagogue, belonging to the community of Progressive Judaism.
The criminals wrote with black paint on synagogue doors "Death to kikes." They left swastikas on the left of doors and on doors; and the "wolf hook" symbols were to the right of doors. The vandalism occurred less than a day after Russian troops took Simferopol under their control. The presence of any organized Ukrainian radical nationalists in the Crimean capital had not been fixed at that time.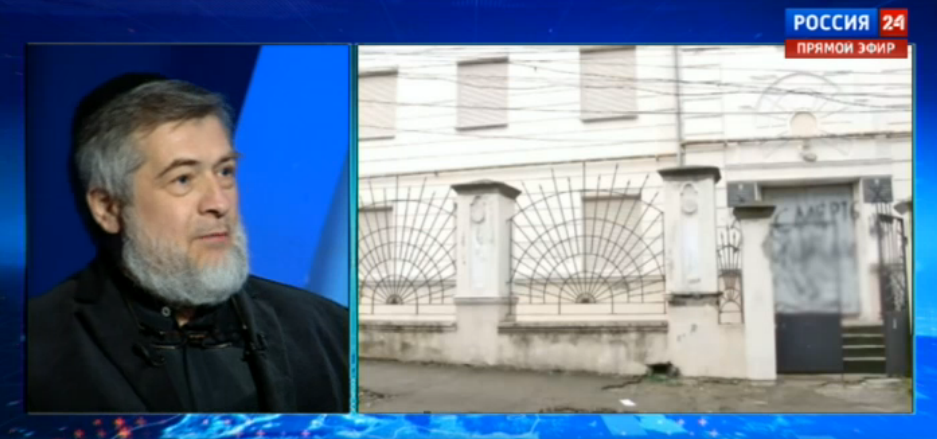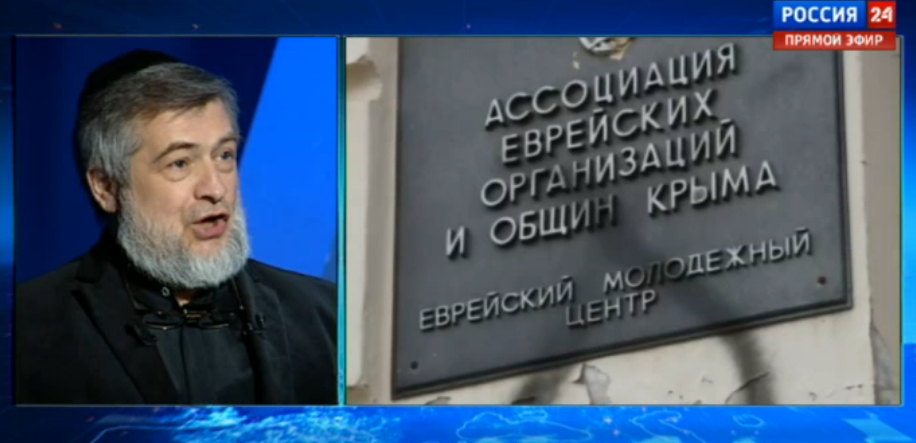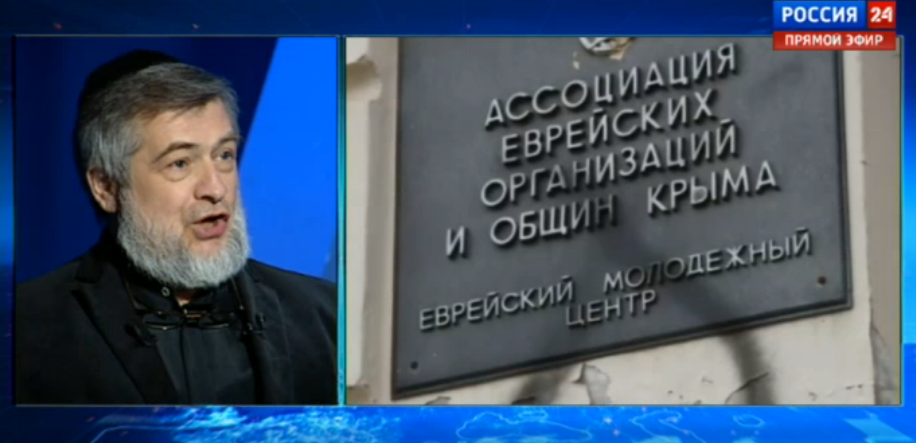 Stopfake has reported about this incident already. At that time, the Russia Today channel presented Misha Kapustin's escape from Crimea after its occupation by Russia as an event that took place in Kyiv.