Russian propaganda has experienced a great deal of excitement over the last few days raising an alarm over Ukraine's October 26 use of Turkish made TB2 Bayraktar drone in an airstrike. Ukraine's military officially confirmed the use of the drone.
If you like conspiracy theories? Well then Russian media will make your day. Russkaya Vesna, Liport.ru claim that Ukraine used its own soldiers as bait to test the Bayaraktar drone. Citing the pro-Kremlin Anna News Telegram channel, these publications declared that Ukraine's armed forces deliberately drove their soldiers into a position where they could be a target for the Russian separatist Donetsk People's Republic artillery.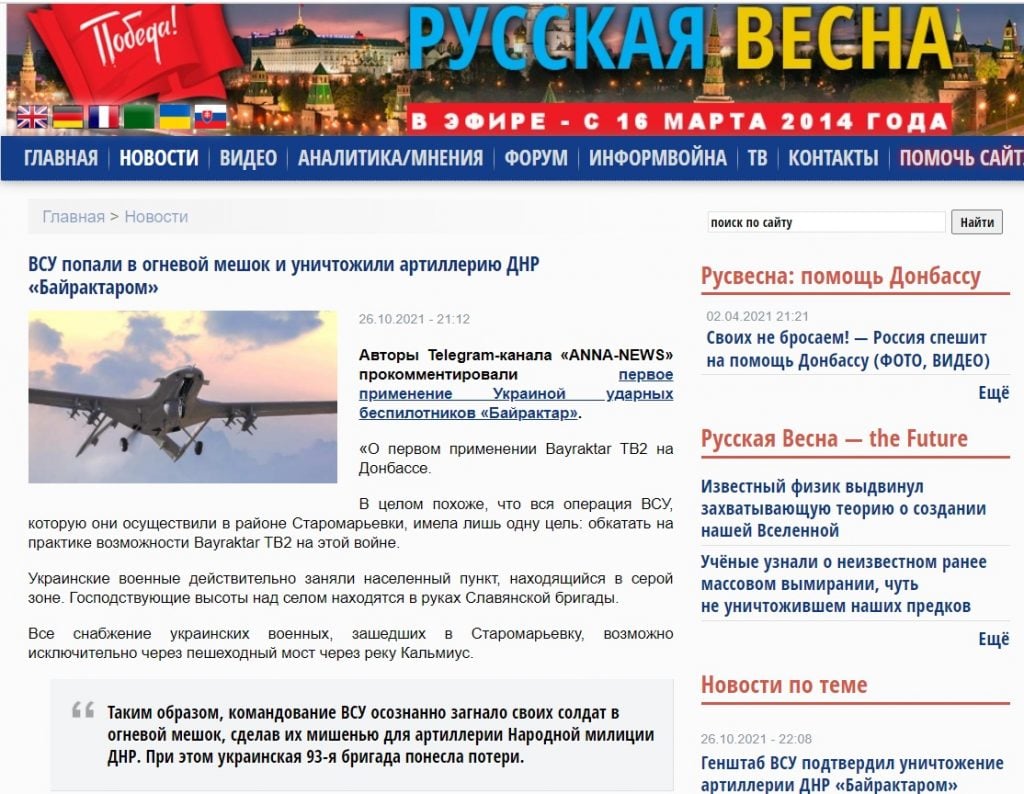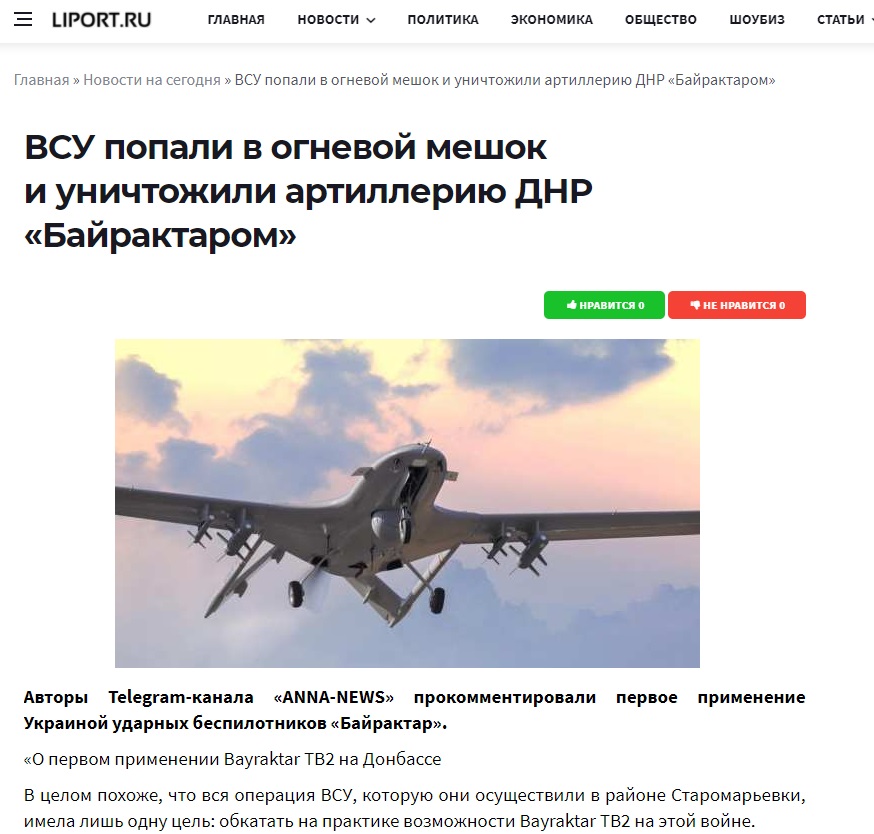 Do you want to understand why Turkey is cooperating with Ukraine and selling the country drones? Then by all means read Ukraina.ru and NewsFront where you will get the Kremlin spin delivered by military expert Vladimir Yevseyev, where he speculates why Ukraine and Turkey decided to create a drone center. According to Yevseyev, the goal of the center to bleed Ukraine's of its military technologies.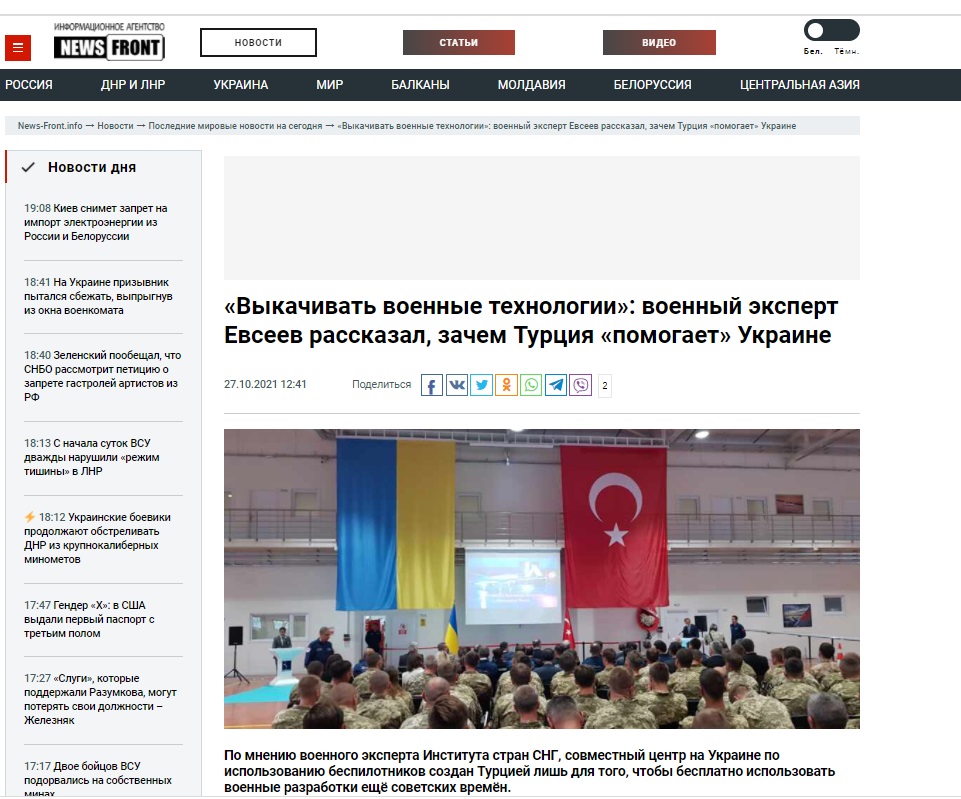 Do you believe that Ukraine is the West's fifth column? Then know that Ukraine decided to use the drone after US Defense Secretary Lloyd Austin visited the country. That is what Vladimir Kornilov claims. According to Russian media he is not only a Ukrainian political analyst, but also a Russian political expert, a Donetsk specialist, and a historian to boot. Sm.news and Politekspert happily featured his views in several stories.
Is Russia the only country condemning Ukraine's use of a drone against the Russian militants occupying eastern Ukraine?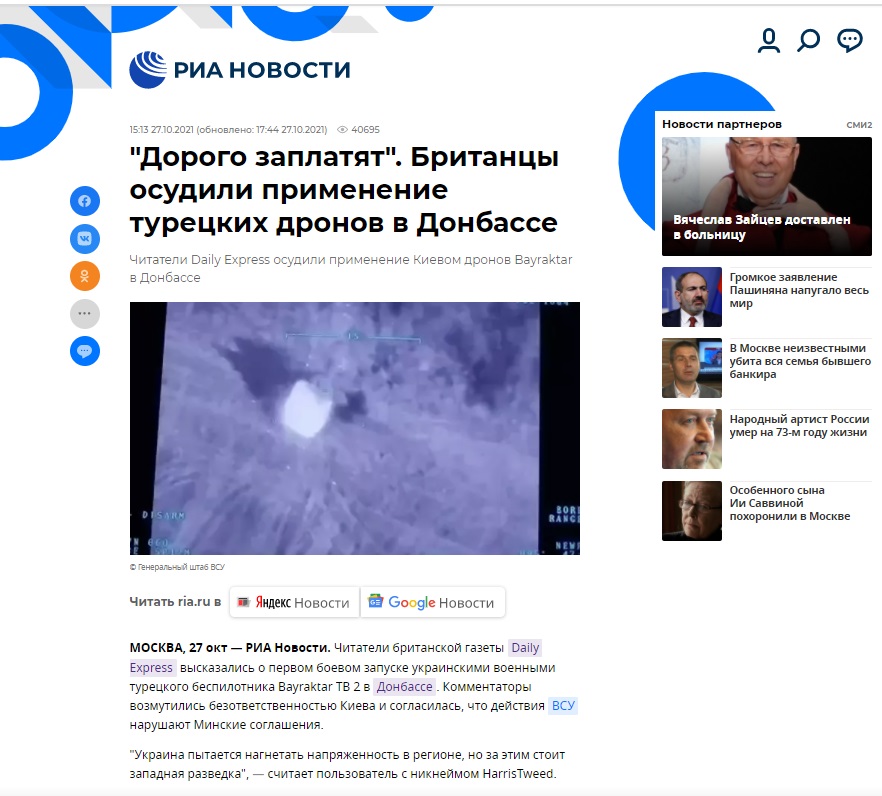 RIA Novosti tried to convince its readers that other countries are standing in line to do so as well. In an October 27 story entitled They will pay dearly, RIA claims that the British have condemned Ukraine's drone action. However, this is a typical Russian disinformation story, a blaring headline making an outrageous claim and no facts to back it up. The British condemners are writers who left comments to the British tabloid's Daily Express article about Ukraine's use of the drone. They did not even provide their real names, but go under JonO and Rudolphucker 1959. For the Russian media a couple anonymous comments constitute "British opinion".