Topics of the Week
New projects to follow: Atlantic Council's DisinfoPortal.org and MERICS's Belt and Road Tracker.
Lithuanian MEP Laima Andrikiene: We still need East Stratcom against Kremlin trolls; the EU's response has been dangerously inadequate.
Russia is diversifying its influence operations in the US, creating new websites and internet accounts to sway voters in anticipation of the upcoming midterm elections.
Triggering new alarm about Facebook's data sharing policies, the company shared data with 60 device-makers, including four Chinese firms, one of which is considered a national security risk by the US government.
Good Old Soviet Joke
An artist is commissioned to create a painting celebrating Soviet-Polish friendship, to be called "Lenin in Poland". When the painting is unveiled at the Kremlin, there is a gasp from the audience. The painting depicts Lenin's wife naked in bed with Leon Trotsky.
"But this is a travesty! Where is Lenin?" asks one of the guests.
"Lenin is in Poland," replies the painter.
Policy & Research News
New projects to know about
The Atlantic Council, a Washington-based policy think tank, has launchedDisinfoPortal.org, an interactive online guide that tracks the Kremlin's disinformation campaigns abroad. The portal aggregates expert and media content produced by the Atlantic Council and its partner organizations and brings together 23 leading think tanks and more than 80 experts fighting Russian disinformation in the United States and Europe. The new website also allows users to find and connect with experts by country and expertise, as well as explore in-depth analyses from individual countries.
The Mercator Institute for China Studies (MERICS), a Berlin-based institute for contemporary and practical research into China, has inaugurated theBelt and Road Tracker, a database of publications on China's ambitious endeavour to connect the economies of the East and the West and expand its influence in the region and beyond. Apart from the database of Belt and Road-related publications, the Tracker also includes a wide range of regional and thematic maps to visualize the initiative's scope and progress.
Analysis: Hybrid threats as a new 'wicked problem' for early warning
"Hybrid threats are designed to blur the distinction between peace and war, as well as complicate and fall below the target's detection and response thresholds," Patrick Cullen, Senior Research Fellow at the Norwegian Institute of International Affairs (NUPI), wrote in his analysis for the European Centre of Excellence for Countering Hybrid Threats (Hybrid CoE). According to Cullen, the nature of hybrid threats, including the use of proxies, plausible deniability and uncertainty over who or what the adversary is, makes it difficult to provide adequate advance warning for hybrid threats. The author argues that these "wicked problems" require new solutions for warning intelligence – including through finding ways to better understand the weaknesses of our societies beyond the traditional realm of military activity. How we monitor not just ourselves, but also our adversaries, is no less important in order to address the "wicked problem" of hybrid threats.
The latest developments in Europe
Spanish authorities have tappedPedro Baños, an army reserve colonel openly sympathetic to Russia, to lead Spain's National Security Council, the Prime Minister's advisory body on national security issues. Baños, who describes himself as an "analyst and speaker on geopolitics, strategy, defense, security, intelligence, terrorism and international relations," has been a regular contributor to the Spanish branches of RT and Sputnik. More recent reports, however, indicatethat the Spanish government may be reconsidering the decision.
Aleksandrs Krasnopjorovs, a former employee of the state-owned Latvian Railways, has been sentenced to 1.5 years in prison by a Latvian court on charges of spying for the Russian Federation. Krasnopjorovs, a military veteran, was accused of filming videos of trains carrying NATO equipment and passing them on to a Russian security operative based in the Kaliningrad region since 2015. Krasnopjorovs admitted to sending videos and pictures but denied that he cooperated with the Russian intelligence services.
Repressive regimes target cell phones, not personal computers
Repressive political regimes are now more likely to hack into the smartphones of political opponents rather than their personal computers, security researchers told the Wall Street Journal. The trend reflects the overall proliferation of cell phone usage around the world, as well as the increase in smartphone applications use.
Points of view
We still need East Stratcom against Kremlin trolls. The European Union and its member states are facing an organized and aggressive fake news, manipulation and disinformation campaign by the Russian state, but the EU's response "has been dangerously inadequate," argues Lithuanian MEP Laima Andrikiene. According to Andrikiene, the establishment of the EU East Stratcom Task Force was an important step to that end, but insufficient to counter the scope of the Kremlin's propaganda and influence efforts. To win the battle, she argues, East Stratcom needs to be removed from the External Action Service and endowed with more financial resources.
The West is still unprepared to stop Russian meddling in its elections, former NATO Secretary General Anders Fogh Rasmussen and former US Secretary of Homeland Security Michael Chertoff stress in their joint op-ed for Politico. According to the authors, Western governments are stuck in the 2016 lexis of "fake news," while contemporary trends "indicate that Russia and similar adversaries are sharpening their toolkit," including through changing their focus to spreading hyper-partisan narratives with the aim of polarizing the public story. To bridge the gap, Rasmussen and Chertoff will launch a Transatlantic Commission on Election Integrity, an organization bringing together politicians, media and civil society professionals from both sides of the Atlantic to "amplify the work already being carried out and to fill the gaps that exist in our collective response."
US Developments
Russia continues to escalate online operations to interfere in US politics
McClatchyDC reports that the Russian Federation is again ramping up its disinformation efforts in anticipation of the upcoming US midterm elections, this time through the creation of new websites and internet accounts to sway US voters. One such website, usareally.com, professes to "uncover crucial information hushed up by the American media controlled by the establishment and oligarchy of the U.S." The site, which was founded in May, posts an average of nine articles per day and, tellingly, exhibits poor knowledge of English grammar and syntax. According to FireEye Inc., a California-based cybersecurity company, usareally.com is a Russian-operated website designed to undermine social cohesion, spread disinformation, and inflame sentiments of discord, racial division, and fear-mongering. The company is monitoring several other domains that have not yet launched but follow the same pattern of activity.
Russians involved with usareally.com work for the Federal News Agency, whose ownership is not publicly known, but which closely adheres to the Kremlin line on international issues. The site also appears to have links to the Internet Research Agency – the notorious troll factory indicted in February 2018 on charges of interfering in the 2016 election. Its operators originally worked out of the same St Petersburg building where the IRA is headquartered.
New National Security Council hire is a pro-Russia conspiracy theorist
The new chief of staff to National Security Adviser John Bolton – a political contrarian known for his zero-sum view of international relations and staunch opposition to give-and-take diplomacy with US allies – is a Russia 'truther'. Prior to his appointment, Fred Fleitz publicly claimed that US intelligence reports on Russia's electoral interference were "rigged" and that it is "impossible" to know whether Russia was involved at all; he has also called for President Trump to pardon everyone currently undergoing investigation on this issue. Fleitz has also speculated that the Obama administration manipulated intelligence about Russia and schemed to "trap" Trump officials by sanctioning Moscow. In a January 2017 article for Fox News, he wrote that US intelligence agencies were "led astray by the Obama administration's partisanship and national security incompetence." These comments place him in good company with Trump, who continues to espouse the same conspiracy theories, denying evidence of Russian interference in US politics and smearing the special investigation as a 'witch hunt' and 'Democratic political conspiracy'.
Meanwhile, the Mueller investigation has brought new charges against former Trump Campaign manager Paul Manafort, as well as against Konstantin Kilimnik – a business associate with deep ties to Russian intelligence services – on grounds of obstructing justice and conspiracy to obstruct justice. Manafort and Kilimnik allegedly worked together to tamper with potential witnesses in an effort to influence their accounts of Manafort's lobbying activities on behalf of political parties in Ukraine.
Trump calls for Russia to be reinstated to the G7
Before departing for last weekend's disastrous G7 summit in Canada, President Trump called for Russia's readmission to the G7, adding insult to injury after alienating allies with tariff threats and abandoning his endorsement of the joint communique. The statement on Russia – made amidst feuding between Trump and some of his closest allies, including Emmanuel Macron and Justin Trudeau, which continued throughout the summit – drew immediate condemnation both internationally and domestically (from both parties). Meanwhile, Italy's new prime minister, Giuseppe Conte, expressed approval for the idea on Twitter.
Senator John McCain, a frequent Trump critic, voiced his opinion in a statement sent to reporters last Friday: "Vladimir Putin chose to make Russia unworthy of membership in the G-8 by invading Ukraine and annexing Crimea. Nothing he has done since then has changed that obvious fact." He added: "The president has shown our adversaries the deference and esteem that should be reserved for our closest allies."
Angela Merkel agreed with Senator McCain while addressing questions from the Bundestag about whether kicking Russia out of the G8 was right thing to do. She stated that a defining feature of the group is that its members are leading economic powers who abide by international law. Russia's annexation of Crimea was a "flagrant breach" of international law, so its ousting from the group was "unavoidable."
Facebook shared user data with questionable Chinese firms
Facebook shared data with 60 device-makers, including four Chinese firms, one of which is considered to be a national security risk by the US government. The revelationbrings new alarm about Facebook's data sharing policies. Although the social network has been blocked in China since 2009, the company Huawei, among others, was interested data-sharing with Facebook in order to create similar Facebook user "experiences" on their own devices. Facebook confirmed this data sharing but claimed that the data collected remained on users' phones. Huawei said its cooperation with the social network was meant to improve its services and that it "never collected or stored any Facebook user data." A 2012 report by the US House Intelligence Committee warns US companies about working with Huawei and ZTE, another Chinese firm, citing fears that these companies have close ties with China's Communist Party and the military.
In other Facebook news, the social network will be updating its Government and Politics portal in order to streamline the way candidates and campaigns worldwide use Facebook as a campaigning tool. Facebook is also rolling out a new video service called "Watch" and paying networks like CNN, Fox News, and Univision, among others, to provide "high quality journalism" on the platform in an effort to counter fake news. "Watch" is also expected to bring in more video advertising revenue for the company.
This latter development is ironic, considering that just a few weeks ago, Mark Zuckerberg insisted to Congress that Facebook isn't a media company, since it only pays for news content but doesn't produce it. But continuing to deny the increasingly undeniable – that Facebook indeed is a media company that should be subjected to the same strict advertising guidelines that regulate the news industry – gives the company cover to evade responsibility for the real consequences its editorial decisions have on users.
The Kremlin's Current Narrative
Putin, military, and unique spirit
Some readers may find this entry provocative, given a popular paradigm distinguishing the Kremlin's actions from ordinary Russian citizens: "Putin is bad, and the Russian people are his unfortunate hostages". A recent survey shows that this may not be entirely true. "Patriotism in Russia at highest level in 18 years", RT tells us. The problem isn't so much that Russians are proud of their country, but rather the attributes of Russian greatness that they name.
"When asked what makes their country strong and respected, 26 percent replied it is the military, 22 percent said "the strong spirit and will of the Russian people," and 17 percent attributed Russia's success to the "good and powerful president," Vladimir Putin". As RT summed it up: "Putin, military power and unique spirit make [Russia] a glorious nation".
Vzglyad has even more details about the poll, having interviewed Sergei Lvov from VTSIOM, the organization that carried it out. He explains why, in just two years, the number of Russian patriots grew from 80 to 92%. "Sergei Lvov assumes that this development is a "long echo" of the milestone events that took place since 2014: the Olympic Games, the accession of Crimea, and military victories in Syria that led to the strengthening of Russia's international status."
Crimea's "accession". Military "victories" in Syria. Yes, we all know that propaganda is churning full force in Russia. But these figures should also remind us that with such high levels of public support, there's little chance that Putin will change his policies and stop flouting the rules of the international order. Apparently, the paradigm holding that "the people are just hostages" in Putin's Russia doesn't suffice, and we should think about how we can work with and engage ordinary Russians to ensure that they, at least, don't treat military crimes as reasons for national pride.
And one more thing. Note that the Olympic Games in Sochi were amongst the reasons that increased Russian patriotism and support for Putin. The upcoming World Cup will also serve as a popularity boost for the Kremlin. Western politicians and leaders should think very carefully about whether they want to be cheerleaders for Putin's ratings in Russia.
Kremlin Watch Reading Suggestion
A Definition of Contemporary Russian Conflict:
How Does the Kremlin Wage War?
A recent study by the Russia Studies Centre at The Henry Jackson Society attempts to establish a definition of Russia's aggressive actions, which they call 'Contemporary Russian Conflict'. The study argues that Contemporary Russian Conflict is holistic and encompasses all aspects of Russia's current individual conflicts. It finds that this type of conflict builds heavily on the KGB concept of 'active measures' and identifies a six-stage sequencing framework including both military and non-military elements, namely: Political Conflict, Culture and Governance, Economics and Energy, Military Power, Diplomacy and Public Outreach, and Information and Narrative Warfare, with a central seventh element of Command and Control.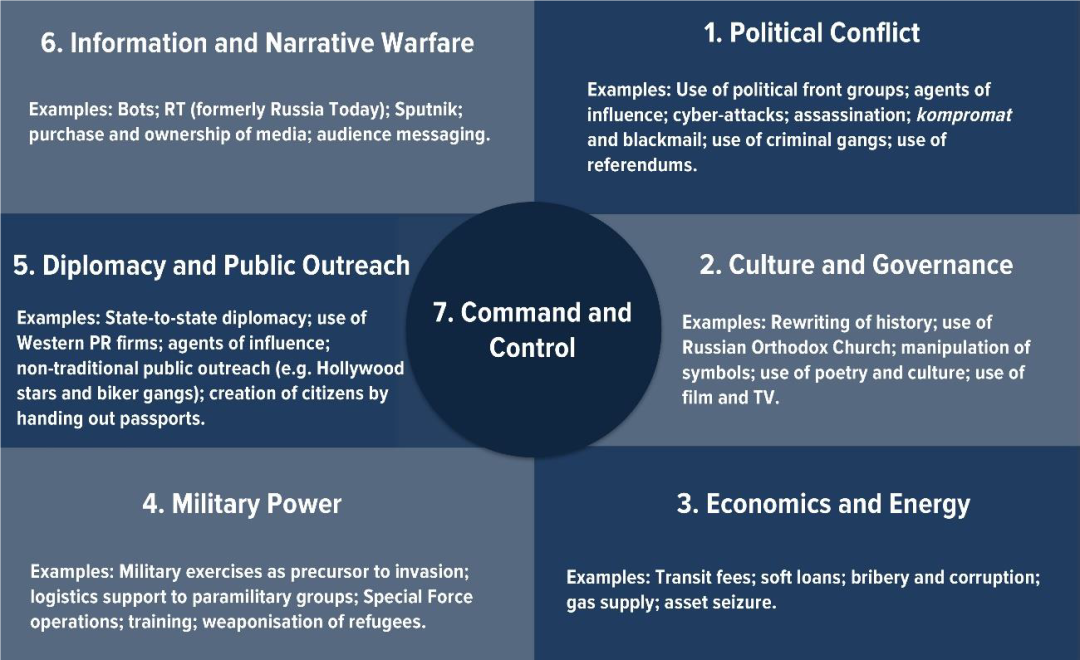 The aim of Contemporary Russian Conflict is to divide and demoralise the West by undermining NATO, the EU, and other Western institutions and by utilising disinformation and subversive warfare as a tool to undermine trust in Western values and leaders. This type of conflict therefore utilises the full spectrum of state power, integrating military and non-military means, and operates in a flexible and creative way. The study argues that it is centred around the presidential administration but other agencies influence it as well. Russia's information operations are used by the Kremlin as both a prelude to war, an alternative to war, and a handmaiden in war.
Kremlin Watch is a strategic program of the European Values Think-Tank, which aims to expose and confront instruments of Russian influence and disinformation operations focused against liberal-democratic system.