On October 25, CyberBerkut Group posted on its website false information: "Today the Ukrainian CEC officially announced that the system 'Elections' does not work.  They informed media that the date of the election results announcement may be changed due to the manual counting of votes."
In addition, members of the group have published false document, which supposed to be the decision of the Central Election Commission (CEC) of Ukraine, in which it anounsed that the system of counting votes in elections is allegedly damaged.  It is the reason why the voices will be counted manually and the election results announcement may be changed.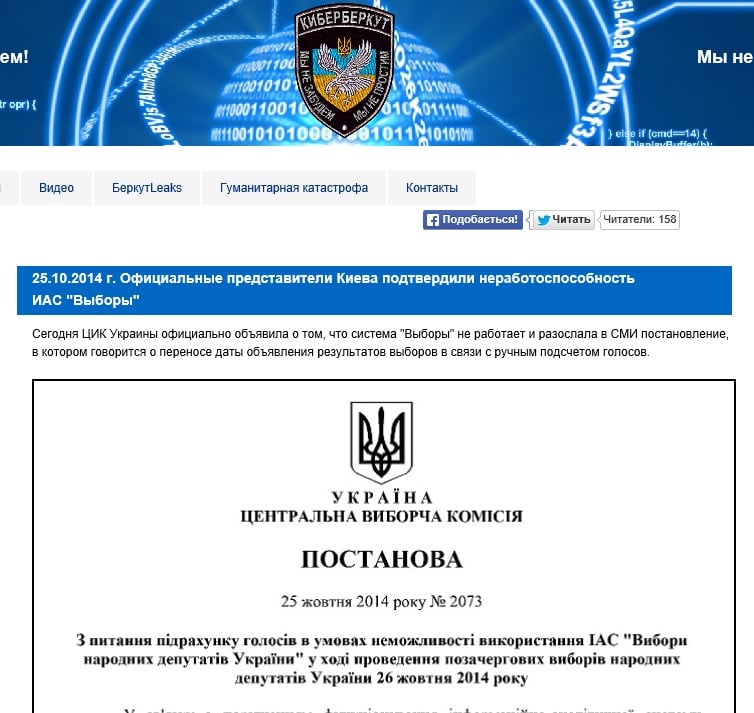 However, such document does not exist, and it is obvious that representatives of the media does not receive it.  The system of vote counting is OK and is operating normally.
"The reports of some media about fact are absolutely false. Information-analytical system "Elections" worked and is working in normal mode," said the head of the press service of the CEC Konstantin Hivrenko.
"The CEC did not consider this kind of issues collectively, and this mode of meeting is the only one to adopt such kind of decisions.  This kind of message can be interpreted no more than the fake information," said Hivrenko.