Russian Ministry of Foreign Affairs has twisted the words of Ukrainian Minister of Defence, taking them out of context.
On September 1 Russian Ministry of Foreign Defence website posted a manifest, claiming Ukrainian Minister of Defence Valerii Geletei had called to "prepare for another 'dozens of thousands' of victims in his so-called 'Great patriotic war', which is in fact a counterinsurgency operation".
"Thus he pushes Ukrainians into the continuation of the civilian bloodshed. Desperate attempts to hide the desire to keep the position at any costs, yet unseen in Europe", claimed Russian Ministry of Foreign Affairs.
This manifest was spread by the major Russian news outlets.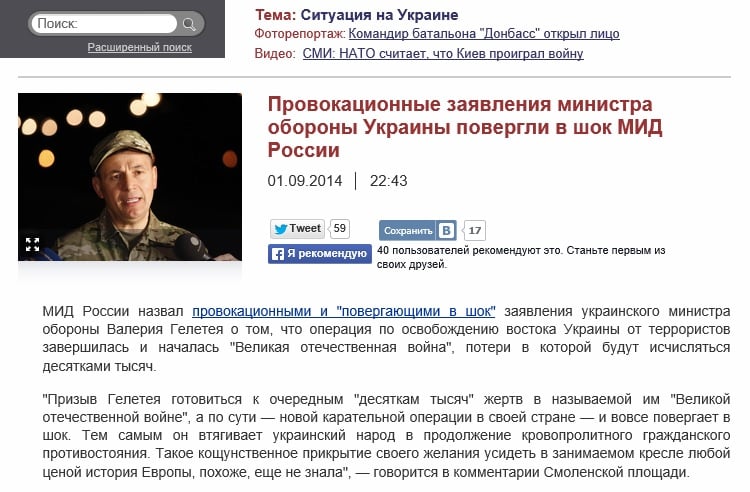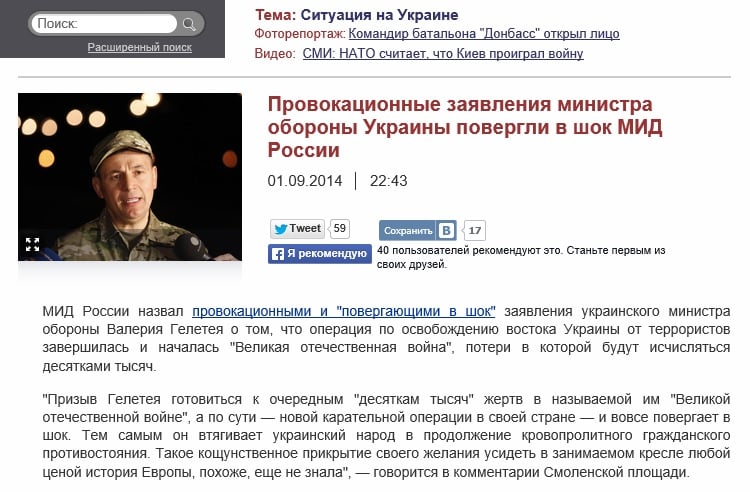 Yet, Geletei did not promise to start a counterinsurgency operation or to send Ukrainian soldiers to kill Ukrainian people.  In his message on Facebook, he reported military aggression of Russia against Ukraine.  Dozens of thousands Ukrainians might perish because of this, according to him.
"Russia has lost the hybrid war in Ukraine.  Our military forces pushed the gangs of Russian mercenaries, eliminating their saboteurs and special forces.  That is why the Kremlin had to resort to the large-scale invasion in the Donbas using regular troops.  Now we deal with divisions and regiments.  Tomorrow it might be corps".
"The operation of liberating East Ukraine from terrorists has ended.  We must urgently set defence against Russia, it is trying to occupy the territories previously controlled by the terrorists to proceed with the invasion to the other parts of Ukraine.  A great war has come to us, a war that has not been in Europe since the Second World War.  Dozens of thousands of people might perish in such war.  Unofficially Russia several times threatened to use nuclear weapons against us if we continue the resistance," wrote Geletei.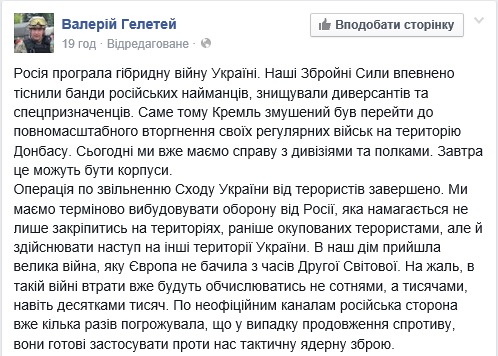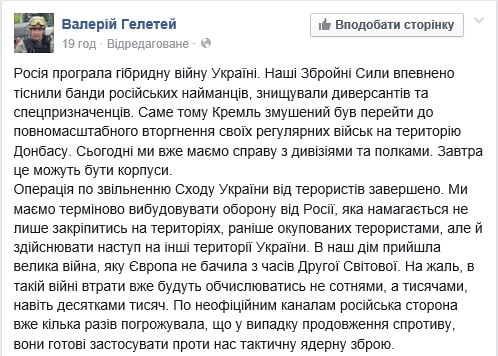 Earlier Stopfake.org reported the evidence of Russian military troops presence on Ukraine's territory.