Scores of major Russian media declared last week that the Netherlands were not ruling out Ukraine's responsibility in the downing of Malaysian Airlines Flight 17 that was shot down on 17 July 2014 while flying over Russian separatist occupied eastern Ukraine. TASS,  Vzglyad, Komsomolskaya Pravda, Ukraina.ru, Vesti, and  scores of other pro-Kremlin media all disseminated this distorteds version of events, claiming that after parliamentary debates,  the Dutch Foreign Ministry was including Ukraine as a responsible party to MH17's downing.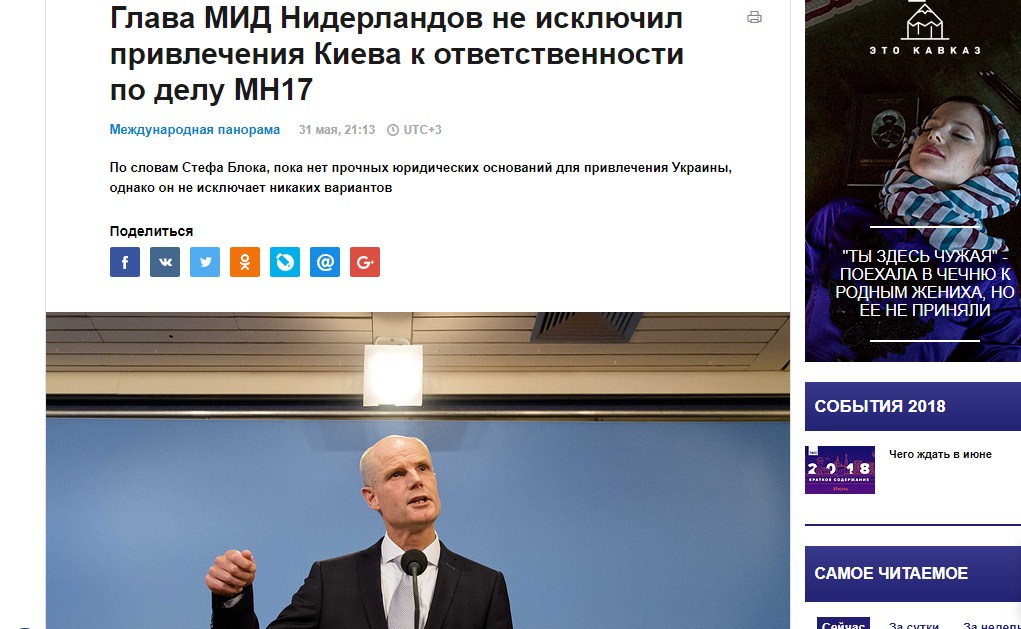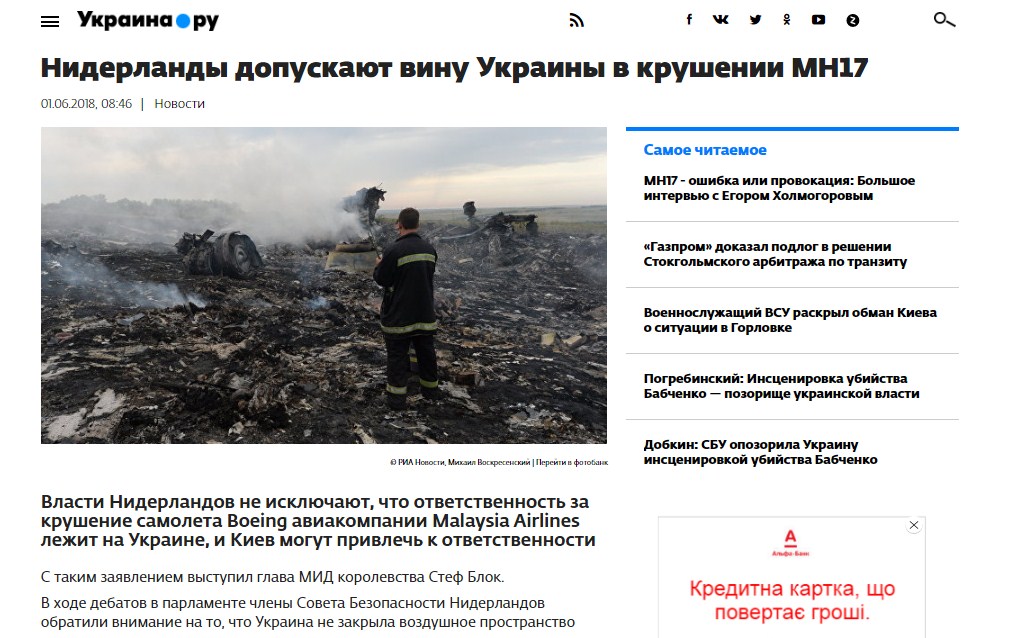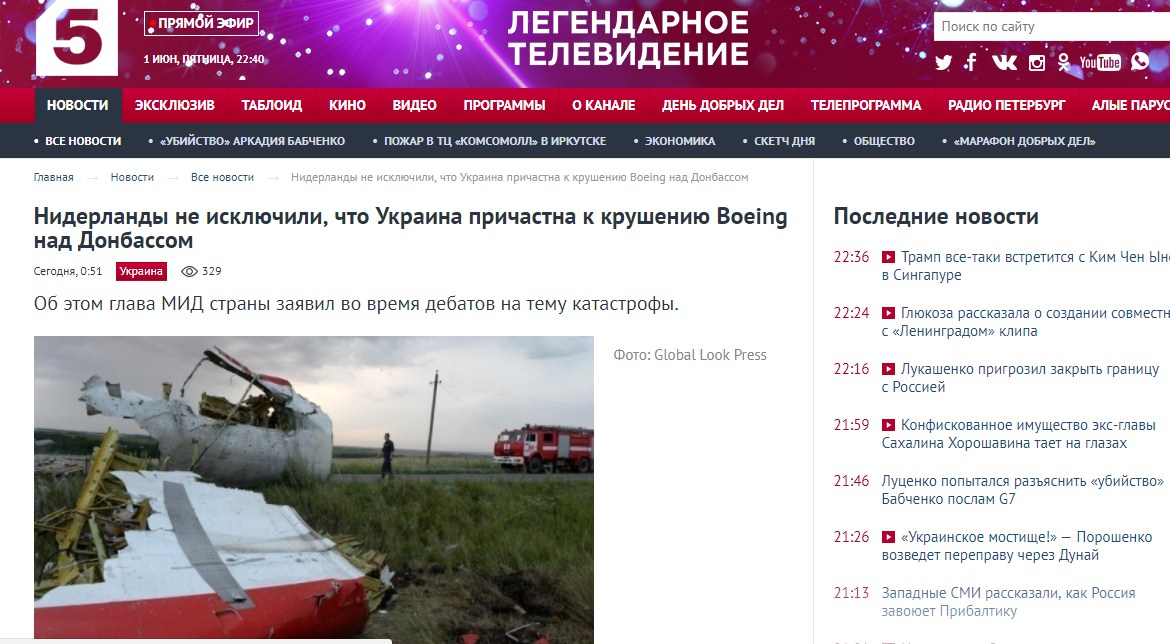 Holland's Foreign Minister Stef Blok said the Cabinet does not exclude that Ukraine is liable in the disaster, Russian media wrote, citing the Dutch publication Het Parool.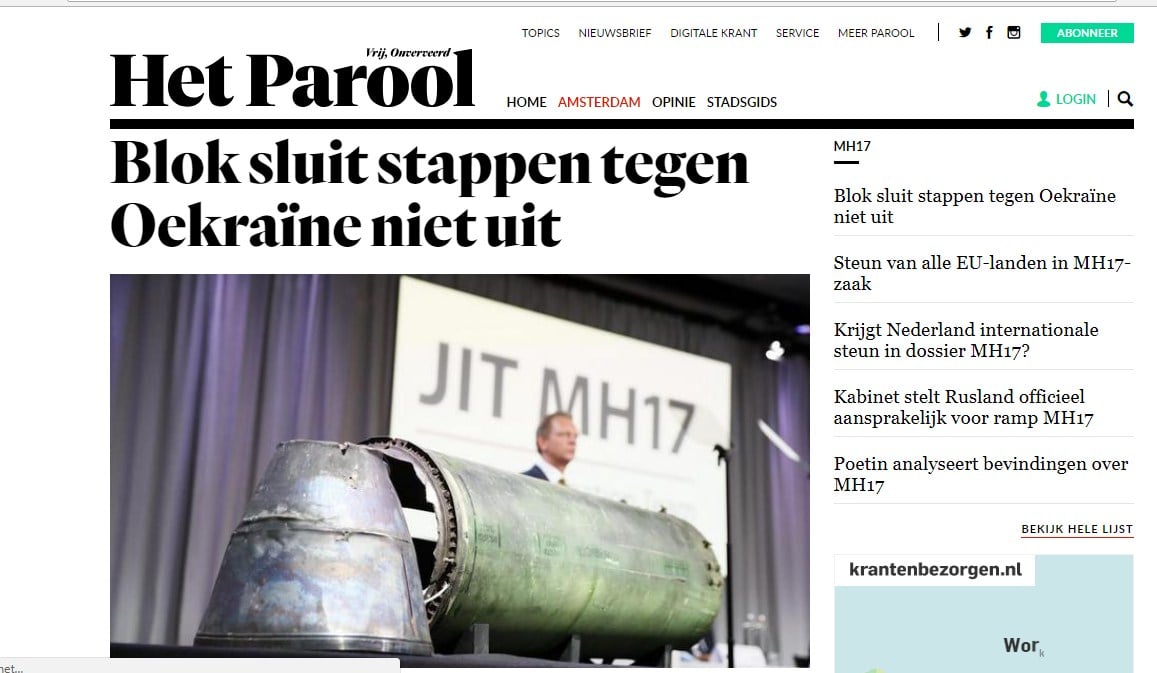 The Dutch parliament did hold a session devoted to MH17 in an attempt to hold Russia accountable for the crash of the Malaysian jet after an international team of investigators said that a Russian military missile was responsible for shooting down the flight. According to the Netherlands Public Broadcasting web site, during the debates both coalition and opposition MPs all agreed that the Russian government must be held accountable for the tragedy.
Travelling from Amsterdam to Kuala Lumpur, the Malaysia Airlines Boeing 777 was shot down over the conflict zone in eastern Ukraine on 17 July 2014. All 298 people onboard were killed.
Several Dutch parties did bring up the possibility of investigating the role of Ukraine in the flight's crash, however the issue is not Ukraine's responsibility for the tragedy but rather questioning why Ukraine did not close the airspace over the conflict area. Raymond de Rhone, an MP from the Dutch Freedom Party raised this point. Minister Blok meanwhile pointed out that there is no evidence that points to Ukrainian responsibility in the crash.
An international group of investigators conducted a four-year probe into the plane's downing and found "legal and convincing evidence" that the missile that shot down MH17 belonged to the Russian army.
Based on the group's findings the Netherlands and Australia said they are holding Russia responsible for the tragedy. At a news conference in the Netherlands, the Joint Investigative Team revealed the BUK missile that downed the plane came from Russia's 53rd Anti-Aircraft Missile Brigade, based in Kursk.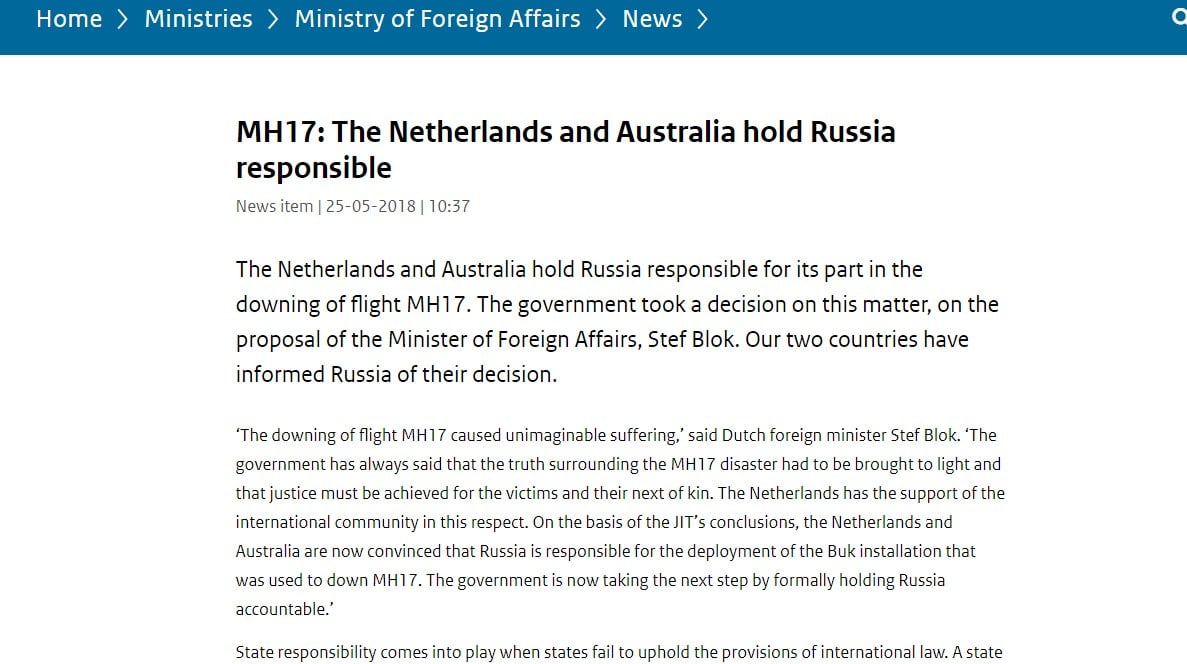 The Netherlands Foreign Ministry in an official statement said: On the basis of the JIT's conclusions, the Netherlands and Australia are now convinced that Russia is responsible for the deployment of the Buk installation that was used to down MH17. The government is now taking the next step by formally holding Russia accountable.'
Dutch Foreign Minister Stef Blok repeated this position during his speech at the May 29 UN Security Council session.  According to the Foreign Ministry's Twitter feed, "Minister Blok calls upon the Russian Federation to accept its responsibility to establish truth and achieve justice for the victims of MH17".
Today @ministerBlok will address the UN #SecurityCouncil on the situation in #Ukraine and call upon the Russian Federation to accept its responsibility to establish truth and achieve justice for the victims of #MH17. Watch the debate at 3pm NY time on: https://t.co/ymSW5D0GJD pic.twitter.com/1YorxkxfOp

— Dutch Ministry of Foreign Affairs 🇳🇱 (@DutchMFA) May 29, 2018