Egypt terminated a grain contract with Ukraine because the Ukrainian side was unable to fulfill its obligations in March-April of this year due to the blockade of ports by Russian troops. Egypt officially assured the Ukrainian ambassador that Cairo is not refusing further cooperation with Kyiv and is ready to continue buying Ukrainian grain.
Several publications are featuring stories claiming that Egypt canceled contracts for the purchase of 240,000 tons of Ukrainian grain to be delivered in February-March, however, the grain was not shipped because of Russia's invasion of Ukraine. Some Russian journalists also claimed this decision was made after Russian Foreign Minister Sergei Lavrov visited Egypt.
Russian media also added that Egypt refused the Ukrainian wheat because Ukraine allegedly provided them with false information about the amount of grain available. "Perhaps he (Lavrov) told them about the real situation, and the Egyptians realized that if they wait for these 240 thousand tons, they will be left without grain. Most likely, they sensibly reasoned, decided to refuse and find other sources," writes the propagandist web site News.ru, quoting another pro-Kremlin political analyst. Those other sources, according to New.ru could be Russia.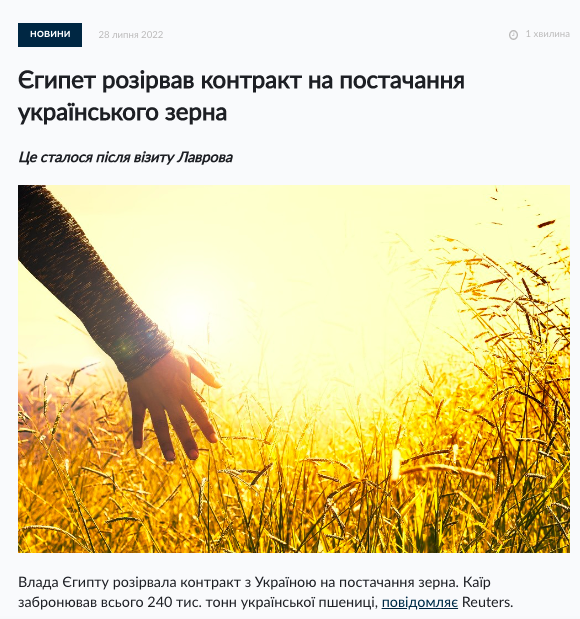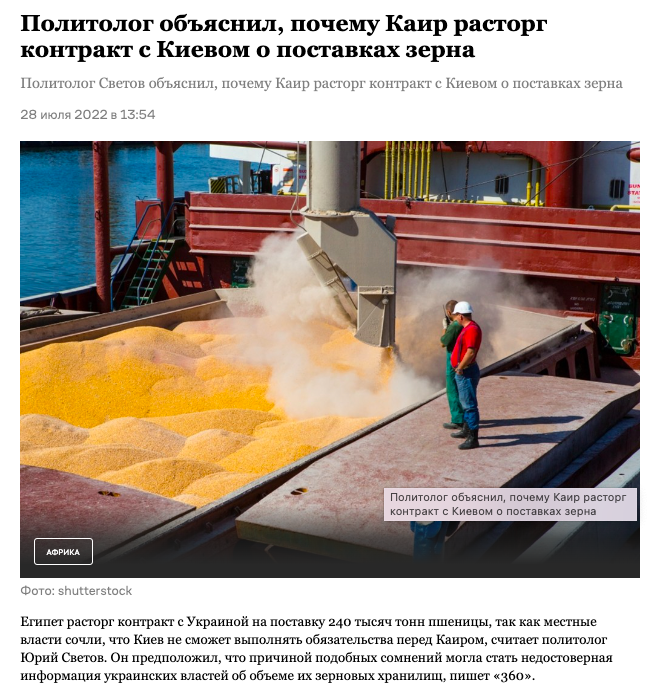 Such Russian media conclusions are erroneous. The source for these stories in Russian media was a Reuters article, which in turn cited two anonymous sources, who told Reuters the contracts were cancelled as the grain could not be delivered because of Russia's invasion of Ukraine.
According to the Reuters article "Egypt's General Authority For Supply Commodities (GASC) has released the trading companies supplying the four unloaded cargoes, Nibulon and Inerco, from their contractual obligations, the two sources said, despite there not being a force majeure clause in GASC's contracts".
Reacting to Russian disinformation about the nature of the contract cancellations on Ukraine's Hromadske televisions, Mykhailo Nepran, Vice President of the Ukrainian Chamber of Commerce and Industry explained what was behind the contract cancellation. 
"Egypt will conclude a new contract with Ukraine for the supply of grain because the Ukrainian side was unable to fulfill its contractual obligations in March-April of this year because Russia blockaded all Ukrainian ports. It turned out that the agreement did not provide for a force majeure clause. Therefore, a completely civilized decision at the legislative level was made – to cancel the contract that cannot be fulfilled and conclude a new one, according to which the purchase will be made," Nepran explained.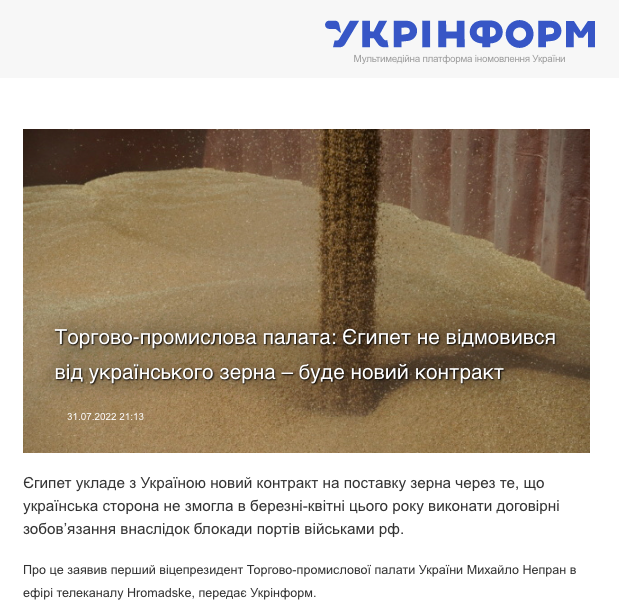 The Russian blockade of Ukrainian ports has driven up the cost of grain, something that Ukrainian grain traders are likely to be happy about when the grain is finally shipped under the terms of new contracts, Nepran noted.  "When the contract was signed in December last year, the price was somewhere around 249-250 dollars per ton. Now the price has almost doubled. From an economic point of view, it has become even more profitable for them, since the new contract will be concluded at a different price," Mykhailo Nepran said during an interview with Hromadske radio.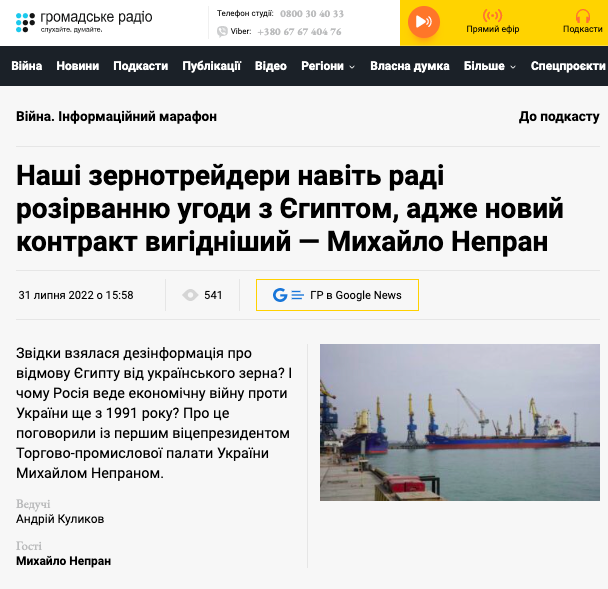 Ukraine's Ambassador to Egypt Mykhailo Nahorny also confirmed that Egypt is not refusing to cooperate with Ukraine, Cairo understands the situation with the Russian blockade of Ukrainian ports and is ready to buy Ukrainian grain.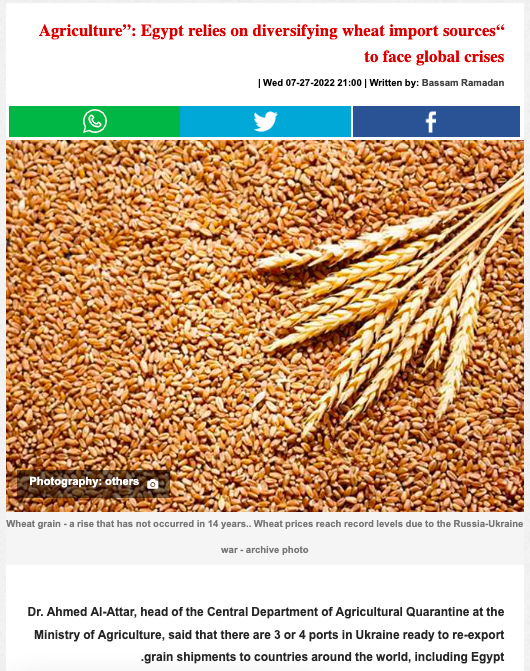 There is no mention in the Egyptian media about Egypt no longer wanting to buy Ukrainian grain. In the July 27 issue of the newspaper Al-Masry Al-Youm, the Egyptian Agriculture Ministry's General Directorate of Agricultural Quarantine  director Dr. Ahmed Al-Attar said that Ukraine is again ready to re-export grain shipments to countries around the world, including Egypt. Al-Attar also added that since the beginning of Russia's full-scale war in Ukraine, 200,000 tons of Ukrainian wheat have arrived in Egypt, and that exports have been suspended due to Russia's actions in Ukraine.
StopFake has debunked other Russian disinformation narratives about the grain situation, such as Fake: Zelensky sending state grain reserves to Poland – Ukraine is "written off" as a state, Fake: West "lying" about the theft of Ukrainian grain by Russia, Fake: the Armed Forces of Ukraine destroy grain elevator in eastern Ukraine.