Annalena Baerbock's quote was taken out of context and distorted. The German Foreign Minister did not say that support for Ukraine was more important than the interests of her own voters. Baerbock stressed that today, with the near onset of winter and rising energy prices, the task of European politicians is to provide maximum social support for their citizens, but also provide unconditional solidarity to Ukraine for as long as it takes.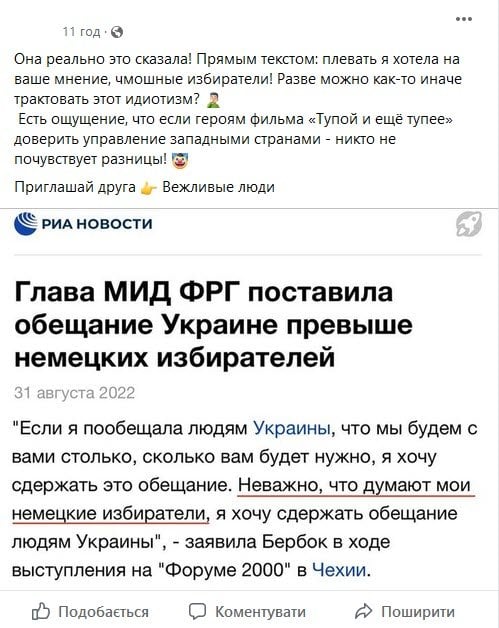 Social media networks and Russian media websites are massively disseminating German Foreign Minister Annalena Baerbock's statement, alleging that she said support of Ukraine is more important than the opinion of Germans and she does not care what German voters think.
German Foreign Ministry abandons own people for the sake of Ukraine, German Foreign Minister considers Ukraine residents more important than her voters, Ukrainians are more important to me than Germans, – Russian publications such as Lenta.ru , RIA Novosti and others declared. An edited and manipulated video of Baerbock's speech is also circulating on the web, which gives a false impression of the politician's actual words and intent.
In fact, Annalena Baerbock's words were taken out of context. The politician did not say that she did not care about the opinion of German voters, nor that "support for Ukrainians is more important than freezing Germans." She also did not renounce "her own people for the sake of Ukraine." The German Foreign Minister said that European politicians are in solidarity with all the citizens of their countries because of rising energy prices, but will also support Ukraine in its opposition to Russian aggression. Burbock's statement boils down to the fact that the sanctions policy against Russia should remain tough, and the social consequences for EU citizens that may stem from the sanctions should be compensated at the expense of the state.
German Foreign Minister Annalena Baerbock spoke at the Forum 2000 conference in Prague on August 31. The current conference, the 26th since the event was launched in 1997, was dedicated to the threats facing democracy and, above all, the war in Ukraine. Among other things, the discussion touched upon the question of how long European countries can or should support Ukraine and the policy of sanctions in response to Russian aggression.
Asked by the moderator what is the German vision for a successful Ukraine and how she would define a successful Ukraine, Minister Baerbock gave a lengthy answer, emphasizing that Ukraine is fighting for that which every country has a right to – to define its own future for itself.
We stand with Ukraine as long as they need us and because we all agree on this and this is not a sentence too forceful and this is just a normal thing if you believe in the rule of law and freedom in the world… if I give the promise as a politician, and luckily in democracy it could be the chance that people disagree with me and they say in four years, well you didn't tell us the truth, but if I give the promise to people in Ukraine 'we stand with you as long as you need us' then I want to deliver, no matter what my German voters think, but I want to deliver to the people of Ukraine. And this is why for me its important to be always very frank and clear, and this means every measure I'm taking, I have to be clear that this holds on as long as Ukraine needs me. And this is why I think its so important that we have to be frank. Yes, everybody wishes from us that tomorrow the war stops, but in case tomorrow it wouldn't stop, I will also be there in two years' time…
Baerbock went on to emphasize that European politicians will do everything they can to ease the burden of sanctions on their constituents. Moreover, she announced the need to create social benefits for the Germans in connection with rising energy prices and the approaching winter. This completely contradicts the assertions of the Russian media that the head of the German Foreign Ministry allegedly abandoned her citizens for the sake of the Ukrainians.
Now we are facing wintertime where we will be challenged as democratic politicians. People will go on the street and say, 'we cannot pay our energy prices,' and I will say 'yes, I know, so we help you with social measures', but I don't want to say 'ok, then we stop the sanctions against Russia.' We will stand with Ukraine, and this means that the sanctions will stay also in wintertime, even if it gets really tough for politicians and we have to find good solutions all over Europe to balance the social effects because this is the other part of this war, it's a hybrid war. The second strategy (of Russia, ed.) is to split our democracies saying ok, now the poor people are being left behind and we have to give the answers. We stand in solidarity with everybody in our country as we stand with everybody in Ukraine, Annalena Baerbock concluded.
The fact that the German foreign minister explicitly emphasized that the social consequences for her own population must be mitigated by the state is deliberately overlooked by Russian disinformation spreaders. The German publication Volksverpetzer writes that the wording " no matter what my German voters think " could be criticized, however, if you look at the quote in context, it only implies that sanctions should be maintained, even if massive protests are fomented against them, primarily by German far-right groups and populists.
Russian Foreign Minister Sergei Lavrov predictably rushed to react to the manipulative news about his German counterpart's statement, calling Baerbock's out-of-context and distorted quote "a fantastic confession." "Just today, I read that yesterday German Foreign Minister Annalena Baerbock said: 'Yes, our citizens are suffering, but they will have to suffer, because we will support Ukraine, no matter what.' Fantastic confession. Just a fantastic confession," said Lavrov. It is clear from his words that Lavrov did not care to listen to Baerbock's full speech in English – the German Foreign Minister never said that German citizens "have to suffer" for the sake of supporting Ukraine. Russian media reports and social media users' claims that Baerbock allegedly abandoned her German voters for the sake of Ukraine are another element of Russia's hybrid information war against the EU countries and Ukraine.