NATO plans to destabilize Europe  –  this was Russia's reaction to NATO's growing presence in the Balkans. Izvestia, RT and Moskovskyi Komsomolets all rang alarm bells with misleading statements about NATO.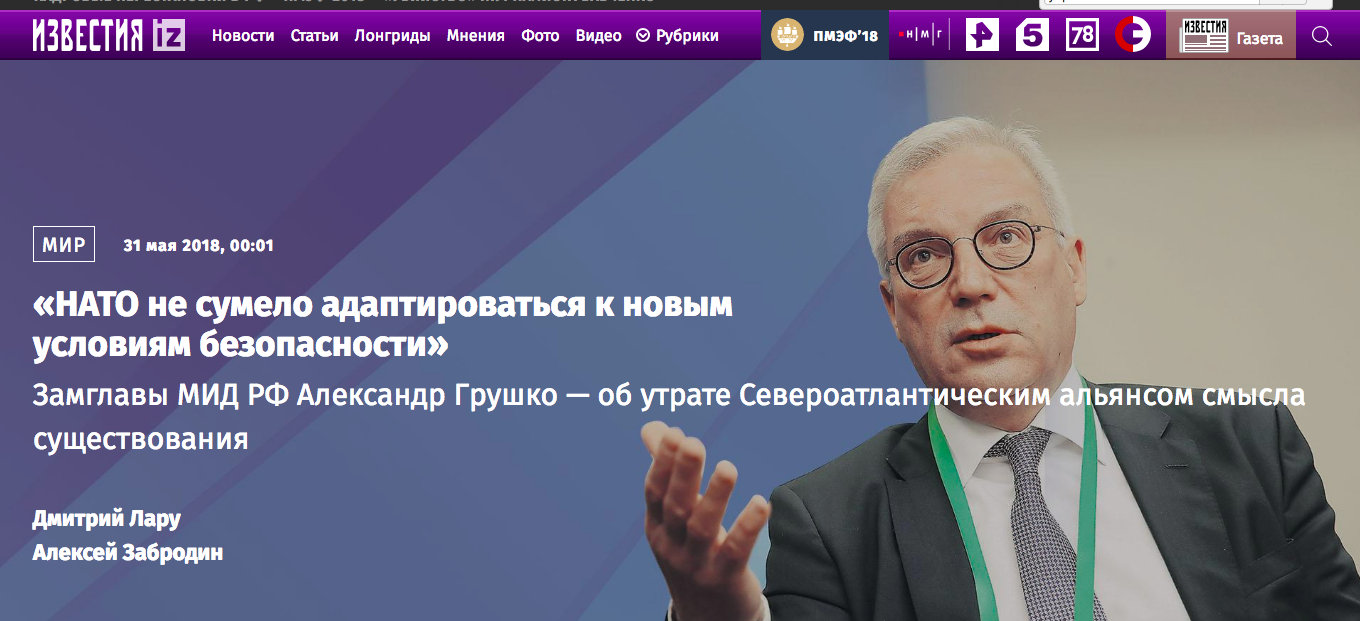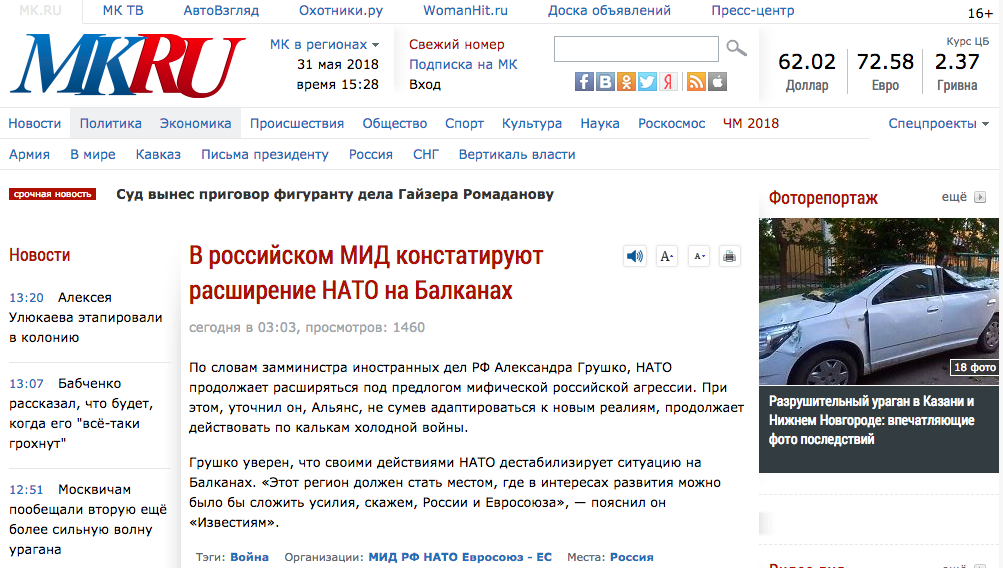 Russian media cranked up the anti-Nato hysteria after parliamentarians from NATO countries called on the alliance to show unity at their upcoming summit in the face of security threats coming from Russia and from terrorism.  The parliamentarians' statement also calls for Ukrainian and Georgian integration into NATO as well as a reform plan for Bosnia and Herzegovina in preparation for NATO membership.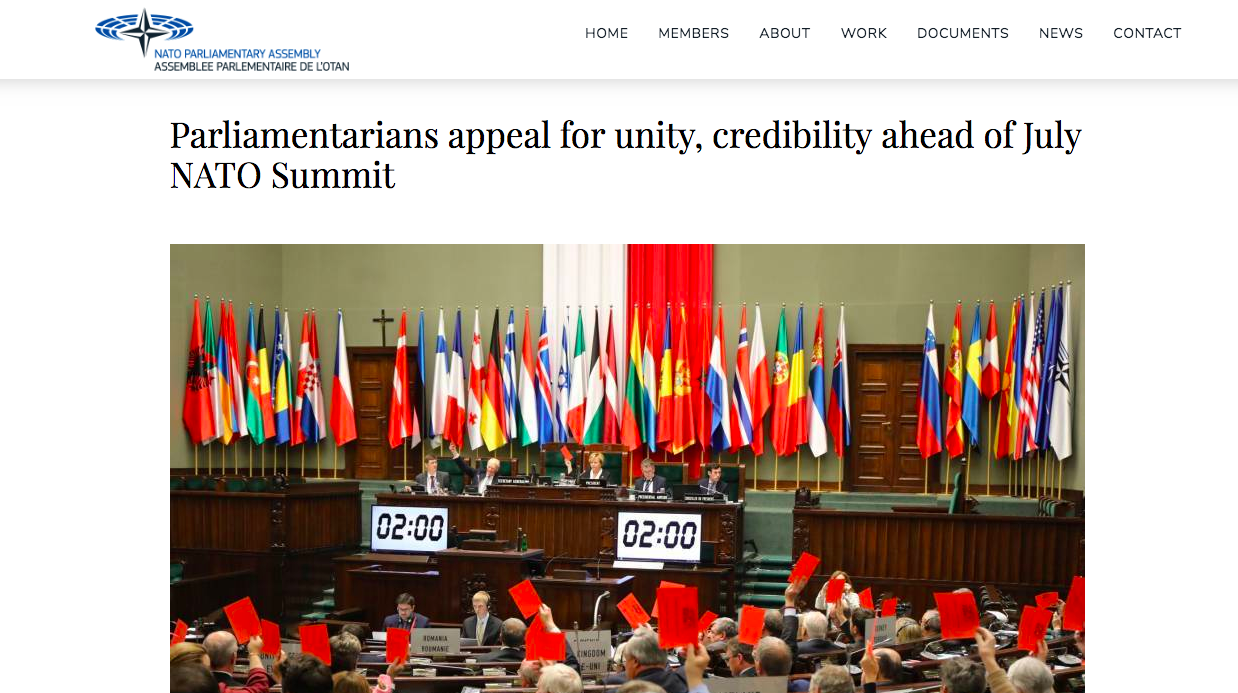 After the publication of this statement, Russian media began disseminating stories accusing NATO of resorting to Cold War tactics. In an interview with Izvestia Russian Deputy Foreign Minister Alexander Grushko declared that NATO expansion should remain a thing of the past. "The NATO open door policy has not solved one problem. It only aggravated the situation both on a regional and European level. Instead of building an inclusive security system in the Balkans, joining NATO is the path to worsening relations and increased tension" Grushko said.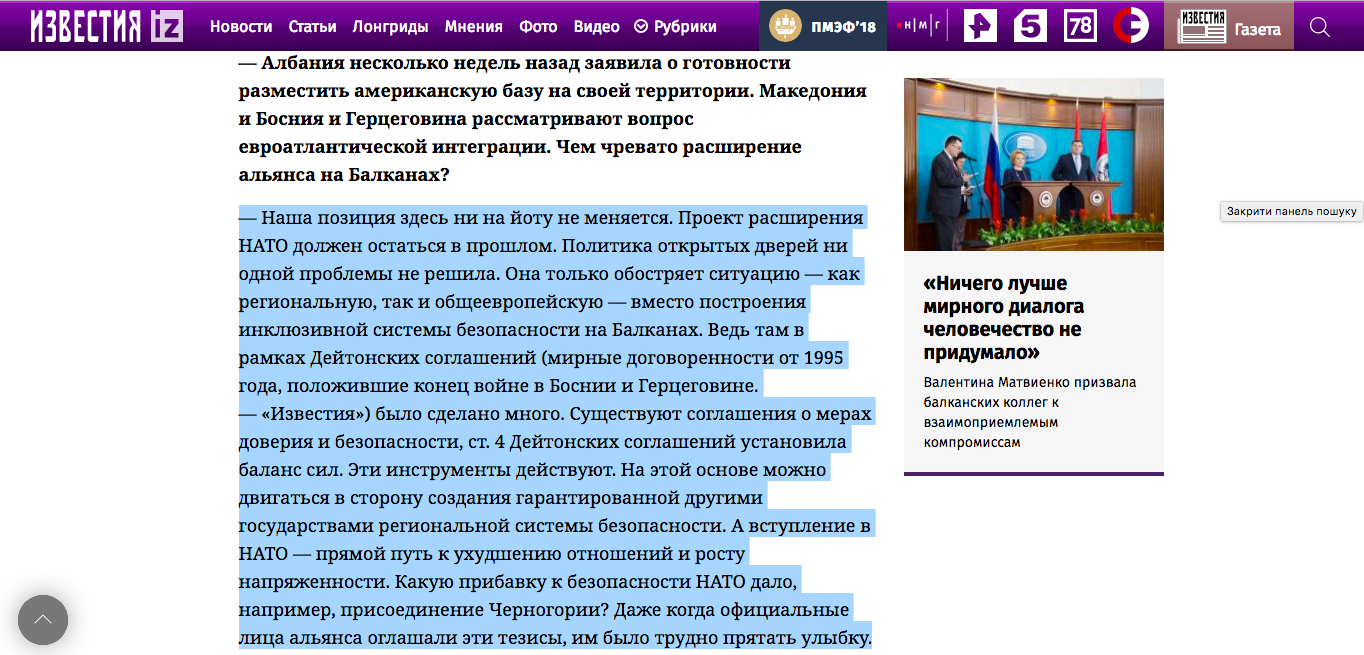 On May 27 Poland's largest web portal Onet featured a story about Poland's push for a permanent US military base in Poland. Citing sources in Poland's Defense Ministry, Onet wrote that in a document presented by the ministry explaining the need for such a US presence, Poland was willing to invest up to $2 billion in the future base.
"Following Russian invasions in Georgia and Ukraine, countries in Central and Eastern Europe are concerned that they are next in Moscow's crosshairs," the public document stated.
Poland's Defense Minister Mariusz Blaszczak confirmed that Warsaw was talking with the US about a permanent military base.
Initially Russian presidential spokesman Dimitri Peskov said such plans were the "sovereign right of Poland" but later added that Moscow would react to these plans accordingly. Argumenty I fakty meanwhile made its position clear in the headline "Medicine for paranoia to the tune of 2 billion dollars. Why does Poland need a US base?".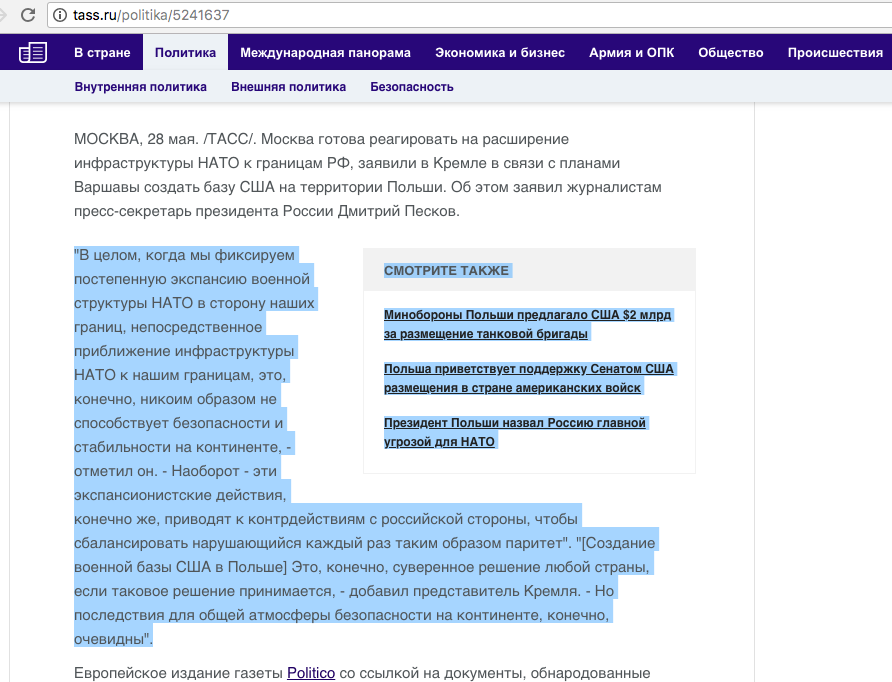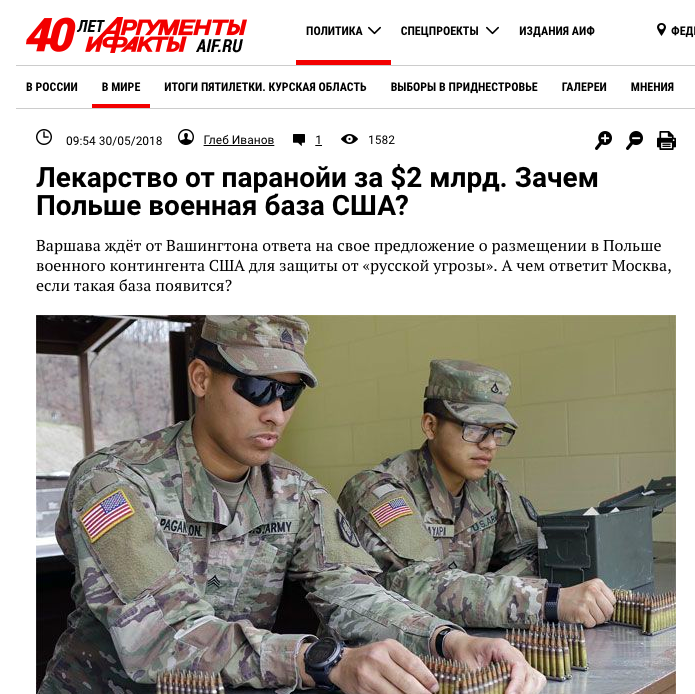 In a predictable turn Russia's Federation Council blamed Ukraine for everything. The chairman of the Council's Defense and Security Committee Viktor Bondarev declared that the US base would not hurt Russia and that Poland actually wanted the base to "resolve its acute confrontation with Ukraine". "This isn't about Russia, Poland is not Russia's equal in any category. But as regards Ukraine, with whom Poland is in a harsh confrontation and also Germany, which has shown aggression towards Poland in the past, a US base will raise Poland's stature" Bondarev said.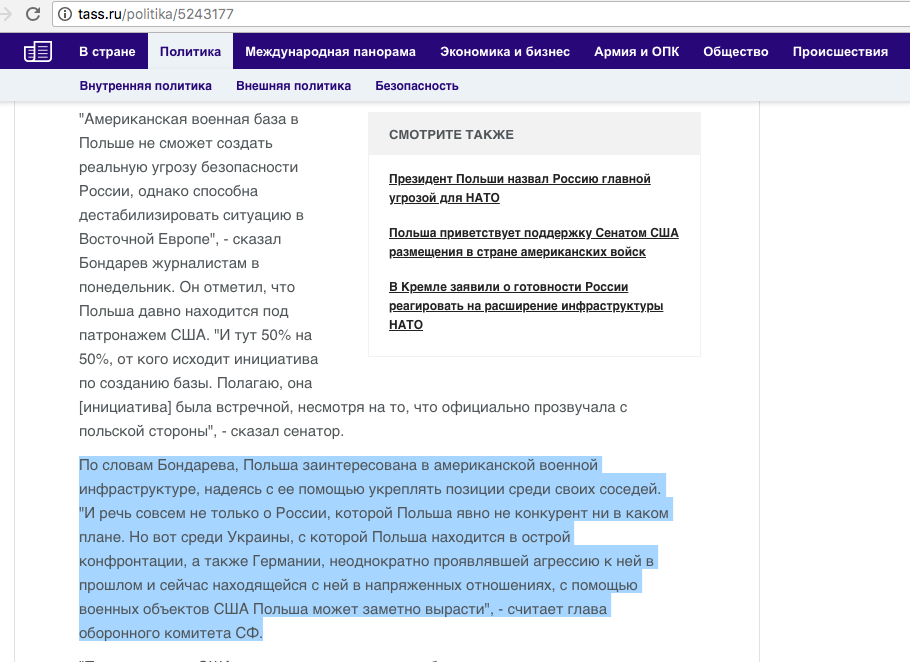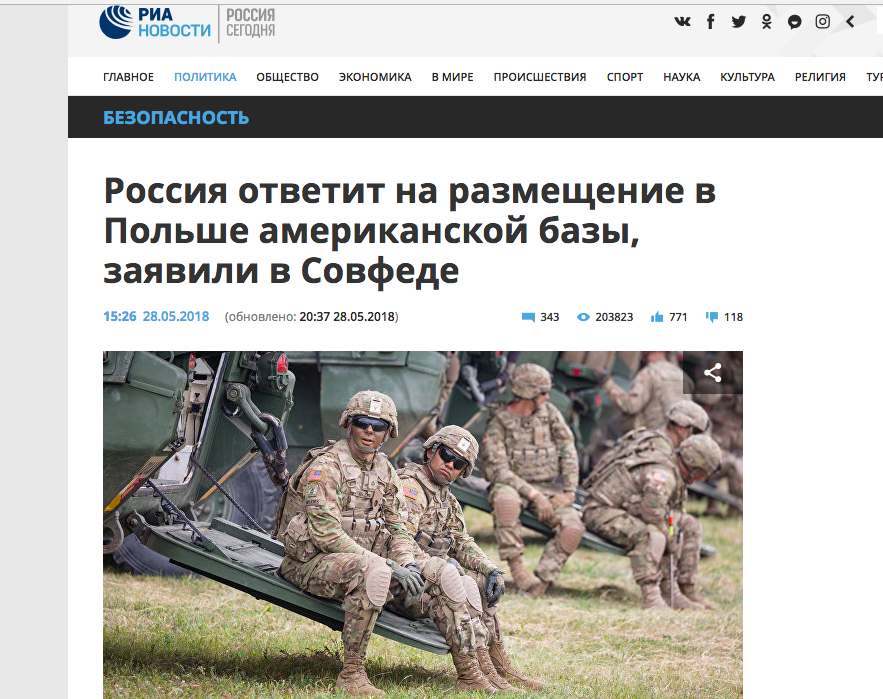 The wave of mendacious stories about NATO destabilizing Europe continued with a May 31 story in RT claiming that Washington was transferring military equipment to Poland in vast numbers. A few days earlier Russian Foreign Minister Sergey Lavrov announced that NATO troops were engaged in suspicious activity.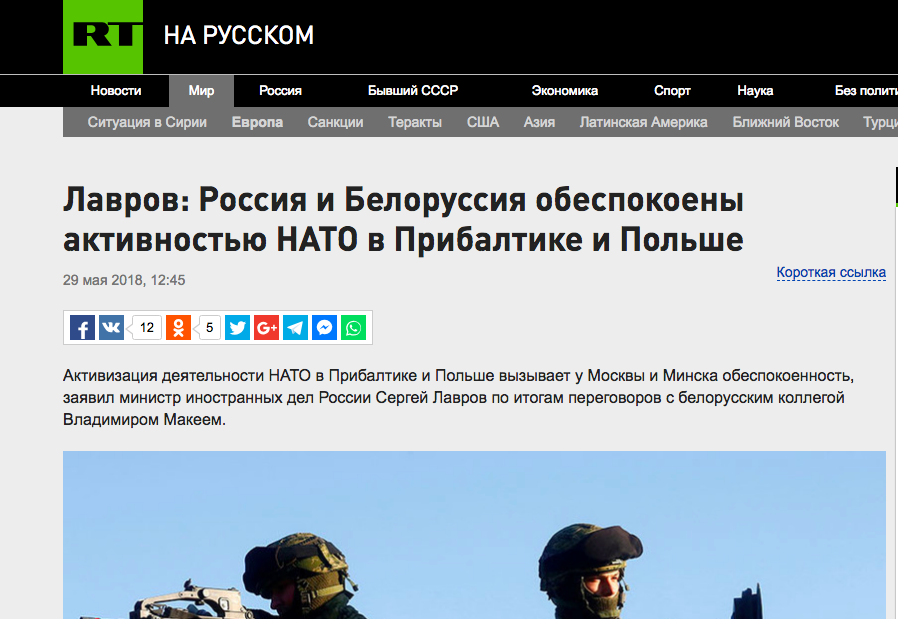 NATO troops really are on the move towards Poland.  NATO military exercises on training grounds in Estonia, Latvia, Lithuania and Poland involving some 18,000 military personnel and 19 countries are starting on June 3 and will last through June 15.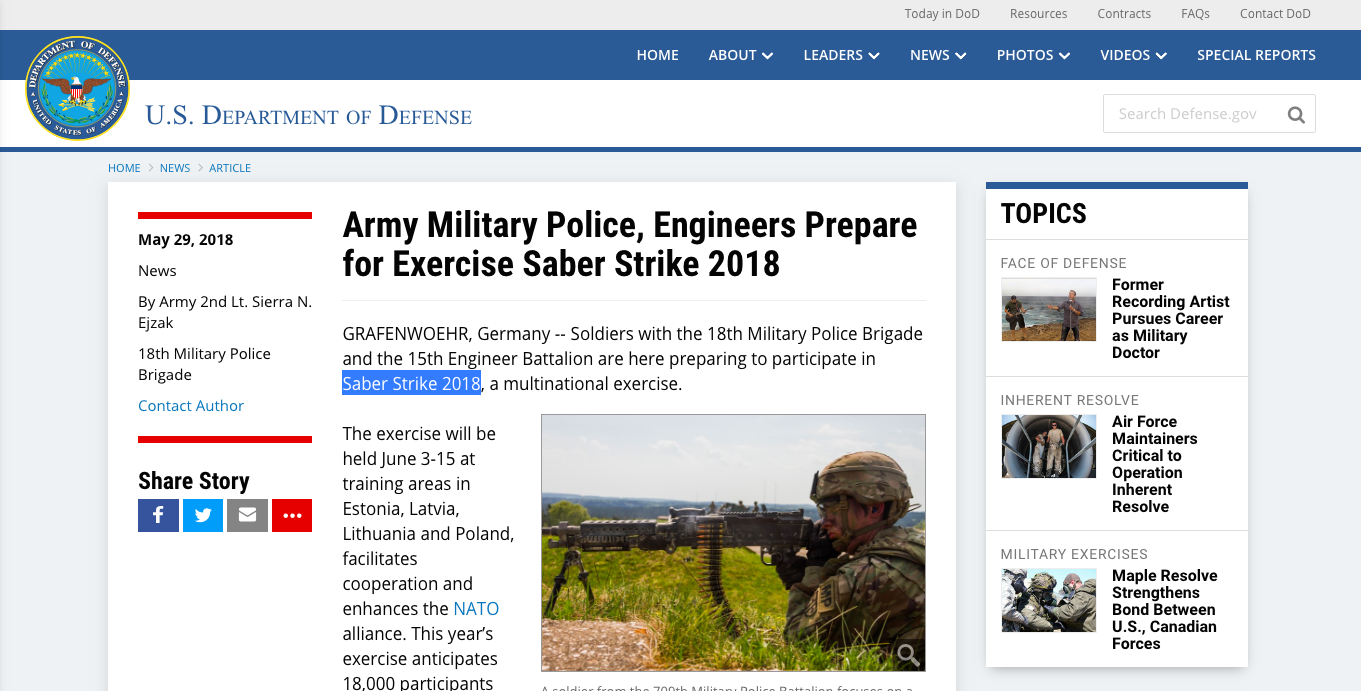 Estonian, Latvian, Lithuanian, Polish and US officials have repeatedly talked about the upcoming military exercises. Sergei Lavrov preferred to ignore those statements, instead calling  the exercise preparations "destructive actions" of NATO at the borders of Russia, which "cause concern."