Russian media reacted to Kyiv's announcement that the country will leave the CIS by claiming Ukraine will face a gloomy future, suffer billions of dollars in losses and have problems in relations with countries in the post-Soviet space as a result. RT, NTV, Vzglyad and Komsomolskaya Pravda devoted lengthy analytical pieces to the topic, ranging from dire economic and political prognoses to statements that Ukraine has not officially announced that it is in fact pulling out of the CIS.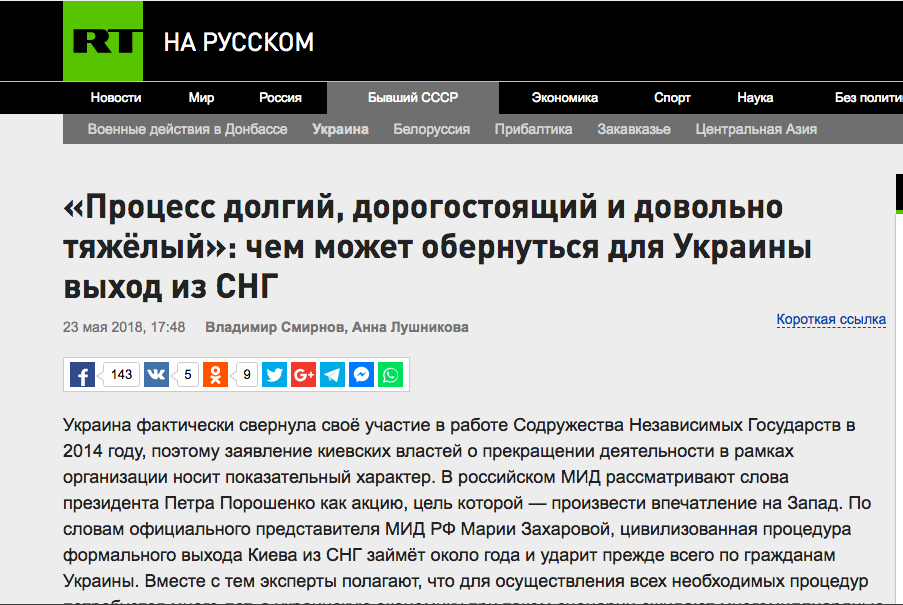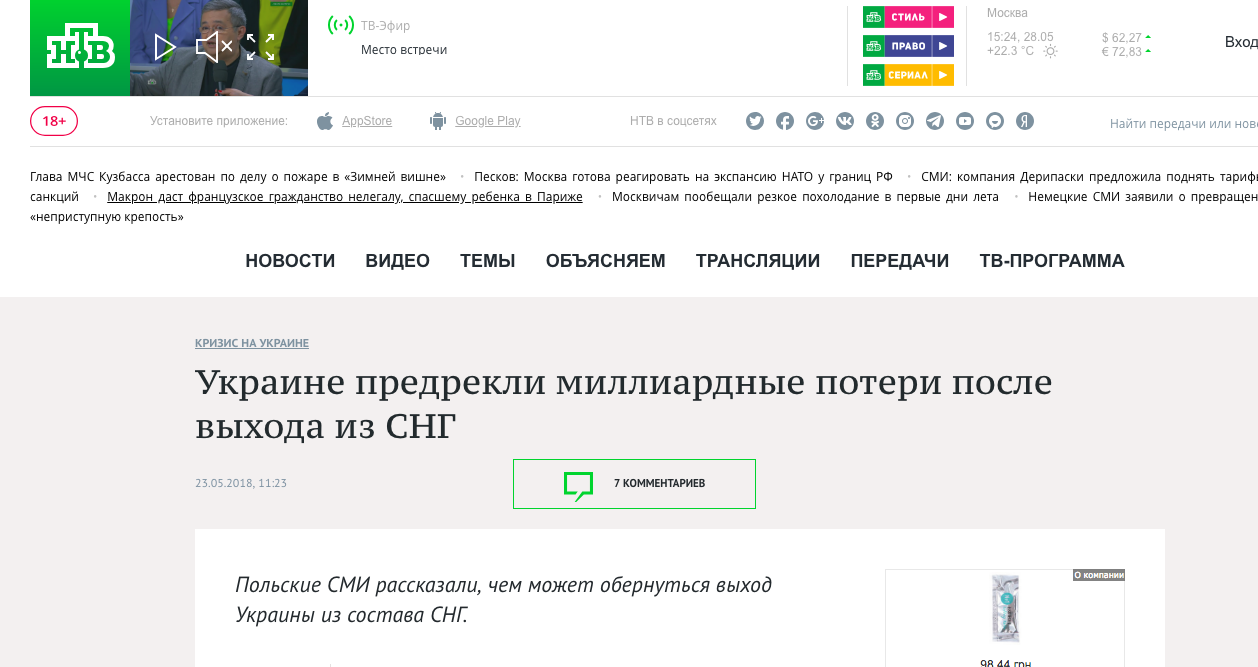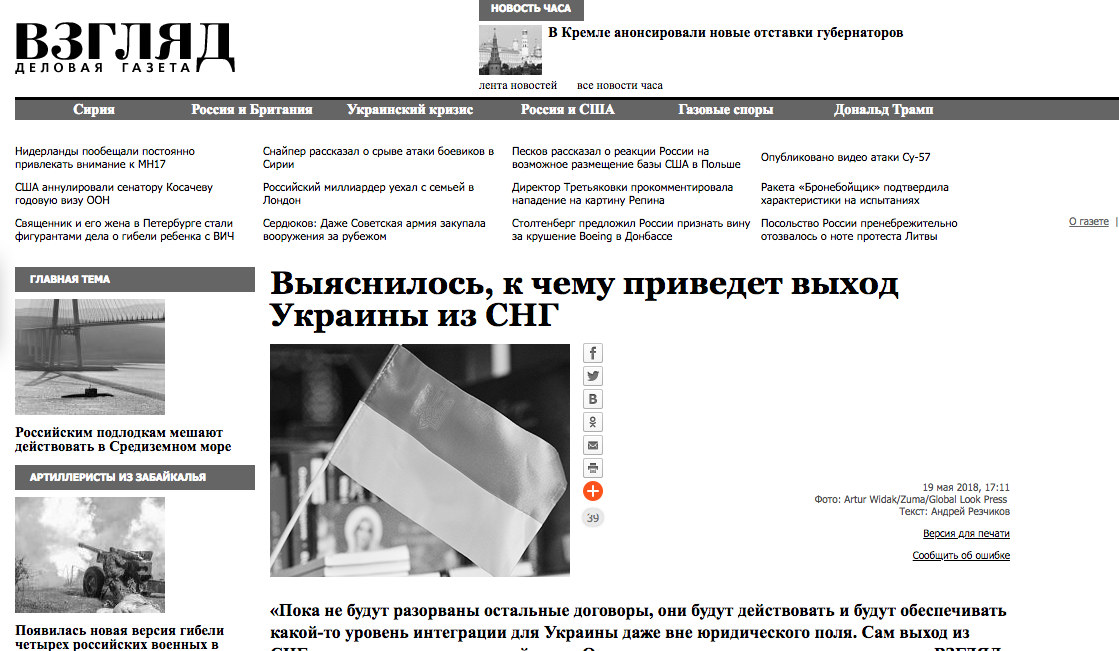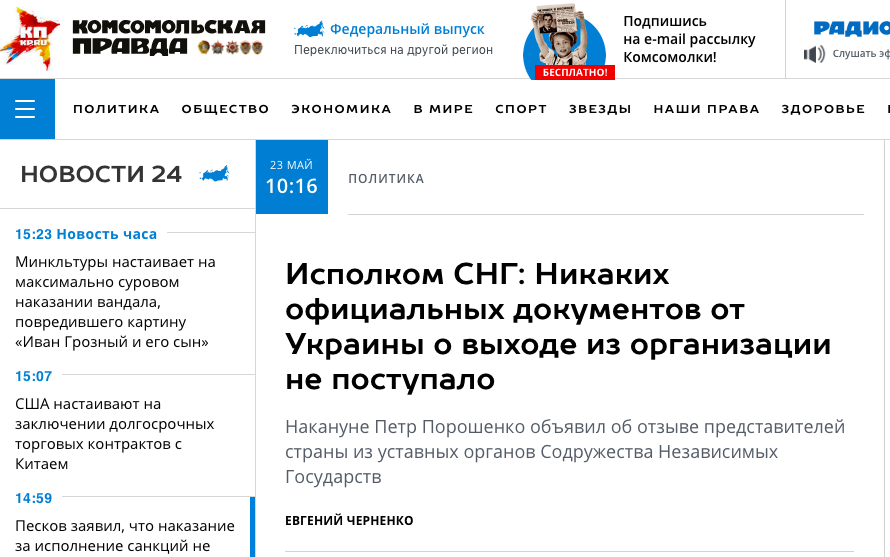 This wave of manipulative Russian media analysis began on May 19, the day that Ukrainian President Petro Poroshenko signed an executive order terminating international treaties that Ukraine was party to within the framework of the Commonwealth of Independent States. The following day, Poroshenko announced that for Ukraine the commonwealth is irrevocably finished.  "There's nothing more for us to do there. We're moving together to Europe." Poroshenko said after signing a decree recalling Ukraine's representatives from all CIS statutory bodies.
https://www.facebook.com/petroporoshenko/videos/1275678365899886/
Ukraine's leadership has been talking about leaving the CIS since the beginning of Russia's 2014 incursion into the country.  In April 2018 President Poroshenko announced that certain diplomatic agreements with Russia would be terminated and that he would introduce legislation to cancel the Treaty of Friendship, Cooperation and Partnership with Russia. Poroshenko also pointed out that Ukraine was never a CIS member as it did not ratify the organization's charter in 1993.
Russia's leadership criticized Ukraine for initiating the process of its withdrawal from the CIS. Russian Foreign Ministry spokeswoman Maria Zakharova declared that Ukraine owed the CIS 300 million rubles (slightly less than five million dollars) and that the procedure of withdrawing from the Commonwealth can take the Ukrainian side up to a year.
Ukraine first announced that it would not continue paying CIS membership fees after Russia annexed Crimea and occupied parts of eastern Ukraine. In 2015 Ukraine's Foreign Minister Pavlo Klimkin said that the CIS is not a political partner for Ukraine and described the CIS as a "post-Soviet get together" in which Ukraine has no place and the Commonwealth should not count on Ukraine paying further membership fees.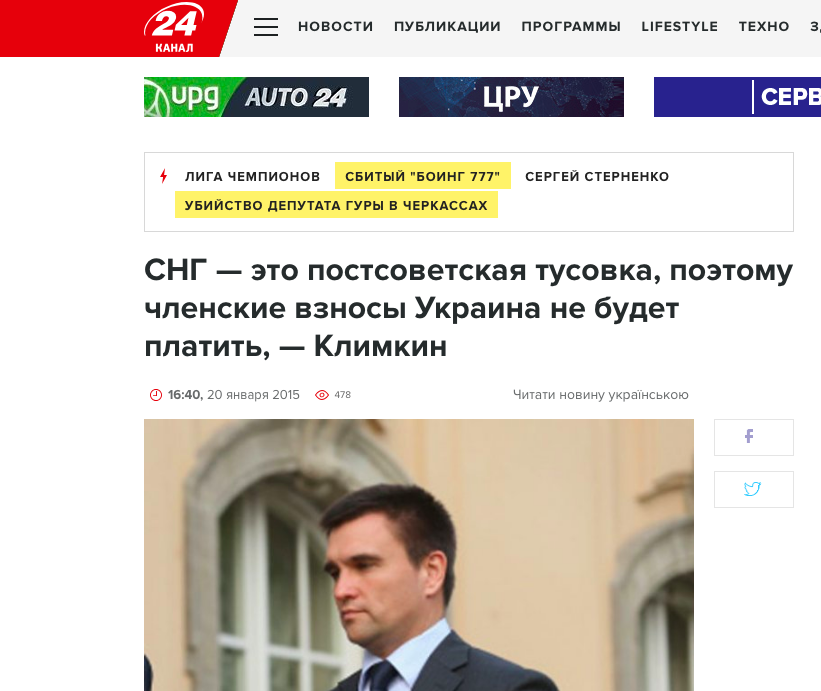 "We have a purely practical interest in this context, and we are not going to pay anyone two million dollars … The CIS is not a political platform, it is not an organization where we promote our political interests, " Klimkin said.
The CIS includes nine countries, its tenth member Turkmenistan has not ratified the organization's charter. Georgia left the CIS in 2009 in protest  after  the 2008 Kremlin instigated war between Georgia, Russia and the Russian-backed self-proclaimed republics of South Ossetia and Abkhazia.