Russian mass media regularly feature stories about so called deteriorating relations between Ukraine and its neighbor Hungary. On April 6 Kremlin stalwart Moskovskyi Komsomolets ran a story claiming that Ukraine is poised to lose Transcarpathia as Ukrainian nationalists carry out repressions against the Hungarian minority in the region. A few days later the propagandist NTV television channel followed suit declaring that Transcarpathia is becoming a "second Donbas".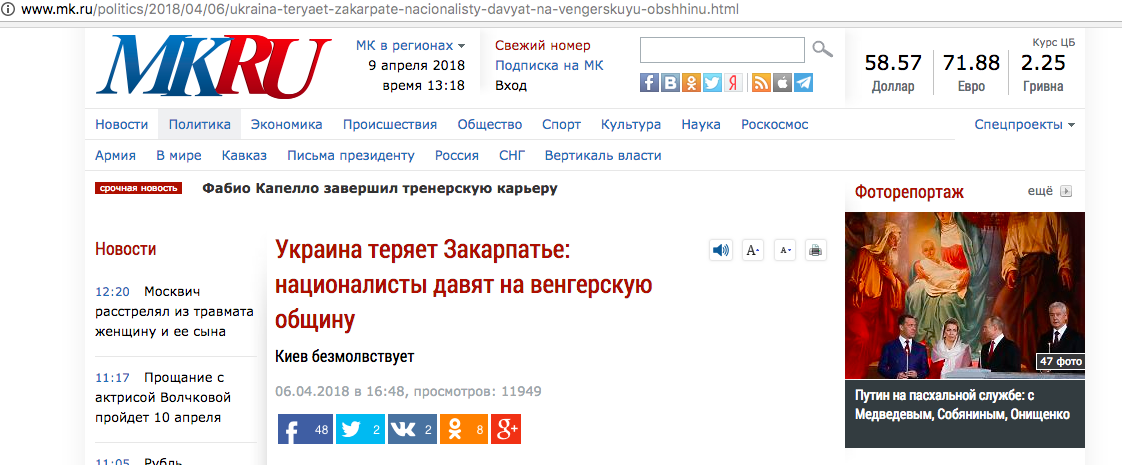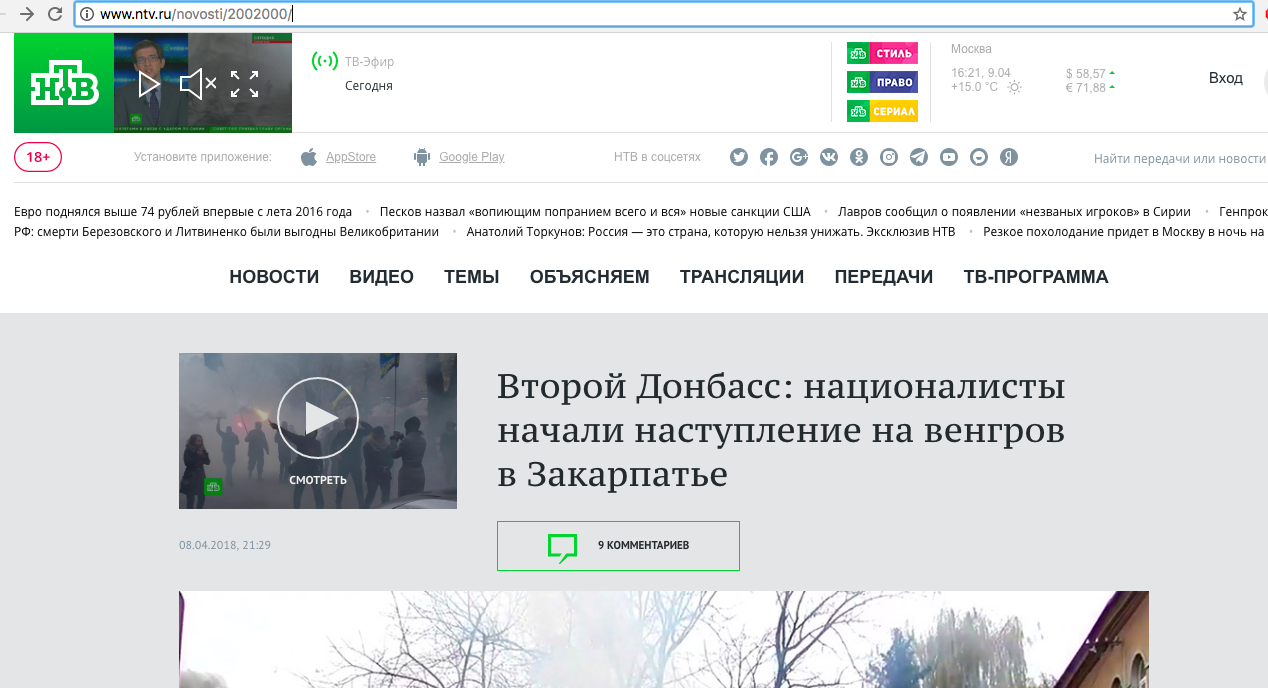 Russian media exaggerate Hungarian minority numbers in western Ukraine considerably, claiming there are more than 200,000 Hungarians living in Transcarpathia.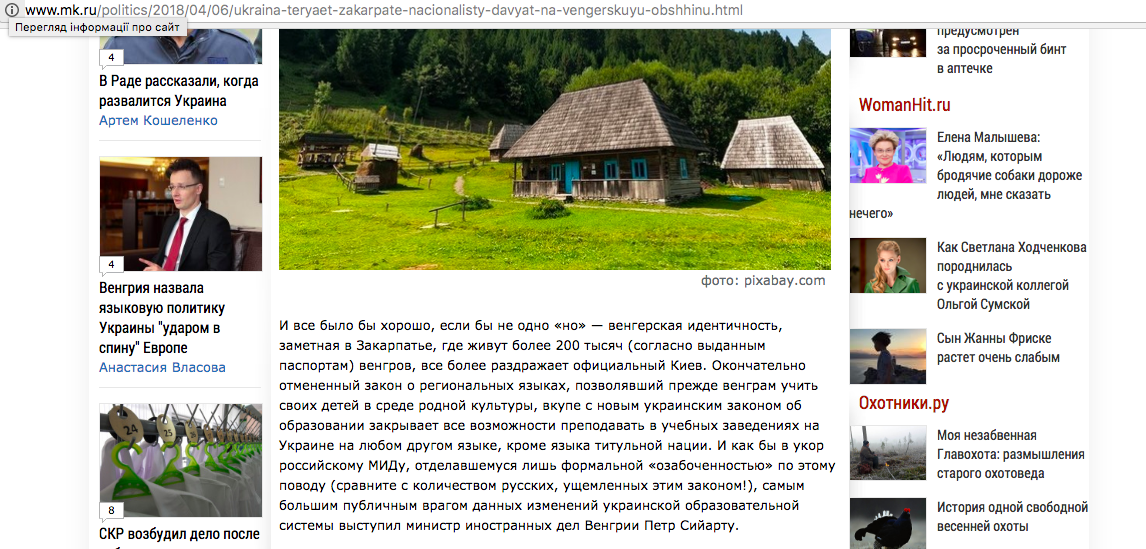 Ukraine's last census taken in 2001 showed that 12 percent of the Transcarpathian population, some 150,000 people identified as ethnic Hungarians. In 2015 Hungarian Secretary of State for National Policy Arpad Janos Potapi said 94,000 Transcarpathia residents had received Hungarian passports.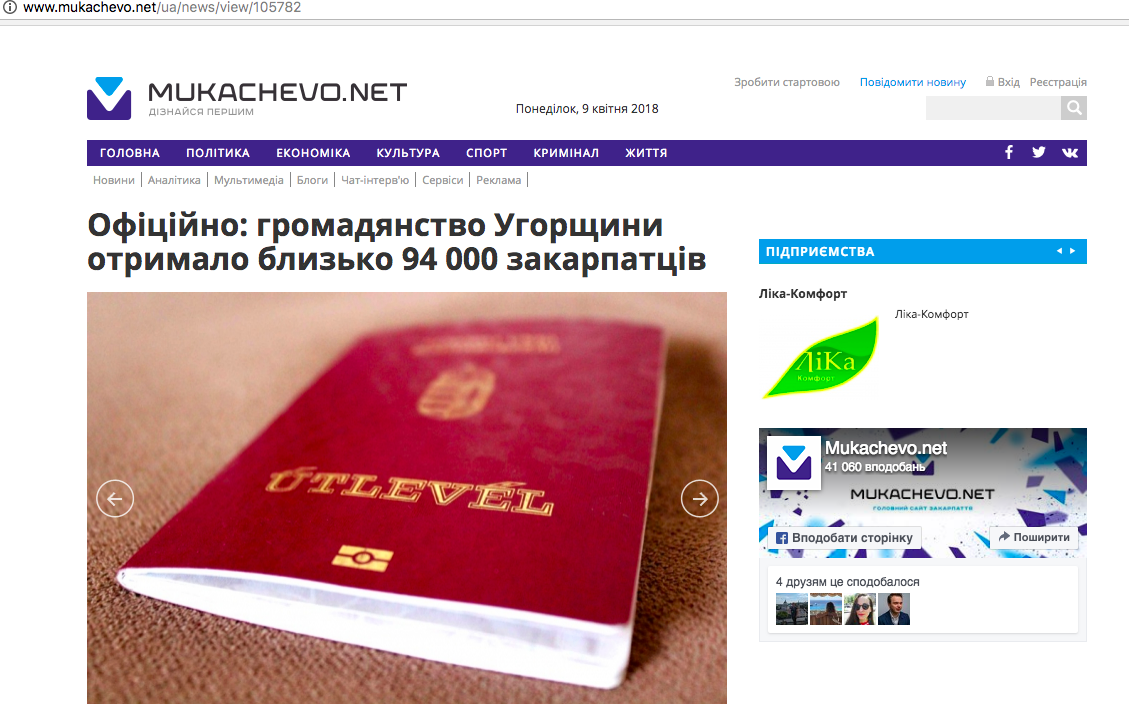 Last year Ukraine's Foreign Minister Pavlo Klimkin announced that the Hungarian community in Transcarpathia was shrinking quickly as people were leaving the region, reducing the number of ethnic Hungarians to less than 100,000.
Moskovskyi Komsomolets also claims that the Hungarian minority is deprived of studying in their native language. This claim is groundless as Ukraine's new law on education guarantees minorities education in their native language from primary through high school.
NTV meanwhile claims that Right Sector, a far right political organization regularly descends on Transcarpathia to oppress the local Hungarian minority, adding that  "nationalists have set fire to the Hungarian cultural center in Uzhhorod twice".
Local authorities meanwhile say the two arson attempts which took place in February were perpetrated by a radical pro-Russian group from Eastern Europe. According to Transcarpathia governor Hennadiy Moskal, Ukrainian investigators concluded that the organizer of the arson attempts was an employee of Transdnistria's State Security Ministry and that one of the arson attempts was carried out by the far right Polish National Radical Camp Falanga. Polish authorities uncovered the role of the Polish extremists and arrested them.
Moskovskyi Komsomolets further twists Ukraine's intention to reopen a military base in the Trancarpathian city of Berehove. An infantry unit was based in Berehove until 2003 when the base was disbanded. Reopening the base is "a direct path to the separation of Transcarpathia" claims the publication.
On March 26 Ukraine's President Petro Poroshenko tweeted that Transcarpathia was the next region where Russia was intent to foment unrest between Ukraine and her Western partners.