The Nord Stream 2 project is a threat to Europe's energy security. Russia's intentional underutilization of the gas transport system is creating a gas shortage that is a threat to Europe.
Scores of Russian publications featured stories claiming that Ukraine allegedly threated to cut off gas supplies to Europe. Seemingly, the source for this claim was Ukraine's Energy Minister Herman Halushchenko. Lenta.ru, RIA Novosti, Cont.ws. Sharyi.net, Life.ru, Moskovskyi Komsomolets, Voyennoye Obozrenye Topwar.ru,  REN TV and many other featured this manipulative and distorted story.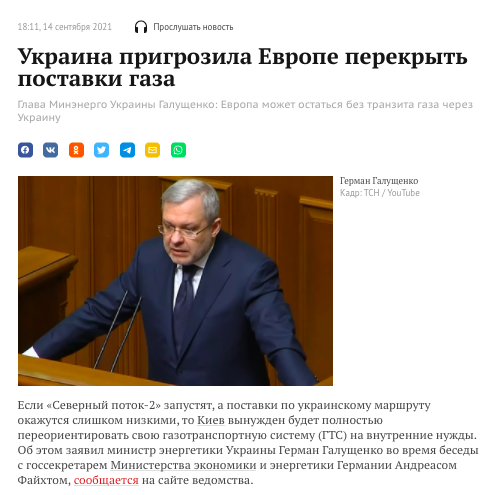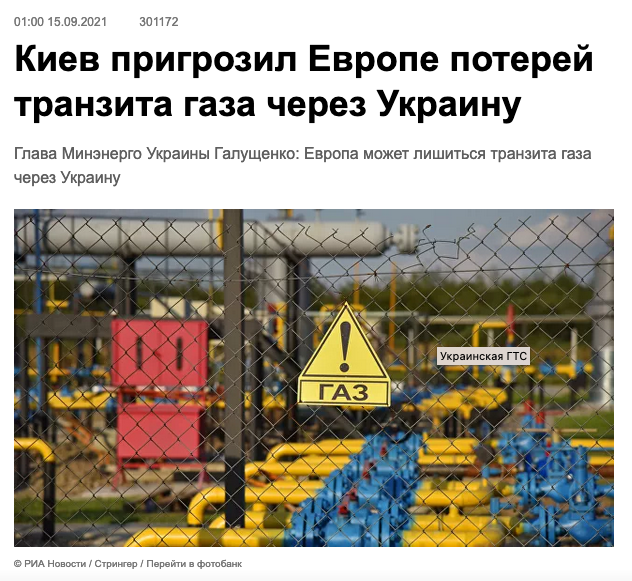 Russian media drew a manipulated and distorted conclusion from a meeting between Ukraine's energy Minister Herman Halushchenko and German Federal Ministry for Economic Affairs and Energy State Secretary Andreas Feicht. Some publications even claimed that Ukraine was resorting to gas blackmail against the European Union.
The reality of the meeting was quite different from what these Russian publications claimed. The meeting between Ukraine and Germany focused on the threats to the completion and implementation of the Nord Stream 2 gas pipeline and possible ways of preventing them.
"We consider the Nord Stream 2 project a significant risk for Europe's energy security. It threatens the energy independence of Eastern European countries and undermines Ukraine's security. The redirection of gas will create a gas deficit in a number of European countries" Herman Halushchenko said.
According to the Ukrainian Energy Ministry, the way out of this situation is through joint and decisive action by the European community. Ukraine's involvement in bringing such action to fruition is certainly not blackmail or threats.
If there is any talk in Europe of gas blackmail, such talk is coming exclusively from Russia. For this reason 42 European Parliament members appealed to the European Commission with a request to conduct an investigation, suspecting Russia's state energy company Gazprom of manipulating gas market prices. The MEPs also expressed their suspicion that Gazprom is pressuring Europe to agree to the immediate launch of the Nord Stream 2 gas pipeline despite the pipeline's "non-compliance with EU energy market regulations".
Yuriy Vitrenko, the director of Ukraine's state gas company Naftogaz also believes the Kremlin is artificially exacerbating the gas deficit and blackmailing Europe to launch Nord Stream 2 as soon as possible.
StopFake has debunked similar Russian fake and distorted stories about the European gas market, such as claims that Naftogaz is hijacking negotiations with Gazprom and blackmailing Russia.