The actress Agniya Mishchenko-Brodskaya denied allegations that she was beaten because of Russophobia and she was outraged that the Russian media had published her statement without her permission, distorting its meaning.
Russian media are claiming that the Russian actress and granddaughter of the Russian poet Joseph Brodsky, Agniya Mishchenko-Brodskaya, allegedly accused Ukrainian refugees of beating her in Rome because of Russophobia.
On April 22, Mishchenko-Brodskaya published a statement on her social media accounts that she was beaten by Ukrainians. In a somewhat garbled emotional appeal on her Instagram account, the actress is crying, appears to have a bruised face and sounds somewhat incoherent. The next day, articles claiming that Mishchenko-Brodskaya was allegedly attacked by Ukrainian refugees only because she was a "Russian Jewess" were distributed in the Russian media. This incident was covered by such Russian publications as Life, Gazeta.ru, Izvestia, Regnum, Vzglyad, Tsargrad and others.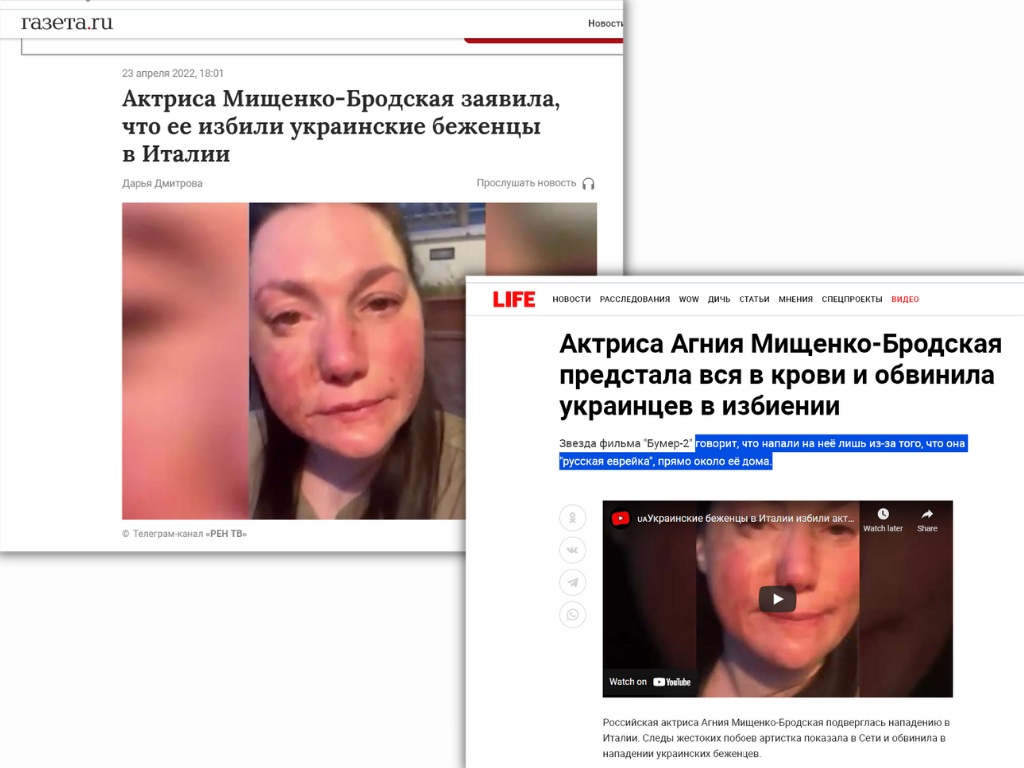 On April 24, in light of the huge number of distortions and manipulations about her conflict with Ukrainians, in a video statement Mishchenko-Brodskaya confirmed that she was indeed beaten, but refuted the context the Russian media had placed the incident in, that her rights as a Russian speaker had been infringed on by Ukrainian refugees. Wearing an oversize pair of sunglasses and not showing any bruises on her face, she also said that it wasn't Ukrainian refugees who attacked her and that the matter was being investigated by the Italian police.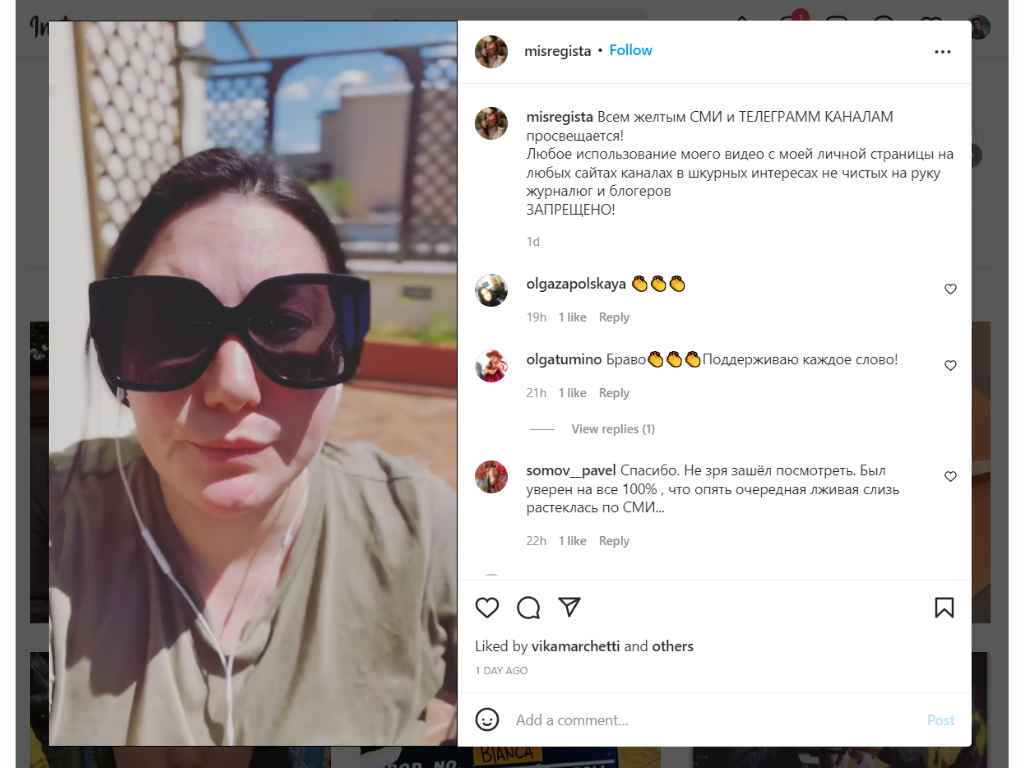 "Yes, this really happened to me, I was emotional, affected by what had happened. The stories that I published were thoughtless and even infantile," Mishchenko said in her video statement, posted to her Instagram account.
According to Mishchenko-Brodskaya, the incident took place in Rome and was not connected to any Russophobia. However, Russian media, who had asked her to comment on the incident and were refused, blew up the story and cynically used the incident toward their own goals" she said.
"These were not refugees, we have a very large community (in Rome) of Ukrainians from western Ukraine. I forgive these people. I was not beaten because I am a Russian Jewess. I meant that it would be frightening if it comes to that, what had once happened with the Jews. My words were taken out of context," Mishchenko-Brodskaya says in her video. The actress also says that now she sees how the Russian media turns everything down and calls the Russian media "yellow, vile media."
This is not the first time that Russian media have spread fake stories about Ukrainian refugees in Europe in order to undermine confidence in displaced persons from Ukraine. StopFake has refuted the fake story about a mob of Ukrainians who allegedly beat "a Russian boy to death" in Germany. At the end of March a video was circulated online alleging that a woman had filed a complaint with the Dutch police because her 6-yar old child was beaten by people who shouted "for Ukraine" as they carried out their assault.