Russian and pro-Kremlin publications such as NewsFront, Rusnext, AntiKor, Kurs Ukrainy, Vesti.ua, Donbass Segodnya and others are disseminating stories claiming that a Ukrainian soldier shot an adolescent in the eastern city of Kramatorsk, some 50 miles north of Russian occupied Donetsk. These manipulative stories city other media as their source, although they do not cite any publication or source specifically.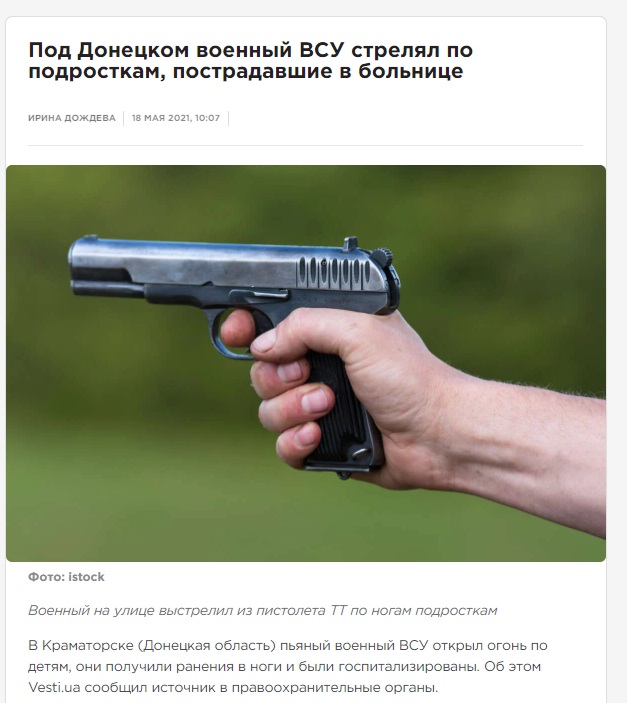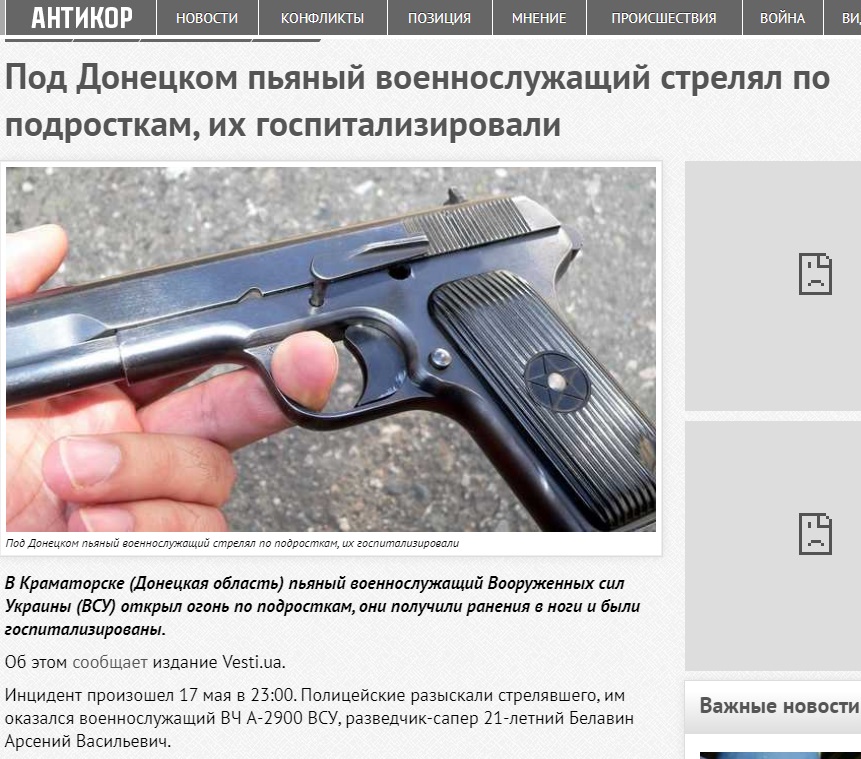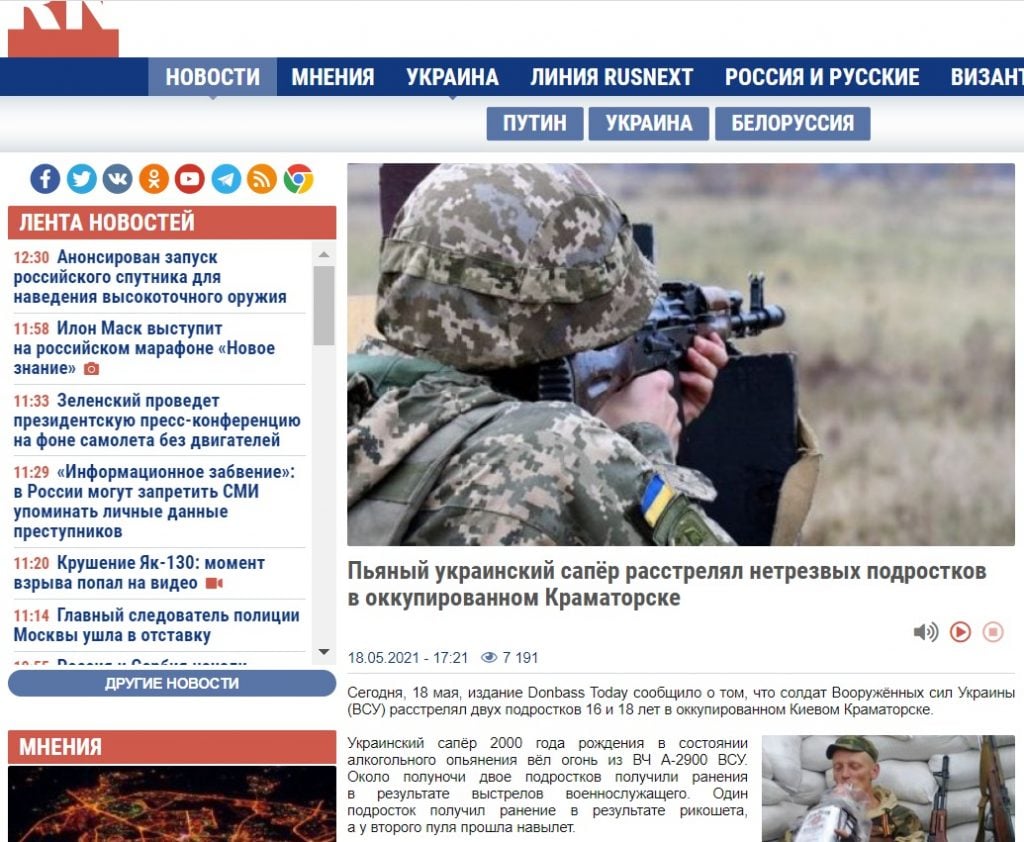 "The Ukrainian army continues to behave like a real occupant in those Donbas territories not controlled by the Donetsk and Luhansk People's Republics. According to Vesti.ua, in Kramatorsk, children were wounded in the legs and hospitalized after a drunken Ukrainian soldier opened fire on them" – NewsFront writes.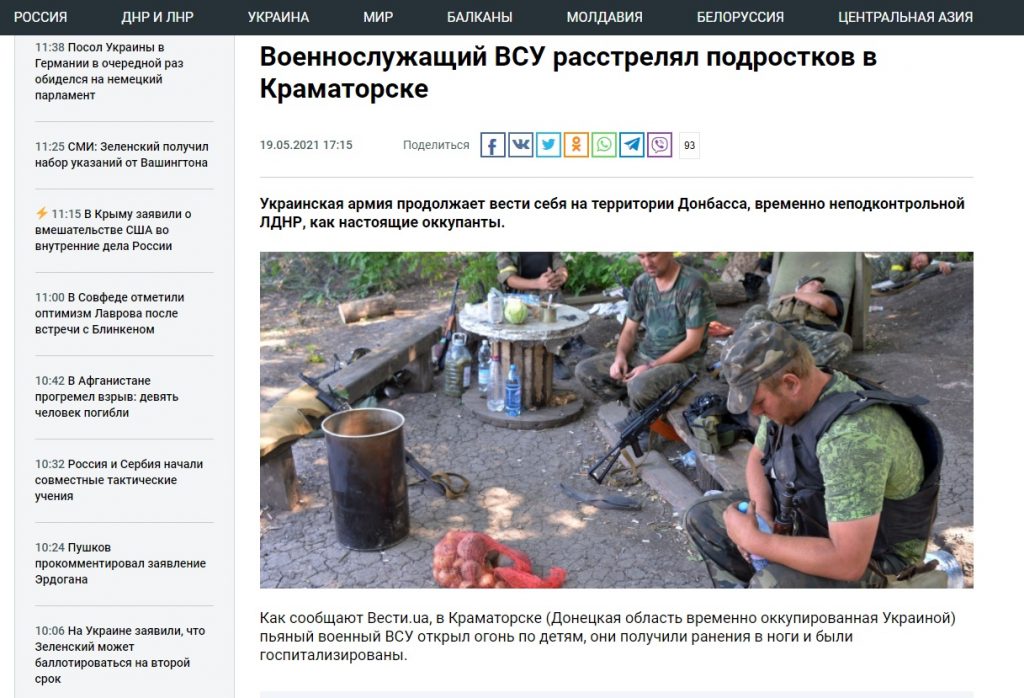 StopFake fact checkers reached out to the Kramatorsk police about the alleged incident. According to Kramatorsk Police Communications Department representative Valeria Osypets, a shooting did occur, however, it had nothing to do neither with adolescents nor with the Ukrainian military.
Ms. Osypets explained that in the very early hours of May 18, the Kramatorsk Police received a report about a shooting in the center of town involving three young men, one of whom had a pistol with him. The 21-year old took the gun out of his bag to check it and apparently it accidentally went off. As a result his friends were lightly wounded. The three men involved knew each other. The police confiscated the gun. Ms. Osypets could not confirm the owner of the gun was a member of the military. "Our investigation will show whether his gun is military issue or not" she said.
Russian media therefore disseminated unsubstantiated information that a member of Ukraine's military who fired the shot. Furthermore, the men involved in the incident were adults and not adolescents.
Local television station C-Plus reported that a man named Kyrill described the incident based on his friends' accounts. The men apparently were sitting together, drinking something. Suddenly a shot rang out and one of the men was shot in the foot, another was hit by a cartridge case. It was clear that the three knew each other. No one could say whether the shooter was a military man.
C-Plus contacted the local hospital where they were told the injured men refused hospitalization.
Last month StopFake debunked a similar fake about Ukrainian military allegedly killing a child in Russian occupied Donbas