Several Russian media misleadingly published reports on March 21 about "Odessa against repression" protesters that blocked a street in Odessa and turned over a car.
The news was accompanied by a video from the scene. The first part shows a few dozen of young men in sports suits and with covered faces blocking traffic in a residential area on the outskirts of the city. They turn over a Lada automobile. In the second part of the video, there are two women in front with anti-government posters accusing Ukrainian authorities of violating constitutional freedoms and urging them "to listen to Odessa." The activists are not named, and the name of their organization is not given.
RIA Novosti had the following headline: "Mass-Media: Protesters Blocked a Street in Odessa and Turned over a Car."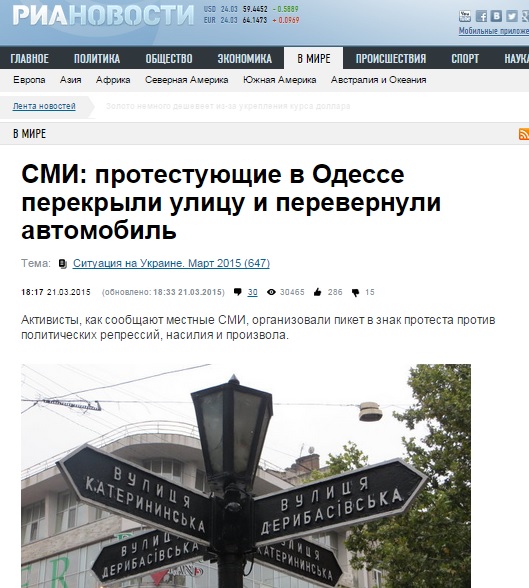 Here are some more titles from the Russian mass media:
Vesti.ru: "Odessans Flipped a Car of Nationalists Who Were Trying To Run into Them"
Radio Mayak Broadcast: "A Rally against Repressions, Violence and Tyranny Was Organized in Odessa." This was accompanied with old images of a confrontation of "Berkut" (former special police forces of Ukraine) and Euromaidan activists.
Russian news channel "Russia 24" has also made story of this.
The video was originally posted by "Timer", Odessa's news website (owned by Igor Markov, ex-deputy, and leader of "Rodina," pro-Russian party).
Odessa's regional police department called information about the protest fabricated and false. "Ukrinform" quoted the press secretary of the Odessa Regional Chief Directorate of the Ministry of Internal Affairs: "The patrol and traffic police staff has not recorded any street pickets, or any car turned over by hooligans on Saturday, as rumors are spreading."
Zoya Kazanzhy, the advisor to the governor of Odessa region, commented on the "riots" on Facebook. According to her, the protest happened at 7.30 AM. A small crowd turned the car upside down in front of the camera. The whole "protest and program" took about 10 minutes, she said. Afterwards the demonstrators disappeared, leaving their posters behind a school building nearby.