The list of cultural figures who support policy of Russia's President in the Crimea has lost three names. Names of artists Aidan Salakhova and Tahir Salakhov, as well as name of architect Yuriy Gnedovskiy disappeared from the list of those who declared their support for Putin.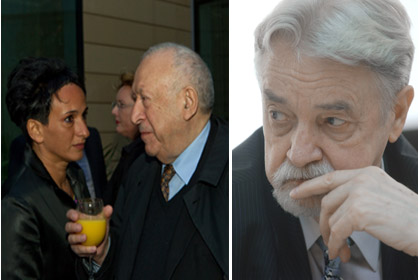 According to Lenta.ru, as of March 19, 14:38, the website of Ministry of Culture of the Russian Federation had 511 names, although the press release received by the editorial office on March 14 contained the list of 514 persons, state the journalists of Lenta.ru.
On the same date, March 14, there appeared a message on Aidan Salakhova's page on Facebook saying that she did not sign the address. Moreover, "no-one has ever contacted" her regarding this matter and she was going to find out how her signature appeared under the document. Why the signatures of Tahir Salakhov and Yuriy Gnedovskiy were removed is currently not known.
StopFake has previously reported that the name of deceased artist Tsigal E. V. was included into the list of names of cultural figures who support policy of the President of Russia. Before that, sculptor Zurab Tsereteli also denied information regarding his alleged signing this document.
An open letter in support of Putin's actions in Ukraine and in the Crimea was published on Ministry of Culture of Russia's webiste on the evening of March 11 with 85 signatures. The letter says that everyone who signed it supports the leader of the Russian Federation, although without getting into details as to what actions exactly they support.
Reference: Lenta.ru