A huge amount of media including Russian Interfax and Ukrainian UNIAN were spreading information that supposedly National Geographic is going to mark Crimea as a part of Russian territory. They were referring to Bloomberg as a source. However they did not include the link to it. Most likely they were referring to the Juan Jose Valdez video interview on Bloomberg's website on the 18th March. There he says that after the government will make a decision on the status of Crimea, National Geographic will be changing the map to reflect on that status.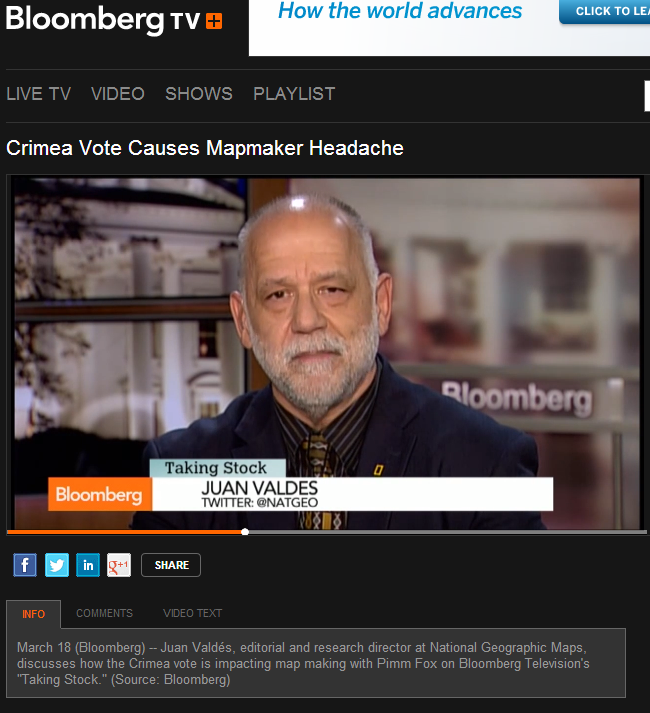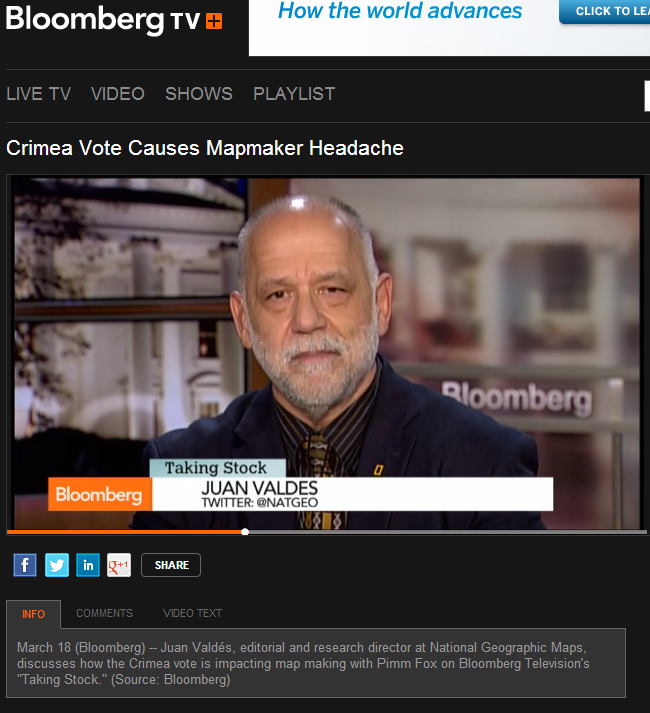 It is worth mentioning that to support their story Interfax quoted the cartographer who says, "We are making maps de-facto, in other words we are making maps of the world as it is. As you may understand our maps are not perceived well by those who want to see the world in a different way".
However, in their official stance, published the day after the interview on the 19th March on National Geographic official website, they stated the opposite of what many media have published.
It states on the website "In the case of Crimea, if it is formally annexed by Russia, it would be shaded gray and its administrative center, Simferopol', would be designated by a special symbol". NTS confirmed once again that their goal is to reflect on a real situation in the world and it does not mean they recognize the whole situation as legitimate. They repeated that U.S., European, and other world leaders have said they will not recognize Crimea as part of Russia, following what many have described as an "illegal" referendum.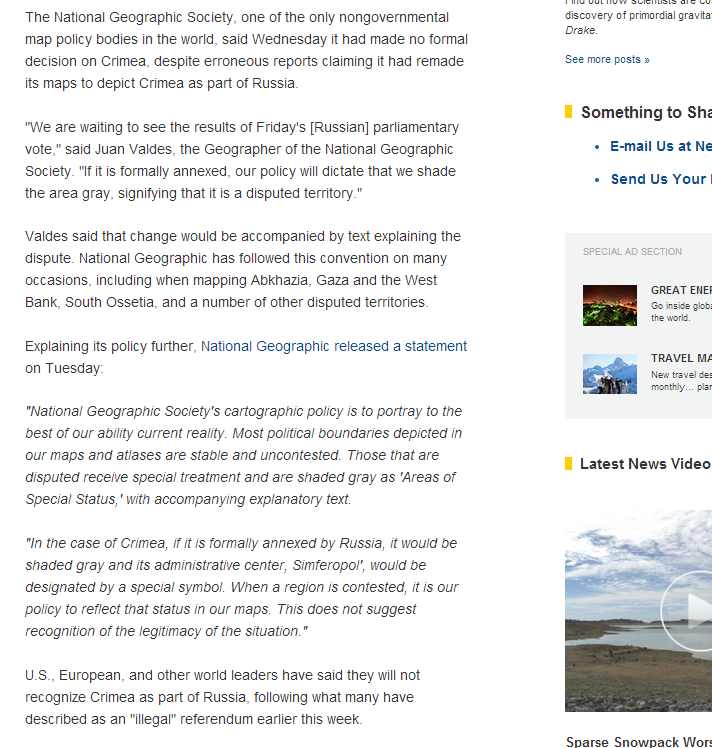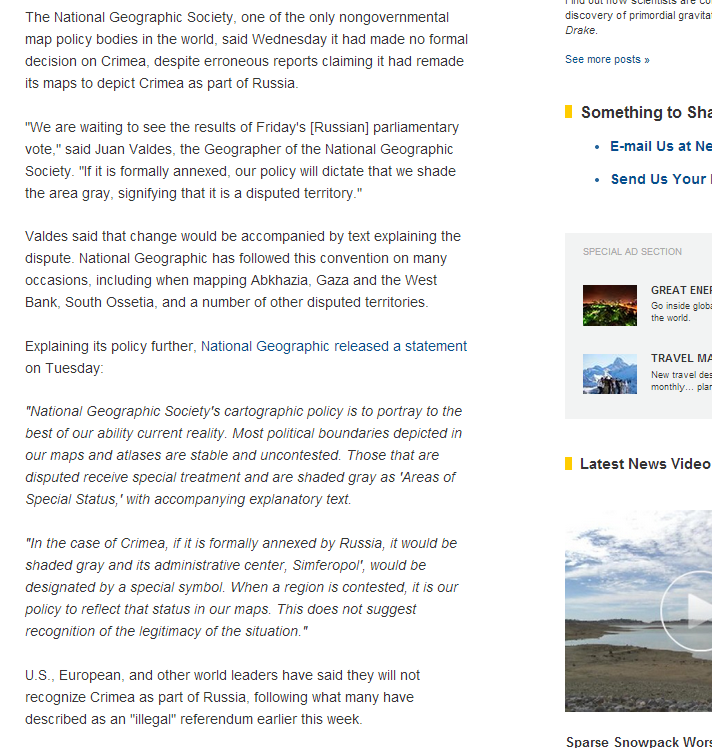 Peter Velasco – representative of the U.S. Department of State – is supporting the same stance.
He said, "We reject the Russian attempt to annex Crimea; therefore, we have no plans to change the U.S. government maps".
In addition on their Facebook page National Geographic Ukraine denied the information provided by the media. They also confirmed once again the official stance of the head office and said they are keeping Crimea as part of Ukraine.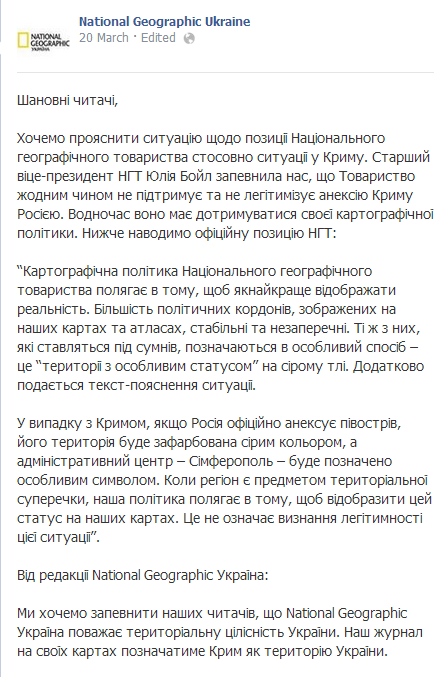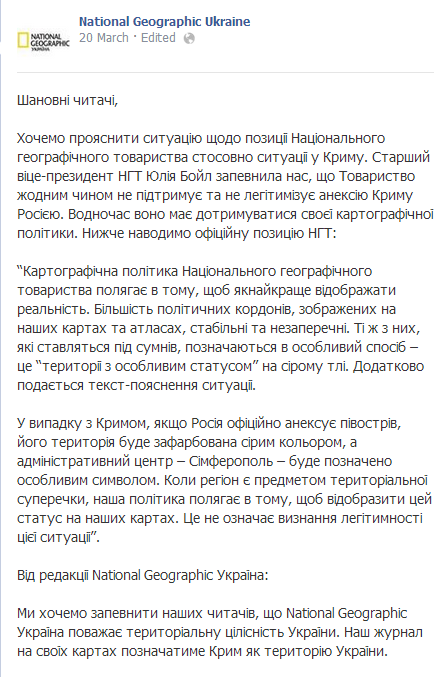 Dmitriy Gubenko – Natinal Geographic Ukraine deputy editor – stated that the head office's position on the situation is very clear:
1) Annexation is not supported and is not legalized.
2) The maps are not going to change in the near future; therefore Crimea will stay marked as a part of Ukraine.
Moreover Gubenko exclusively released to StopFake that Ukrainian department of NGS contacted the head office in the U.S. regarding this issue. He also stated that NGS is following the news from Ukraine and expressing their disappointment about the fact that in an attempt to find the newest sensation Bloomberg interviewed the cartographer who was only talking about NGS's policy regarding situations like that.


There is another story on Bloomberg that media could have been referring to. It is about the fact that Russian Geographical Society is planning to mark Crimea as part of Russia. However, we could not find any information about this neither on National Geographic Russia official website nor on their Facebook page. StopFake sent a request to National Geographic Russia to clarify the situation. On the moment of writing this article we still did not get a reply.