In its news program from July 29 American TV channel CNN informed that over the last 48 hours Kyiv authorities used several short-range ballistic missiles in Donbas.
"We start from breaking news out of Ukraine, which marks a major escalation in the Ukrainian crisis. CNN has now learned that Ukraine's military did fire ballistic missiles at rebels", says TV presenter.
"Three US officials confirmed to me a short time ago that US intelligence over the last 48 hours has monitored the firing of several short-range ballistic missiles from territory controlled by Ukrainian government forces into areas controlled by the pro-Russian separatists. This would be a significant escalation. Short-range ballistic missiles", specifies CNN correspondent in Pentagon Barbara Starr.
This news item was reported by the majority of Russian and Ukrainian TV channels, as well as by the printed and Internet media.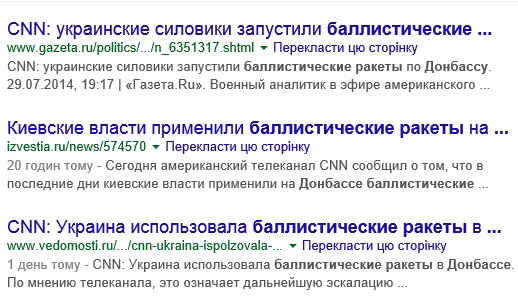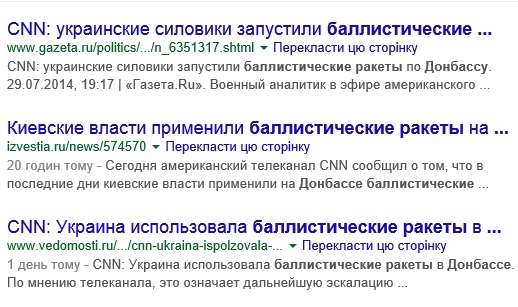 However, this information was refuted by the National Security Council of Ukraine.
"Ukrainian army does not use missiles, especially ballistic ones. Last missile, which was classified by international rules as ballistic missile and had a launch range from 500 to 1,000 km, was destroyed in Ukraine in July 1, 1996 in compliance with the "Program of Cooperative Threat Reduction" financed by the US", said the spokesperson for the Information Center of the National Security Council of Ukraine Andriy Lysenko. According to him, nowadays Ukraine does not possess ballistic missiles of such range.
Militants of so-called Donetsk People's Republic also refuted the information about ballistic missiles. "According to the commander of people's volunteer corps of Donbas Myroslav Rudenko, at the moment everything is quiet in Donetsk. A ballistic missile would be surely spotted. He added that such incidents were not reported on the territory of Luhansk People's Republic either", writes the newspaper "Vesti" with the reference to RT.


Answering journalist's question concerning this, the official representative of the US Department of State Jen Psaki declared that she knew nothing about the CNN information.