July 5 TV channel "24" with a reference to the site "Today in Sievierodonetsk" reported that employees of the delivery service "Nova Poshta" (eng. – The New Post) handed over from the storehouse packages, addressed to Ukrainian militaries, to separatists. The packages contained expensive things, badly needed by Ukrainian army, such as thermal imaging cameras, armor vests and others.
The site refers to the following video entitled by the "press service" of the so-called "Army of South-East":
https://www.youtube.com/watch?v=kb2KbCJRT3w
In this video we can make out the names of addressees and numbers of military units. But there is no information in the video how its authors managed to get these packages.
July 7 "Nova Poshta" officially announced about being robbed by separatists. Criminals took possession of some goods threatening the employees with guns and using brute force. The company undertook to pay compensations to aggrieved parties and announced that temporarily suspended its work in Donetsk, Luhansk, Sievierodonetsk and Sloviansk: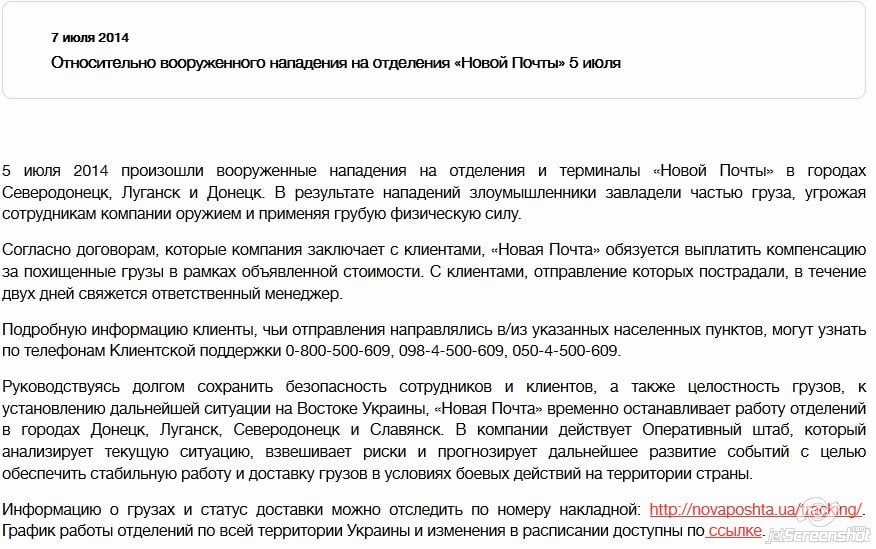 Later TV channel "24" removed this news, but it remained in the Google cache. It was also spread by numerous sites and social networkers.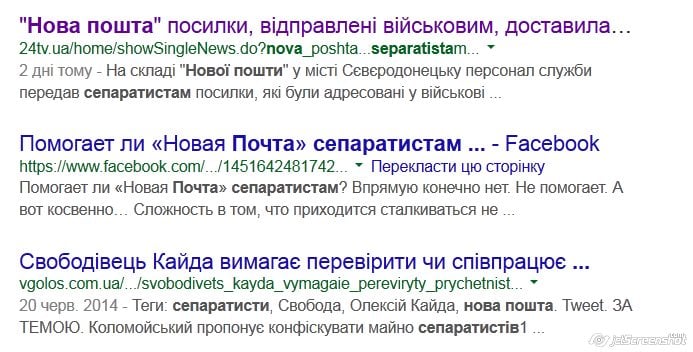 The company also reacted to the previous accusations that it supposedly assisted separatists by slowing down the goods, including national symbols of Ukraine, destined to the Eastern Ukraine. "Nova Poshta" called such accusations a blatant slander.
"Our company is a Ukrainian one and we stand for the integrity of Ukraine", stresses Viacheslav Klymov, the director general of "Nova Poshta".
https://www.youtube.com/watch?v=aNKnU2hY3iQ
The company informs on its official Facebook page as well that it does not support separatists.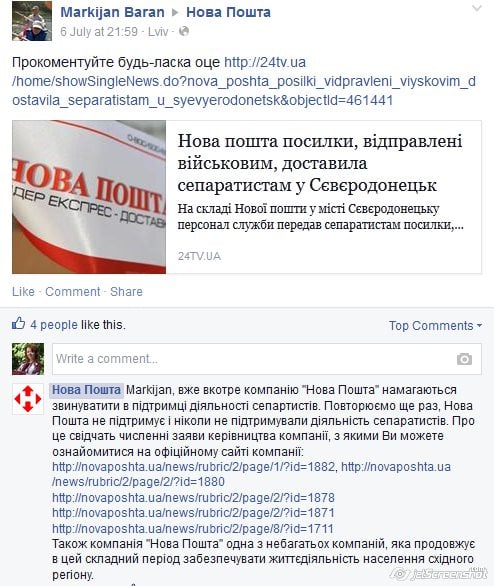 "The company operation center analyses the current situation, estimate risks and prognosticates further events in order to secure stable work and goods delivery under the conditions of battle actions on the territory of the state", noted "Nova Poshta", as it is written by delo.ua.