NTV channel reported about a protest of Italians, allegedly demanding that mass media cover the news form Ukraine objectively.
"Several hundreds of Italians protested against misrepresentation by European mass media of information about events in Ukraine. The action took place near the building of Ukrainian embassy in Rome", informs NTV channel in its news item on May 17, 2014.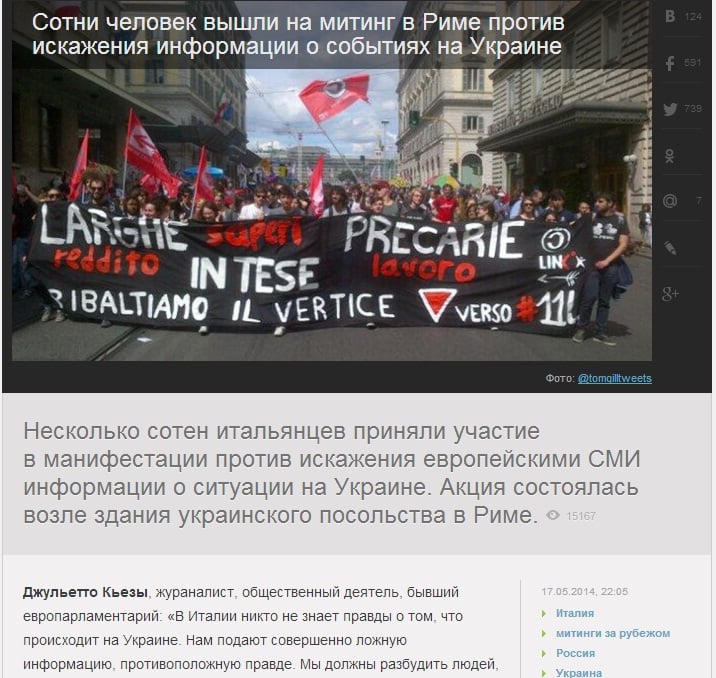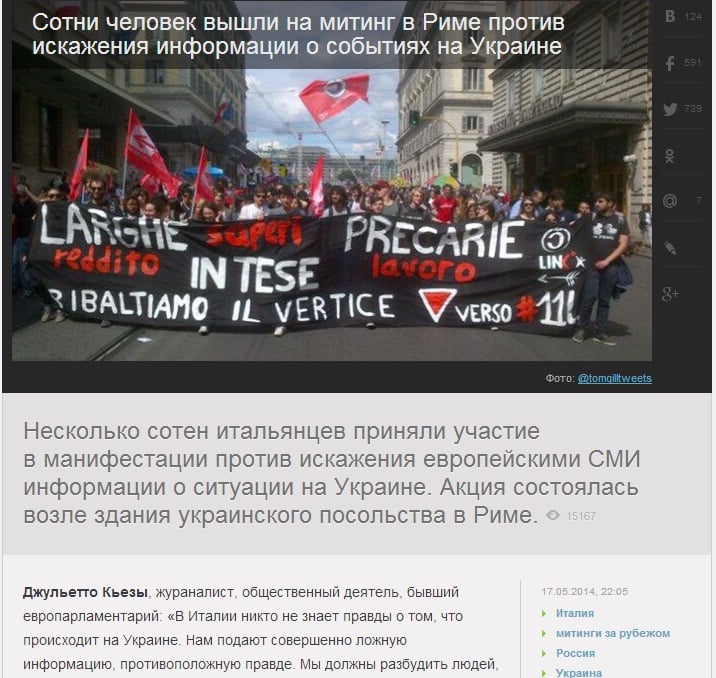 NTV illustrates the news about the impressive pro-Russian manifestation in Rome with a photo showing young people carrying banners with slogans against cutting social programs: "Temporary job", "Low incomes", and "Let's change our government".
Moreover, there were two manifestations that day in Rome. NTV presented both as a pro-Russian one. The first manifestation was organized by students against youth unemployment and cutting social programs.
Students join thousands in Rome to #protest against Gov, EU #privatisation policies. Photo @repubblicait @ilmanifesto pic.twitter.com/EN0YNf4gCU

— tom gill (@tomgilltweets) May 17, 2014
The second manifestation was against oppression of sexual minorities (the 17th of May is just The International Day against Homophobia). You can find about this here, here and here. As well you can find there the photo used by NTV.
Also this NTV news item is commented by a certain Giulietto Chiesa, a journalist, public person and former member of European Parliament. "In Italy nobody knows the truth about what is happening in Ukraine. We are fed with totally false information, opposite to the truth. We must wake up people, and little by little they are coming to realize this", says Chiesa. In his opinion, events in Ukraine can't be described as "regional crisis", they constitute "unprecedented danger for all". He stated that the massacre in Odessa on May 2, when almost 50 people had perished, was the last straw. People held the demonstration in Rome to protest against the rebirth of fascism and nazism in Ukraine and in Europe". Chiesa alleges that during the manifestation protesters were chanting "No to fascists, no to war, no to NATO in Ukraine.
A blogger Andrey Malgin, avmalgin, writes that this Giulietto Chiesa is a famous character.
"He is an Italian journalist, who during Brezhnev's reign was working as a Moscow correspondent of a communist newspaper L'Unità. About 10 years ago I met him at the presidential out-patient hospital in Sivtsev Vrazhek. He got registered there 40 years ago, when it was the out-patient hospital of the CPSU Central Committee and has been going there since that time. I even included this episode with out-patient hospital in my book "Presidential Adviser". I do not know about the present days, but during Soviet regime he had a summer cottage in Zhukovka, he used to spend vacations in health resorts, belonging to the Party, in Crimea. The CPSU Central Committee attached to him a car with a driver, and he himself got registered in products distributor in The House on the Embankment. It was rumoured that he was the channel that the KGB leaked the information, when it was necessary, to the western media.
Then he disappeared for a long while, and resurfaced in 2008, when the Channel One of the Russian TV, having interrupted its programs, all of a sudden showed nonscheduled documentary by Giulietto Chiesa, claiming that in fact Americans themselves blew up their twin-towers. It is curious that in that very days Chiesa voiced quite different version in the newspaper "Tomorrow": Al-Qaeda is backed by – try to guess who – Israel! ("I think that one of the centers, in which all this was directed, is certainly Tel Aviv, or Israeli secret services, which in fact are the same thing. Naturally I have no proofs, I use the inductive way, but Israel was always involved in a variety of international provocations, one of which led to the Iraq war").
After that Giulietto Chiesa came into view on the scandalous elections to the State Duma in December 2011. On TV screens and on radios he was introduced as an "observer from European Parliament". The "observer" naturally stated in all his interviews that these were the fairest elections that he was present at during all his long life. It is strange: I thought the fairest elections, that Chiesa was present at, were those that were held under Leonid Ilyich [Brezhnev]).
By the way, do you happen to know the representative of what party he was in the elections to the European Parliament. Russian Union of Latvia!" writes Andrey Malgin.
Following avmalgin.livejournal.com.